For now, Phillies take wait-and-see approach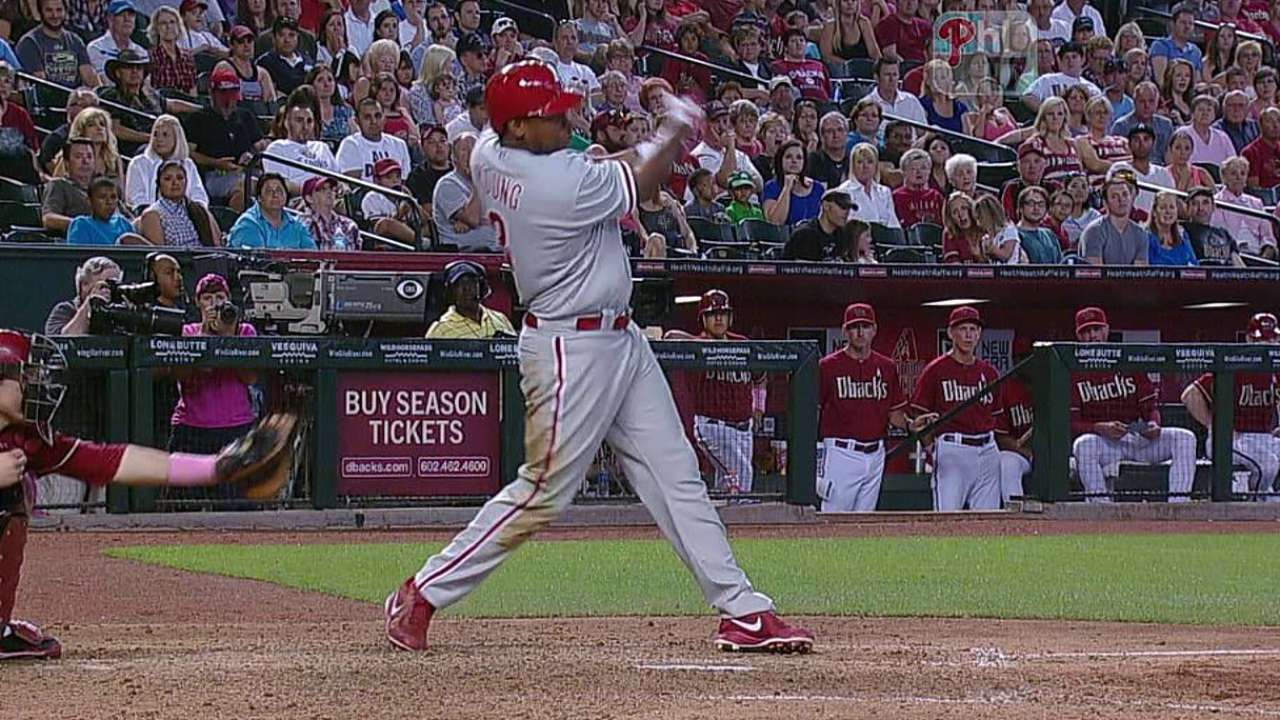 PHILADELPHIA -- Phillies general manager Ruben Amaro Jr. can afford to be relatively patient for a few more months.
Then a decision must be made.
"We don't know if we're going to be buying or selling or both," he said before Friday's game against the Reds at Citizens Bank Park.
For the moment, Amaro remains optimistic, although he acknowledges he is concerned about an offense that has had trouble getting on base, hitting for power and scoring runs.
"I'm comfortable seeing what we've got until we feel like someone else in the organization is better," he said. "I don't see us making any trades any time soon. There's too many teams that are in it, and not enough teams that are out of it.
"If there's something to be done, we'd consider it. But right now we have to be patient to see if Delmon [Young] starts swinging it, and Ryan [Howard] is going to have to start swinging it. If those guys do then we'll be OK. If they don't we'll have to figure out what we're going to do."
Darin Ruf is always on fans' minds. He has been playing better recently in Triple-A Lehigh Valley. Amaro said Ruf was on the Phillies' radar screen but that there might not be a spot for him on the 25-man roster. Amaro will not replace infielders Freddy Galvis or Kevin Frandsen and catcher Erik Kratz. Right now, it seems unlikely he replaces any of the outfielders either.
Like Amaro said, the Phillies want to see if Young can get going offensively.
"We've played a little better baseball lately than we did at the beginning of the season," Amaro said. "Obviously, that's not saying much, but it's better. We've been fortunate, because our guys have actually pitched pretty well.
"We've gotten good pitching performances from people we weren't necessarily counting on. And conversely, other than [Cliff] Lee, the guys at the top of the rotation haven't pitched the way we know they can pitch. In particular, Roy [Halladay] and Cole [Hamels]. I'm less worried about Cole than I am about our offense, which needs to come around and be a little more consistent. And if it's not, we're going to have to figure out ways we can make it more consistent. I think it can be better."
Todd Zolecki is a reporter for MLB.com. Stephen Pianovich is an associate reporter for MLB.com. This story was not subject to the approval of Major League Baseball or its clubs.