De Fratus emerges as clutch late-game reliever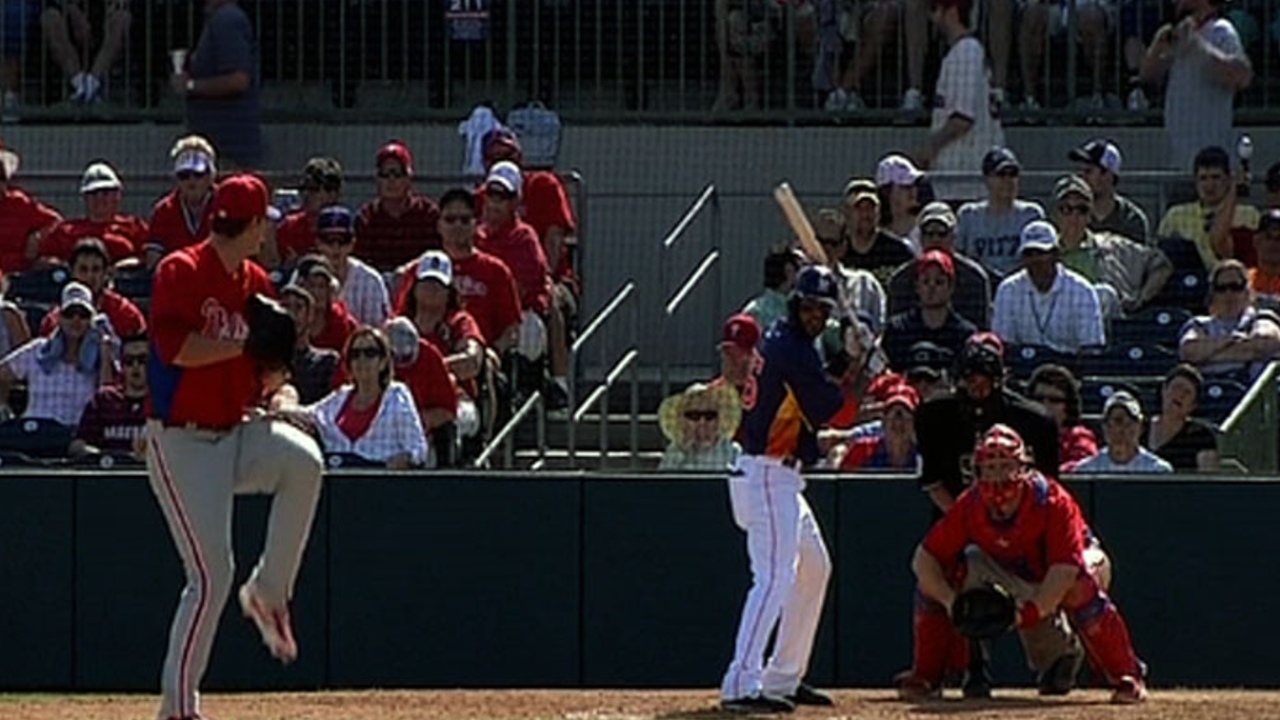 PHILADELPHIA -- The Phillies have asked Justin De Fratus to get only two outs this season, but by no means has either one been easy.
The right-handed reliever, who was called up from Triple-A Lehigh Valley over the weekend, has helped the Phillies bullpen get out of two tough spots during the team's current three-game winning streak. With setup man Mike Adams missing time with back spasms recently, De Fratus has been the key right-hander to bridge the gap between the Phillies' starters and closer Jonathan Papelbon.
"He likes that atmosphere. He doesn't panic," Phillies pitching coach Rich Dubee said Wednesday. "Last year he was outstanding when we brought him in with guys on base to get us a big out. Those guys are special."
In his first Major League appearance of the season Sunday, De Fratus was called on to face D-backs slugger Paul Goldschmidt after the Phillies tied the game in the top half of the ninth inning. De Fratus struck out Goldschmidt, who currently sits third in the National League with 31 RBIs, and the Phillies won the game in 10 innings.
Tuesday night, with the Phillies clinging to a two-run lead, it was again De Fratus who was summoned from the Phillies' bullpen when Indians right-handed power hitter Mark Reynolds stepped to the plate with runners on the corners. De Fratus got Reynolds, who leads Cleveland with 11 home runs, to weakly pop out to second.
Dubee said De Fratus' arm was "still coming along" at the end of Spring Training, which is why the 25-year-old started the 2013 campaign in the Minors. De Fratus also spent time in the Major Leagues in 2011 and 2012.
Though he's faced just two batters, De Fratus seems to have gained the trust of the Phillies' coaching staff in crucial late-game situations. The same cannot be said about Phillippe Aumont. Though he's allowed just three earned runs this season, the 6-foot-7 righty has struggled with his command at times. In 13 games, Aumont has recorded double-digit strikeouts (12), but also double-digit free passes (10).
"Phillippe right now, he's going to have command issues," Dubee said. "He can dot a couple pitches then miss with a bad one. But he's much improved from where he was at the beginning of last year in Triple-A where walks snowballed against him."
Stephen Pianovich is an associate reporter for MLB.com. This story was not subject to the approval of Major League Baseball or its clubs.