Rollins honored to use pink bat on Mother's Day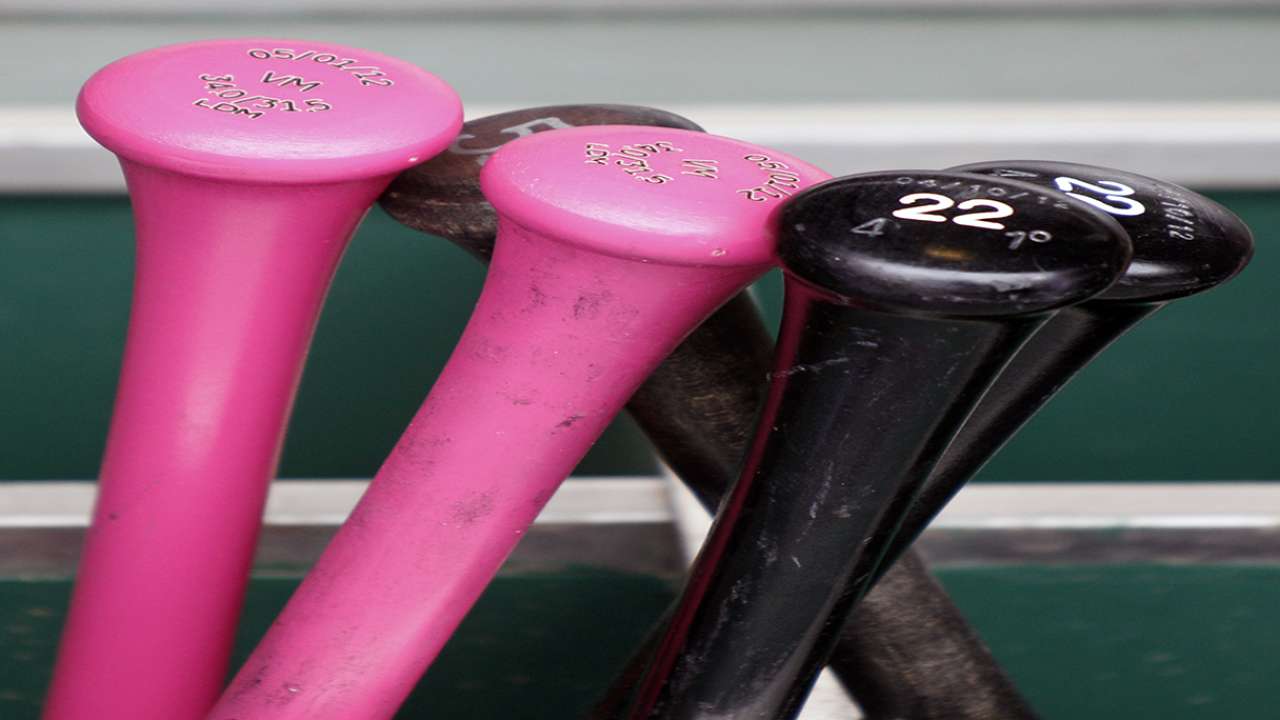 PHOENIX -- Manager Charlie Manuel shuffled the struggling Phillies lineup on Mother's Day, moving center fielder Ben Revere up from the eight-hole to the leadoff spot and sliding shortstop Jimmy Rollins, the usual No. 1 hitter, down a notch.
Revere and Rollins both swung the signature pink bats used throughout Major League Baseball on Sunday in honor of their mothers and breast cancer victims everywhere.
"It's Mother's Day and it's something special to use the bat and stuff," Revere said. "This is the first time I'd done it. I always used the wrist bands and everything just so people would know that you care for those breast cancer survivors."
The lineup move hardly made a difference as the pair went 1-for-8, but the Phillies came from behind and won, 4-2, in 10 innings and Ryan Howard had the game-winning, two-run single. Howard represented for the tribute by wearing pink shoes, arm bands and elbow sleeves for the first time.
Rollins said using the pink bat for him has become an annual event.
"Everybody has a mother," the veteran shortstop said. "So every year it's important for me to do it. It's a disease that affects so many women. If not treated early enough, just like any other cancer, there's a good chance it will take their lives."
This year, Rollins said he has a personal stake in it. His cousin, Trenise Robinson, was diagnosed with breast cancer a few months ago and underwent a radical mastectomy, he said.
"She's doing well," Rollins said. "My cousin went for a checkup and she found out she had breast cancer. They had to remove it. Her granddaughter is a 1-year-old. She wears her wig. My cousin's going through chemo so she has no hair. It's a long road, but it's one that's survivable."
About the lineup change, Manuel said he was just trying to shake things up a little bit and generate more offense. On Saturday night, with Revere in the eighth spot and Rollins leading off, the pair combined for their club's first two runs in a 3-1 win as Rollins drove home Revere with a sacrifice fly and a single.
Rollins said he had to laugh when Manuel called him in a few hours before Sunday's game to tell him about the pending move.
"It was funny," Rollins said. "He said, 'If you get mad at me, I'd rather have you do it in here than out there.'"
Did Rollins care?
"No, not at all," he said. "That's why I laughed when he dropped that on me. I go, 'This dude is crazy!'"
Barry M. Bloom is a national reporter for MLB.com and writes an MLBlog, Boomskie on Baseball. Follow@boomskie on Twitter. This story was not subject to the approval of Major League Baseball or its clubs.