D-backs' extreme shift frustrating for Howard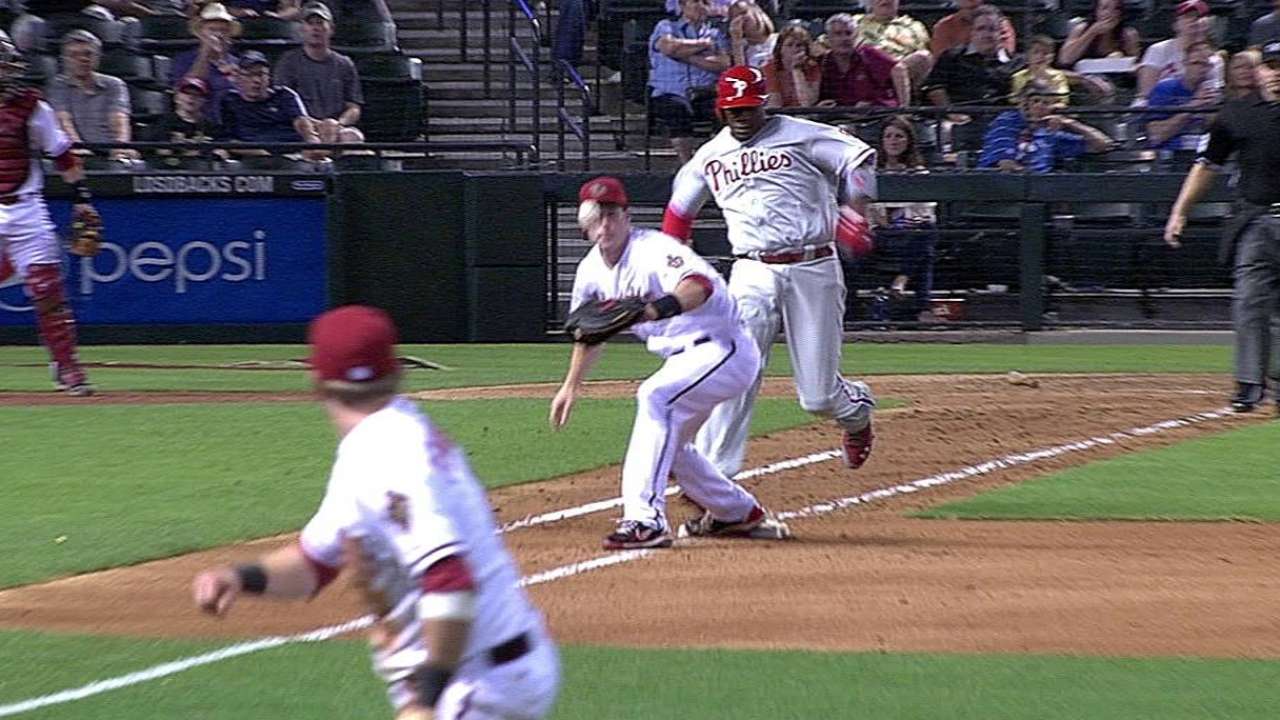 PHOENIX -- The shift the D-backs are using against Ryan Howard is one of the more extreme the lefty-swinging power hitter has faced, Phillies manager Charlie Manuel said this weekend.
With runners on base, D-backs manager Kirk Gibson has shifted his infield around to the right side, but with no one on, Gibson has placed his second baseman in short right field.
Howard is 0-for-13 with eight whiffs in the first three meetings of a four-game set at Chase Field that ends Sunday. He was 0-for-5 with four strikeouts in the Phillies' 3-1 win Saturday.
Even when he hits the ball hard, he's had little luck. In the eighth inning Saturday, he slashed a liner to right that Gerardo Parra one-handed at the fence. And the deep shift worked to perfection in the eighth inning of Thursday night's 2-1 loss when second baseman Cliff Pennington threw him out with a long toss from short right on what normally would've been a single.
Howard is clearly frustrated by it. When asked if the Arizona shift is any more dramatic than any he normally faces, Howard said: "I'm not talking about shifts. There's no need to talk about shifts. A shift is a shift is a shift. I got no comment on it."
Howard was back in the lineup on Sunday, although he's struggling during the first six games of this seven-game trip to San Francisco and Phoenix. He's hitting .136 (3-for-22) with a homer and two RBIs.
Manuel said the only way to beat the shift is to try and "inside-out the ball by hitting it the other way."
"He has good power to left-center and can hit the ball out that way," Manuel said.
Actually, it seems like Gibson is baiting Howard to do just that or bunt the ball down to the vacated position at third. Gibson said he'd gladly trade a bunt single for a potential Howard homer.
"If you're Howard and you're down by a run, go ahead and bunt," Gibson said. "But he isn't getting paid to bunt the ball. He's getting paid to hit the ball out of the park. If he centers it, it will go out of the park. You make your choices. If he wants to bunt, go ahead and bunt. Not just any bunt is going to get you a hit. It's not that easy."
Barry M. Bloom is a national reporter for MLB.com and writes an MLBlog, Boomskie on Baseball. Follow@boomskie on Twitter. This story was not subject to the approval of Major League Baseball or its clubs.