Papelbon's availability up in the air after five-out save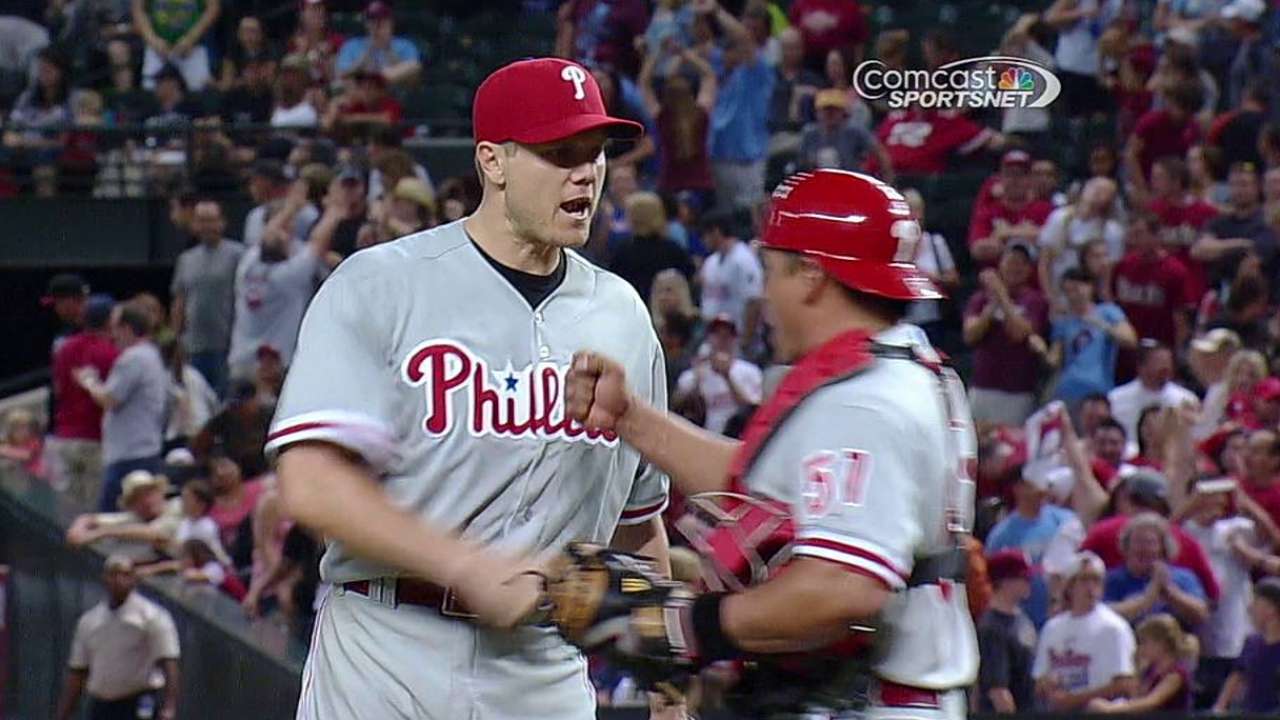 PHOENIX -- After a tough 29-pitch, five-out save on Saturday night for the Phillies in their 3-1 win over the D-backs at Chase Field, Jonathan Papelbon said his availability Sunday for the finale of the four-game series was "a game-time decision."
"I'm not sure yet," Papelbon said a few hours before the game. "It'll be a game-time decision. Right now, I'm feeling all right. We'll see."
Cliff Lee took the Phillies through the opening seven innings and departed for a pinch-hitter in the top of the eighth with his club leading, 3-0. Phillies manager Charlie Manuel said he didn't have Mike Adams available and went to left-hander Antonio Bastardo.
But A.J. Pollock led off with a walk, and when he went to third on Paul Goldschmidt's one-out single, Manuel didn't hesitate and went to Papelbon to get the last five outs.
"I hate to do that," Manuel said on Sunday. "I think that's the first time I've ever done that. Maybe I did it back in the day with Billy Wagner, but these guys are not prepared emotionally these days to pitch like that."
Still, Manuel decided to lock down Saturday's game and worry about the next one on Sunday.
"That was my thinking," he said.
It worked, but not without some serious drama. Cody Ross knocked in Pollock with a sacrifice fly and Miguel Montero struck out looking to end the inning. The ninth was just as tough. After Martin Prado lined out to first baseman Ryan Howard, Gerardo Parra singled and stopped at third when lefty-swinging pinch-hitter Eric Chavez slashed a double into the left-field corner.
With the tying run on second, it was gut-check time for Papelbon.
"I just kind of needed to regain my focus at that point from the activity of the game," said Papelbon, who struck out pinch-hitter Eric Hinske and Pollock to the end the game, the latter swinging on a full-count pitch. "Quickly turn the page, so to speak."
Manuel said Sunday he planned to discuss the availability issue with Papelbon. The right-hander has worked only three times since his previous save on May 3.
"He'll be all right," Manuel said.
In his stead, Adams could get the call to close. For his part, Adams said he was just fine on Sunday.
"There's nothing wrong," Adams said. "I had worked four days in a row. [Saturday] was just a day off."
Barry M. Bloom is a national reporter for MLB.com and writes an MLBlog, Boomskie on Baseball. Follow@boomskie on Twitter. This story was not subject to the approval of Major League Baseball or its clubs.