Cloyd called up to fill void in Phillies' rotation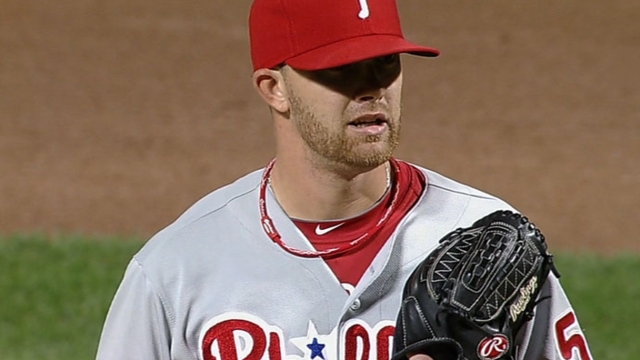 PHOENIX -- Tyler Cloyd is much like a hockey goalie. Before most games he's pretty nervous. Brought up to replace the esteemed and injured Roy Halladay in the Phillies rotation, the 25-year-old right-hander will jump right into it.
Halladay is slated to have surgery on his right shoulder to remove a bone spur and clean up fraying in the labrum and rotator cuff on Wednesday in Los Angeles, the team announced. Dr. Neal ElAttrache will perform the surgery.
In Halladay's stead, Cloyd is slated to start against Arizona's Ian Kennedy on Friday night in the second game of this four-game series at Chase Field.
Cloyd said he won't be any more nervous than usual.
"Every game I have nerves no matter where I'm pitching," he said. "Usually they go away after the first hitter and then it's just another game."
Nothing different this time?
"No, it's usually the same every start," he added.
With Halladay gone for much of the season, the Phillies are hoping that Cloyd fills the void. He was 2-2 with a 4.91 ERA and 1.21 WHIP in six starts last season for the Phils in a fill-in role.
"He's another guy whose location has to be real good," manager Charlie Manuel said prior to Thursday night's series opener. "He's got to keep the ball down. He changes speeds good and that's where his success is. They can put the ball in play against him and hopefully he'll take the sting out of their bats and we can play good defensively behind him. That's kind of the way he pitches. He's a pitcher. He's definitely not going to blow you away."
Cloyd said he was with the Triple-A Lehigh Valley club on Wednesday when he was told about his promotion to the big leagues. He was given the news just about the same time Halladay talked to the media about the pending surgery before the game in San Francisco. Halladay underwent an X-ray and MRI under the auspices of Dr. ElAttrache on Monday in L.A.
Cloyd was 1-3 with a 5.40 ERA in six starts for the IronPigs. To make room for him on the 25-man roster, the Phillies optioned left-hander Joseph Savery back to Triple-A.
"It was an unfortunate situation, Doc's situation, having him going down and having surgery," Cloyd said. "For me, it's just obviously another opportunity to prove myself and hopefully have some success."
Barry M. Bloom is a national reporter for MLB.com and writes an MLBlog, Boomskie on Baseball. Follow@boomskie on Twitter. This story was not subject to the approval of Major League Baseball or its clubs.