Manuel sets Phillies' record for games managed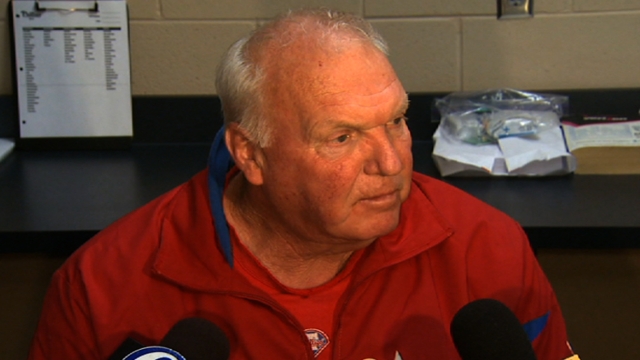 PHOENIX -- When the first pitch was thrown Thursday night at Chase Field, it was the start of the 1,332nd Phillies game for Charlie Manuel, the most of any manager in that franchise's history.
Manuel, 69, is in his ninth season as head of the Phillies, surpassing the record set by Gene Mauch, who piloted the Phils at Connie Mack Stadium from 1960-68.
"It feels fine, but at the same time I've been thinking more about us getting going and getting to .500," said Manuel, whose 16-19 team went into action five games behind first-place Atlanta in the National League East. "That way we can be in a good position if we make a run."
Does it mean that he's just been around for a long time?
"That's exactly what it means," he said. "It means my players have been good for a long time."
And he has survived.
"So far," he said.
The record by Manuel is no small achievement, coming in a town that seems to consume as many managers and coaches as cheesesteaks. The Phillies are one of baseball's longest-existing franchises, established in 1890 as the Quakers and renamed the Phillies a year later. Although Connie Mack managed the Philadelphia A's for 50 years, the Phillies ran through managers as if they were going out of style. They didn't win their first pennant until 1950, Mack's last season. Eddie Sawyer was the Phils' skipper that year, their 25th.
Danny Ozark and Dallas Green were among four managers who drove the Phillies through their most successful era before Manuel: Six trips to the playoffs and two World Series in eight seasons from 1976-83. They reached the apex in 1980 under Green by winning their first World Series in six games over the Royals. The team that lost to the Orioles in a five-game 1983 World Series was skippered by Pat Corrales and Paul Owen.
Mauch, for all his bluster, oversaw the great pennant-race collapse of 1964 and lasted 1,331 games. He was replaced 54 games into the '68 season (27-27) by Bob Skinner.
Manuel, who said he "knew Gene Mauch," followed Larry Bowa after the 2004 season. By any measurement, his era has been the most successful in the club's history. His team went to the postseason five years in a row from 2007-11, winning the 2008 World Series in five games over the Rays and losing the next Fall Classic in six games to the Yankees. He's already the franchise leader with 743 wins.
Manuel is one of 11 managers in Major League Baseball currently working on the last year of their contract or with a one-year deal. He reiterated on Thursday night that he'd like to manage again next year, but he's not losing any sleep about it.
"That's OK," he said. "I've been there before. It'll take care of itself. If I make good then more than likely I'll have a job. That's how I look at it. I'm not really worried about it. I'm trying to focus on what we're doing and how we can be the best team we can possibly be. That's really what I want and what I want to focus on."
Barry M. Bloom is a national reporter for MLB.com and writes an MLBlog, Boomskie on Baseball. Follow@boomskie on Twitter. This story was not subject to the approval of Major League Baseball or its clubs.