Savery could stick around longer with Phillies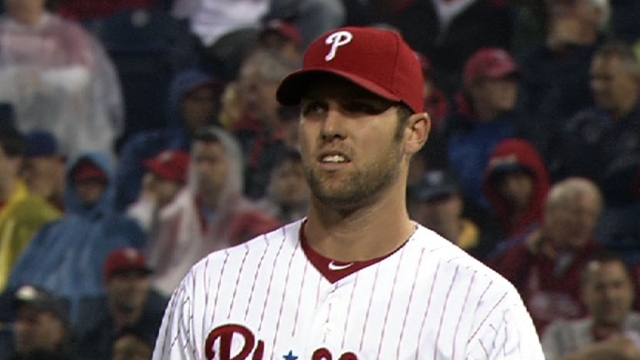 SAN FRANCISCO -- Phillies left-hander Joe Savery joined the team for the second time this season Monday when the Phillies placed Roy Halladay on the disabled list with inflammation in his right shoulder.
Savery's second stint could be longer than his first.
He spent a few days with the Phillies last month between the time they placed John Lannan on the DL and called up Jonathan Pettibone to take Lannan's spot in the rotation. It had been presumed Savery would help the bullpen this week until they call up a starter for Friday's game against the D-backs in Phoenix. But Phillies manager Charlie Manuel hinted this time might be different.
"He's on our team right now," Manuel said. "Who knows? He might not go nowhere. If we name a starter or something like that, I don't know what we're going to do. We've got time to decide that."
Savery walked one and struck out one in a scoreless inning in his only appearance last month. He is 3-0 with a 0.68 ERA in 10 appearances with Triple-A Lehigh Valley, walking four and striking out 17 in 13 1/3 innings.
The front of the Phillies bullpen has struggled. Right-hander Chad Durbin has a 6.75 ERA in 10 appearances. Left-handers Raul Valdes (7.00 ERA in nine appearances) and Jeremy Horst (6.59 ERA in 12 appearances) also have high ERAs.
Todd Zolecki is a reporter for MLB.com. This story was not subject to the approval of Major League Baseball or its clubs.