Manuel wants struggling Revere to shorten swing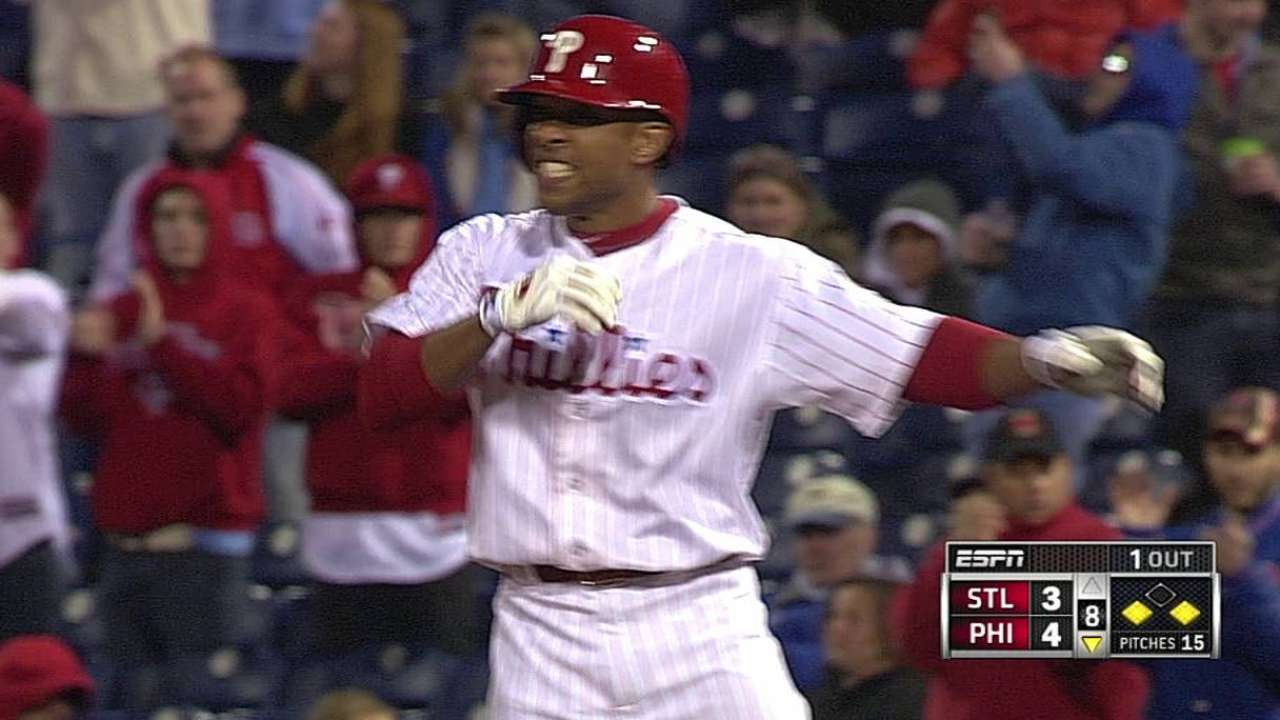 CLEVELAND -- Every time somebody asked Phillies manager Charlie Manuel about Ben Revere this winter, he said he needed to see his new center fielder play before offering any opinions.
Manuel liked what he saw in Spring Training enough to make Revere the Phillies' leadoff hitter to open the season, but Revere didn't last a month there. He hit ninth for the second consecutive game Wednesday in an Interleague series against the Indians at Progressive Field, and he seems likely to hit eighth when the Phillies open a four-game series Thursday against the Marlins at Citizens Bank Park.
Revere entered Wednesday's game hitting .200 (18-for-90) with one triple, four RBIs, nine runs scored, a .234 on-base percentage and a .222 slugging percentage. His on-base percentage ranked 178th out of 189 qualifying batters in baseball. His slugging percentage ranked 188th. He also grounded into five double plays, tied for ninth in baseball, despite his speed. That is because he had an 88.9 ground ball percentage, which ranked first.
He simply is not hitting much of anything in the air.
"Ben's got a lot going on," Manuel said of Revere's swing. "His style of hitting, he takes a long stride and he takes a long stride for a little guy, and he swings hard. And he hits a lot of balls on the ground. Is that wrong? I don't know. I mean, because I guarantee you he's been told to hit the ball on the ground. I haven't told him that, but I'm sure a lot of people have."
When the Phillies acquired Revere in December from the Twins, they mostly touted his ability to catch the ball in center field. He has done that, but they also expected something closer to the .294 average he posted last season.
"He's had a hard time getting going," Manuel said. "Basically, what we want to do, we'd like to slow his stride down, might get his stride a little shorter and get him to be quicker with his hands instead of a lot of movement and real hard swings. There's ways you can work with him, but at the same time, too, he's never going to be a guy who's going to hit doubles. I'll take that back, he could hit some doubles because he's fast, if he hits the ball in the right place."
Todd Zolecki is a reporter for MLB.com. This story was not subject to the approval of Major League Baseball or its clubs.