Returns of Chooch, Delmon could impact lineup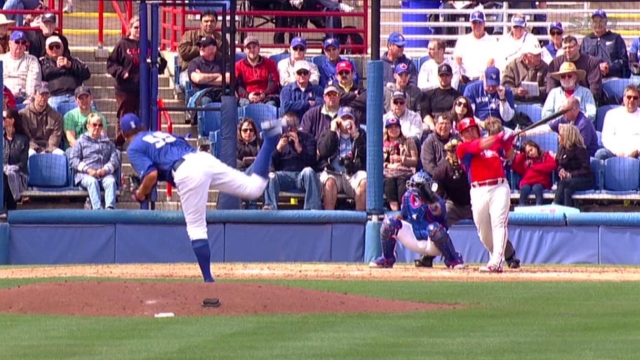 PHILADELPHIA -- Phillies outfielder John Mayberry Jr. hit fifth Wednesday against Pirates left-hander Wandy Rodriguez.
Beginning Sunday, it could be Carlos Ruiz. Shortly after that, it could be Delmon Young.
Ruiz is serving the end of a 25-game suspension for using a banned stimulant. He can rejoin the team Sunday against the Mets at Citi Field. Young is recovering from microfracture surgery on his right ankle. He could join the team in the next couple weeks, if the Phillies believe he can play competently defensively in right field.
"That makes it different," Phillies manager Charlie Manuel said of his lineup. "That gives us two right-handed hitters. Chooch was hitting .340 or something last year. Delmon Young, he's a good hitter."
Could Ruiz hit fifth beginning Sunday? That certainly would allow the Phillies to keep hitting Michael Young between Chase Utley and Ryan Howard.
"I don't know," Manuel said. "We'll just have to wait and see."
Ruiz went 1-for-3 with a three-run home run and two walks in a rehab game Wednesday with Class A Clearwater. He caught nine innings. He will play with Double-A Reading on Friday and Saturday. Delmon Young went 4-for-5 with a double and a run scored Tuesday with Clearwater. He played nine innings in right field. He is scheduled to continue his rehab Thursday with Triple-A Lehigh Valley.
Todd Zolecki is a reporter for MLB.com. This story was not subject to the approval of Major League Baseball or its clubs.