Phils being patient with top prospect Biddle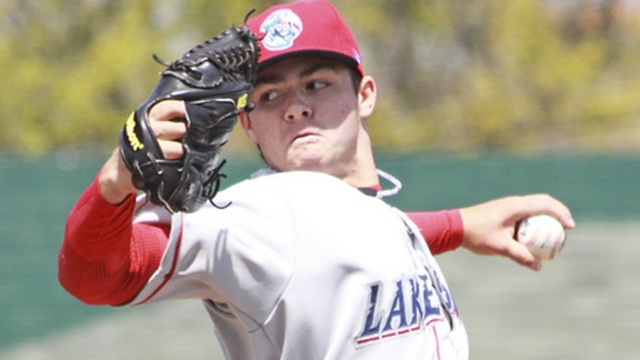 PHILADELPHIA -- The Phillies had a chance to promote anybody in their system when left-hander John Lannan landed on the disabled list last week.
They never considered Double-A Reading left-hander Jesse Biddle, who is the organization's top prospect according to MLB.com.
It was not a surprise. Biddle had not pitched above Class A Clearwater before this season, and the Phillies would like to get him more experience before they even consider making a big jump.
But Biddle has certainly impressed in four starts with Reading. He dominated Monday in Harrisburg. He allowed one hit, two walks and struck out 16 in seven scoreless innings. He took a perfect game into the seventh inning before he walked a batter.
"The thing that stood out to me more than the number of strikeouts he had, through six innings he threw 73 pitches," Phillies director of player personnel Joe Jordan said. "I mean, he really just dominated the strike zone with four pitches. It wasn't that he went 90-95 pitches to get to that number. That's what was so impressive to me. The last time I saw him, which was his previous start in Reading, I saw more swings and misses with his fastball than I had ever seen. His stuff is just coming. It's coming, and his ability to use it is getting better. Everything came together last night. Literally, he had four pitches to go to and command of all of them, so they were in trouble."
Of course, the question about any top prospect is this: When will Phillies fans see him in a big league uniform?
"I think it's a little premature, but we're obviously going to keep our eyes on this, and we'll follow it very closely," Jordan said. "I think you go in with all of these guys, as far as their development plans with the plan, and the players alter it good or bad. Sometimes their ability, their performance, it will make it go one way or the other. Nothing is in stone. He's where he needs to be. He earned, after what he did in Clearwater last year, the right to go to Reading. So far he's done a great job. It's been a month. The weather is going to warm up, the hitters are going to catch up. I think that's, that's the way I look at it. He even said it last night: 'This is my kind of weather, the hitters don't like hitting in this weather.'
"We're going to follow it very closely. Because he's one of our best, if not our best. We all know that."
Todd Zolecki is a reporter for MLB.com. This story was not subject to the approval of Major League Baseball or its clubs.