Former Phillie Polanco excelling in Miami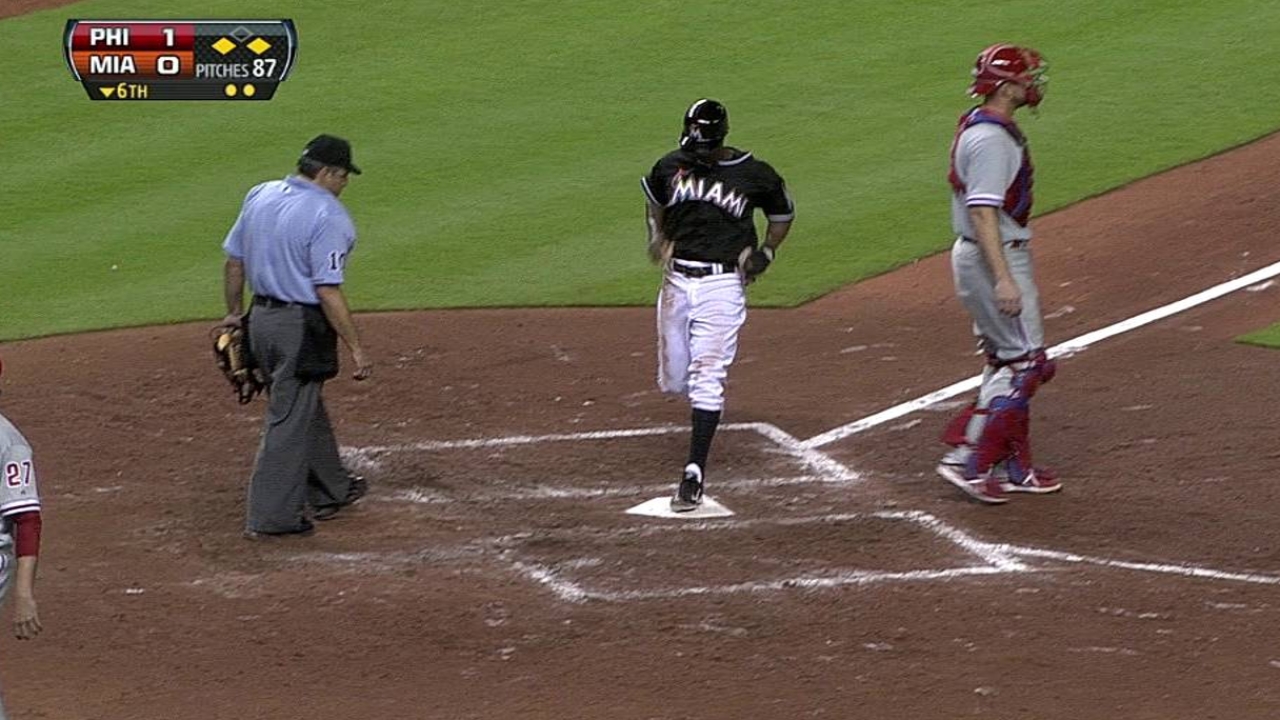 MIAMI -- Marlins third baseman Placido Polanco has started 1,615 games in his 16-year career.
He had not hit cleanup until this season.
He has hit there four times and had been scheduled to hit there a fifth time Friday at Marlins Park until Miami scratched superstar Giancarlo Stanton because of a sore left shoulder. Polanco, who played for the Phillies from 2002-05 and 2010-12, has hit just 103 home runs in his career, including 10 or more in a season just three times. But after the mass change of the Marlins roster in the offseason, Miami signed Polanco to a one-year, $2.75 million contract. And after a good spring he has been hitting cleanup behind Stanton, and he batted third in the lineup on Friday with Stanton sitting out.
In a sense, it is surprising to see Polanco still in the big leagues, much less on a one-year, $2.75 million guaranteed contract. He has battled back injuries the past few seasons. But he said Friday he feels the best he has felt in years. He entered the night hitting .333 with three RBIs.
"It's pretty pleasing," Polanco said about his improved health and early success. "I was in a situation that if nobody called, that was good enough. I'd stay with the family. I've done enough. I've played baseball my entire life. Without a doubt I was going to miss it. I worked out hard and here I am. I'm at home and with a great chance, getting to play."
He hit .257 with 15 doubles, two home runs, 19 RBIs and a career-low .629 on-base-plus-slugging percentage in 90 games last season. The Phillies placed him on the disabled list in early September, and eventually just sent him home.
"It was a little bit of a confusing situation, but I was hurt, my back was hurting," said Polanco, who lives just 15 minutes from Marlins Park. "I think it was very nice of them just letting me go home and rest it. I think it helped me. Here I am. It's the page I turned. I don't really want to talk about it. But I'm very pleased with the organization. They gave me a chance. I think the world of Ruben [Amaro Jr.] and the president of the team [David Montgomery] and everybody over there. The way they treated me. Not only this time but the first time around. As a matter of fact I have their gift from Christmas, the candies and all, me and my family said, 'Wow, what a classy organization.' We think the world of them."
Todd Zolecki is a reporter for MLB.com. This story was not subject to the approval of Major League Baseball or its clubs.