With Phils pitchers struggling, Kratz gets day off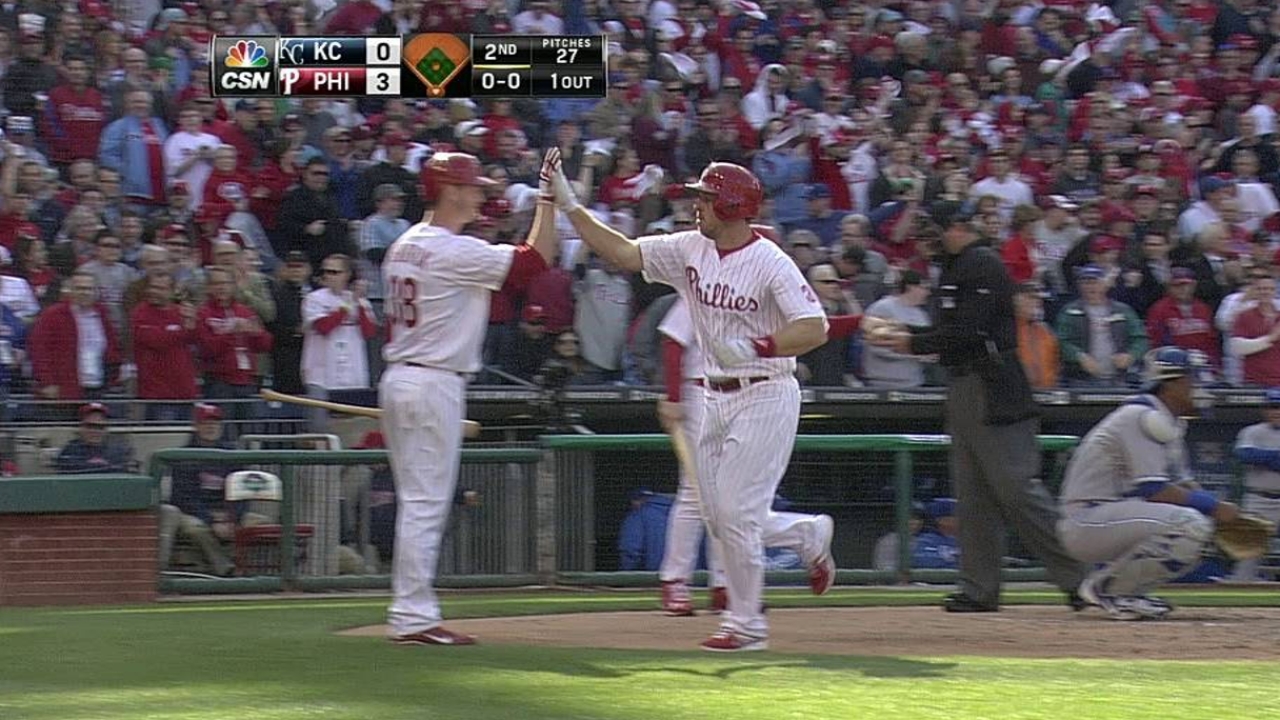 PHILADELPHIA -- The Phillies' staff ERA was 7.10 going into Monday night's series opener against the Mets at Citizens Bank Park. Humberto Quintero, not Erik Kratz, was behind the plate for Roy Halladay's second start of the season.
The subject became a topic for discussion when Halladay, after allowing five runs in 3 1/3 innings against the Braves on Wednesday, admitted that a pitch Justin Upton hit for a two-run homer had been "half-hearted" and that he disagreed with throwing a low fastball in that situation. Also, in the past, he's been effusive in his praise for catcher Carlos Ruiz, currently serving a 25-game suspension for using a banned stimulant. Ruiz can return to the Phils' lineup on April 28.
"I don't know if [Halladay and Kratz] had issues," manager Charlie Manuel said. "It doesn't mean that he didn't shake him off. But the issue part I don't know anything about. I think there will be times when the pitcher doesn't like what the catcher's putting down, whatever, but he can always shake him off."
Manuel insisted Halladay didn't ask him to make the change, and Kratz said the two-time Cy Young Award winner who has struggled since the start of the 2012 season hadn't said anything to him. But the catcher didn't duck taking his share of the responsibility.
"Are we on the same page? I hope so," Kratz said. "We didn't do well last time, so maybe we weren't. I'm not starting, so that's that. We gave up runs. I think it's obvious. I've been out there however many games they've scored runs. And it's obvious. You've got to change something. We're not winning games right now. Got to change it up."
He didn't back off when asked if the catcher should be blamed when the pitcher gives up runs.
"I didn't say the catcher. I said me," Kratz said. "There's one thing that was consistent back there and that's me. I have to look at myself and I have to look at how we're doing back there. And if I can't help the team, we're going to put 'Q' back there, and I've got to do a better job, for sure.
"I think there's a backbone of the team. When you're not hitting, it's eight guys in the lineup, all the position players. But pitching-wise, the catcher's got to get everybody back in the zone, got to get everybody throwing strikes, got to get everybody through the times you're struggling. Anybody can get back there when a guy's dotting up. You could put a cardboard cutout back there. And right now, I'm not doing it. It could be why I'm not in there. I don't know. I don't make the lineup.
"The catcher is an extra coach who gets to play on the field. He gets the team's energy up. He gets the pitcher to throw the best pitch he can throw. And when that's not happening, you have to figure it out. That's the name of the game. You've got to figure it out. If you don't, go play another position."
Manuel said Kratz will catch Cliff Lee on Tuesday night, and dropped another hint that he isn't singling him out.
"I think [the communication has] been OK," Manuel said. "I think Kratzie is kind of new to our pitchers. At the same time, you go back and check how much he caught last year and who he caught and how good he did. Compare it. That ought to say something."
For what it's worth, Phillies pitchers with Kratz catching last season had a 3.48 ERA. Throwing to Ruiz, it was 4.15.
Paul Hagen is a reporter for MLB.com. This story was not subject to the approval of Major League Baseball or its clubs.