Key for Howard is being selective at the plate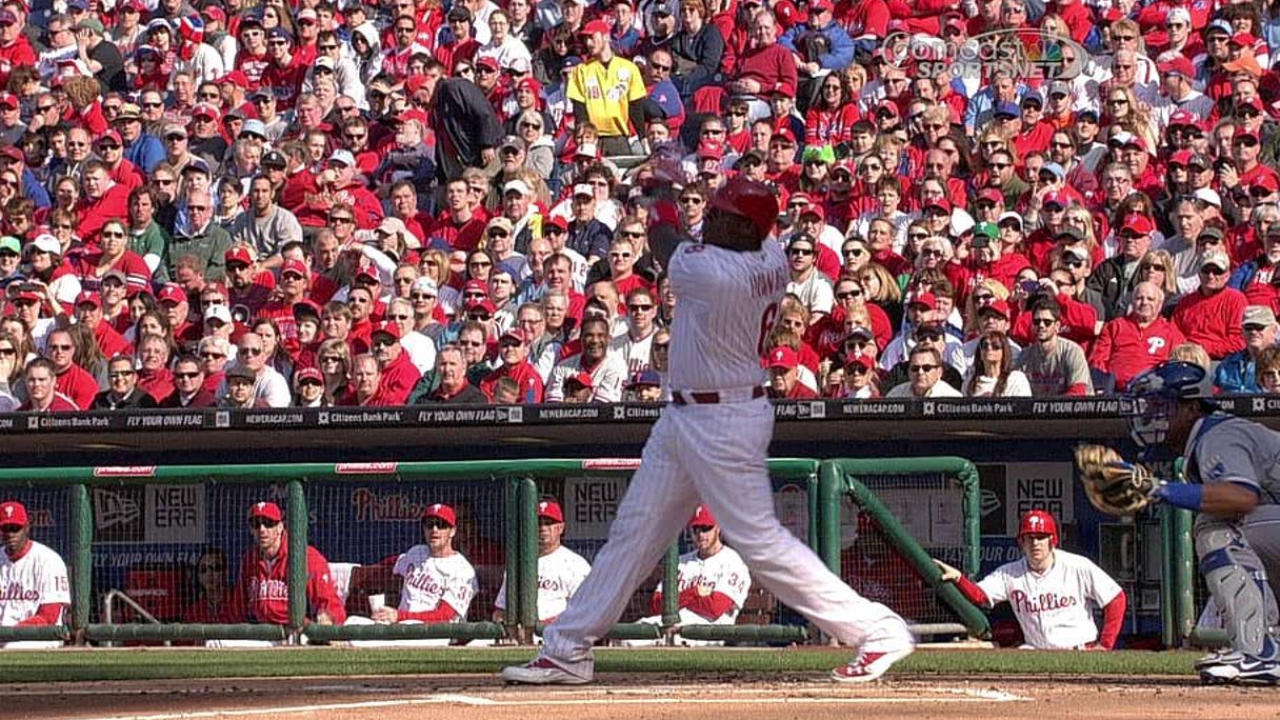 PHILADELPHIA -- First baseman Ryan Howard hit seven Grapefruit League home runs and batted .322, giving indications that he was all the way back from the ruptured Achilles tendon that cost him half the 2012 season.
In the first seven games of the regular season, he didn't have an extra-base hit, despite hitting several balls hard into the overshift that most teams employ when he's at the plate. That in turn has led to renewed chatter that he should try to beat the tactic by rolling ground balls into left.
Manager Charlie Manuel tried to put a quick end to that sort of thinking.
"He's having a little trouble with lefties, but at the same time, he's hit some balls into the shift hard, at some people," Manuel said. "And I know people are always hollering, 'Why doesn't he hit ground balls into left field?' Basically, it's because of the type of hitter he is. When they play him straightaway to the outfield and shift to the right side, they leave the left side open because he hits fly balls to left field, he doesn't hit ground balls.
"Let me put it to you like this: Ryan Howard is a big strong hitter and he hit .300 one year. Ryan Howard hits that ball from that State Farm or Gulf sign [in the left-center-field gap at Citizens Bank Park] to [the right-field foul pole]. This is where he makes his money. This is where he drives the ball hard and the ball has a good chance of falling into the stands."
The solution, Manuel suggested, is for Howard to just be a little more selective.
"He can definitely be a little more patient at the plate," Manuel said. "I think Ryan thinks that when he's at bat with somebody in scoring position that he has to knock them in. The only thing he has to do is be relaxed and get good balls to hit. When he swings at strikes, he becomes a much better hitter.
"There's always going to be talk about how good he could be if he hit the ball to left field or if he'd drop a bunt down every now and then, all those things. Well, he's not that kind of hitter. He's not that kind of player. He's a run-producer. That's how he got the contract he has, by hitting 40 and 48 and 50 [home runs]. That's how he made the money. He didn't make the money walking or hitting singles. Now, if he walks, it means he did watch the ball but he didn't get a good ball to hit. He was disciplined and he was looking for a good ball to hit."
Paul Hagen is a reporter for MLB.com. This story was not subject to the approval of Major League Baseball or its clubs.