Fully confident, Brown focused on goals, Opening Day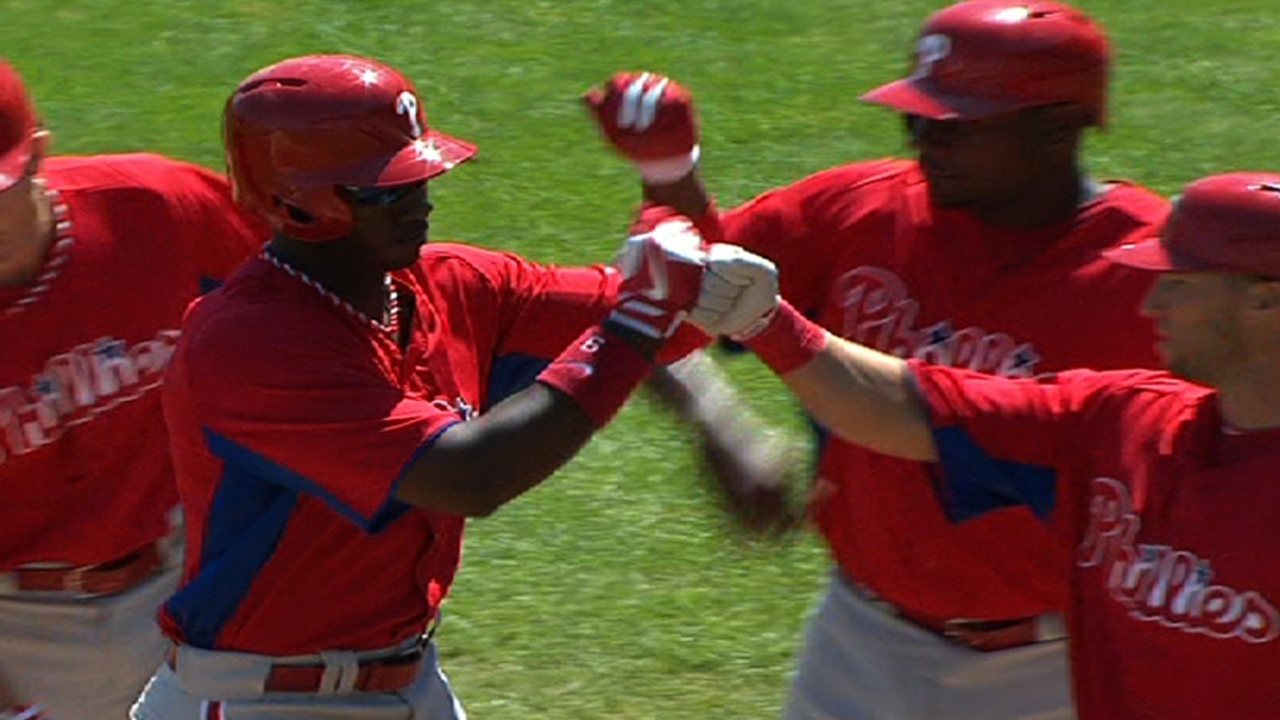 CLEARWATER, Fla. -- Domonic Brown certainly had his share of doubters and detractors entering Spring Training.
Those cynics have been harder to find lately.
Brown has been the Phillies' best story in camp. He is hitting .397 (25-for-63) with two doubles, six home runs, 12 RBIs, six walks, eight strikeouts, a .465 on-base percentage and a .714 slugging percentage in 22 Grapefruit League games. He has looked better defensively, and he is a lock to be an everyday player once the season begins April 1 against the Braves in Atlanta.
"Do I look different? Sound different?" Brown said Thursday.
Honestly? He looks great.
"Yeah, I feel like I can hit the ball anywhere," he said. "I feel good. Confidence. The hands. I think the hands have been the biggest thing. I feel like they're in a good slot. I don't feel like I'm doing anything, but getting them in a good hitting position."
Brown changed his grip early in camp. Instead of holding the bat deep in the palm of his hands, they are closer to his fingers.
"That's it," Brown said. "I'm definitely quicker to the ball. What it has allowed me to do is pick up the ball. I've got a lot of time to recognize the pitch. Why couldn't I do that three years ago?"
Brown said he is appreciative the Phillies did not give up on him and send him elsewhere. He said he is looking forward to having his name announced Opening Day.
"It's a dream come true for me," he said. "That's what I've worked for, be in the Opening Day lineup. I've got a lot of goals I have in my mind for this year. The biggest thing is I'm just having fun: 0-for-4, 2-for-3 or whatever. I'm making sure I'm going in the cage afterward and figuring out what's going on. I'm not trying to sound cocky or anything, but in my mind, I don't feel like a pitcher can have enough stuff to get me out. If they're throwing 100 mph, I feel like I can turn it around. But that's just my thought process. I feel like if I'm in a good position to hit, I'm able to do anything."
Todd Zolecki is a reporter for MLB.com. Evan Drellich is a reporter for MLB.com. Follow him on Twitter @EvanDrellich. This story was not subject to the approval of Major League Baseball or its clubs.