Phils' De Fratus, Diekman optioned to Lehigh Valley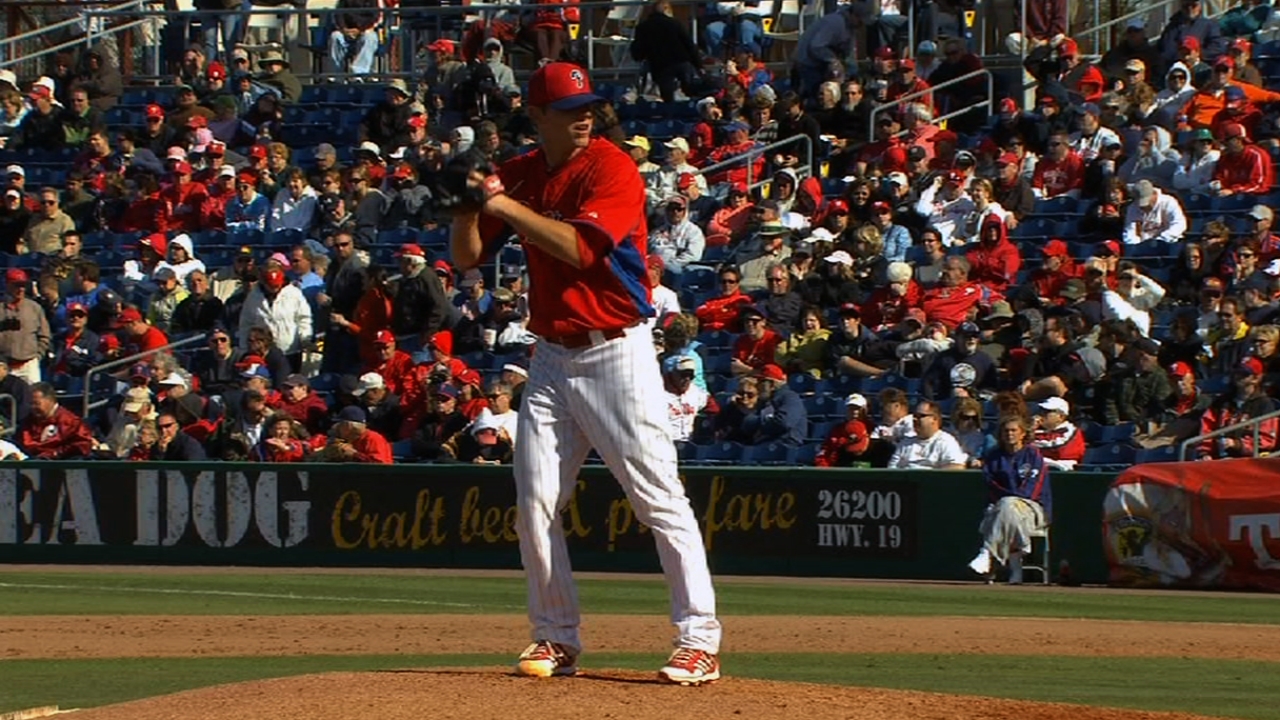 CLEARWATER, Fla. -- The Phillies' bullpen picture came into sharper focus Sunday when right-hander Justin De Fratus and left-hander Jake Diekman were optioned to Triple-A Lehigh Valley.
Left-hander Cesar Jimenez and infielder Josh Fields were also reassigned to Minor League camp.
The organization still has high hopes for De Fratus and Diekman, but pitching coach Rich Dubee outlined what each has to work on.
"De Fratus has to get his arm strength going," Dubee said. "His arm is a little behind right now. His breaking ball is a little too big. He's aware of that.
Diekman's got to learn to pitch backwards. We want him throwing more changeups, use his changeup some to righties. [We] want him using first-pitch breaking balls, breaking balls 1-0 to left-handers and stuff so that people can't start and cheat to his fastball. And, again, command all three [of his pitches]."
De Fratus was on the disabled list with a strained elbow last season, but Dubee said that isn't why he's behind.
"No, I think he just got started a little slower this year for whatever reason," Dubee said. "But he'll be back in the picture soon. He's got plenty of stuff. He's just got to get more reps.
Dubee stressed that both pitchers have bright futures, saying, "Absolutely. They're valuable pieces. Right now they're not there, but they're in the picture for sure. We expect, if we have an injury or something, those guys will definitely be mentioned, for sure."
Said Diekman: "I feel like I'm really close."
The Phillies now have 36 players in camp. If they carry 12 pitchers it appears there are four candidates -- right-handers Phillippe Aumont and Michael Stutes and left-handers Raul Valdes and Jeremy Horst -- competing for three spots.
Paul Hagen is a reporter for MLB.com. This story was not subject to the approval of Major League Baseball or its clubs.