Change of scenery pleasing to Lannan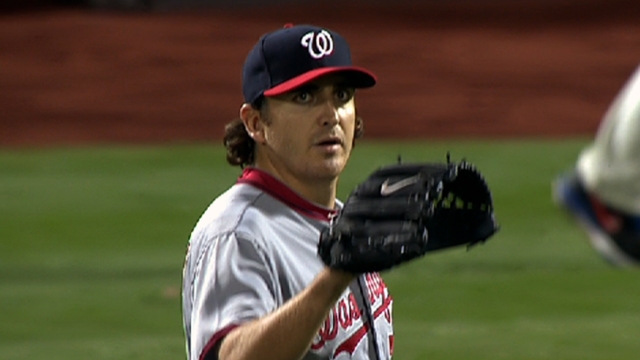 PORT CHARLOTTE, Fla. -- A change of scenery and a changeup are working out pretty well for Phillies left-hander John Lannan so far this spring.
After being non-tendered by the Washington Nationals, the 28-year-old signed with the Phillies and was plugged into the fifth spot in the rotation. In a 10-inning, 3-1 loss to the Rays on Friday at Charlotte Sports Park, he allowed just two hits and a walk in five shutout innings, striking out four. And that was after giving up a leadoff single to Tampa Bay centerfielder Desmond Jennings in the bottom of the first.
"In the first inning my changeup was a little hard," he said. "That's what Jennings hit. That's one of the main things I talked to [pitching coach Rich Dubee] about. Since then I've been working on it and it's in a good place right now. You've just got to find a good grip. There are a lot of guys on this team who throw a good one.
"I wasn't getting the [speed] differential I wanted. I was throwing 88 to whatever. And my change was 85-86. The differential needs to be bigger so that's what I was working on today. And I was happy with it. It's such a good pitch. It's something you can use as a weapon."
Charlie Manuel said Lannan should benefit from improved command.
"He can put the ball on both sides of the plate," the manager said. "He can do a lot more with it than he used to. The ball used to run, but he's got that under control now."
Lannan also admitted, once again, that he was rankled by being sent to the Minors by the Nationals to open last season and then being cut loose.
"They just thought they had better guys than me. That's what it came down to. I've always had a chip on my shoulder, but to be told you're not good enough, it's kind of hard to take. It definitely changed me," he said.
Paul Hagen is a reporter for MLB.com. This story was not subject to the approval of Major League Baseball or its clubs.