Manuel looking for more from young relievers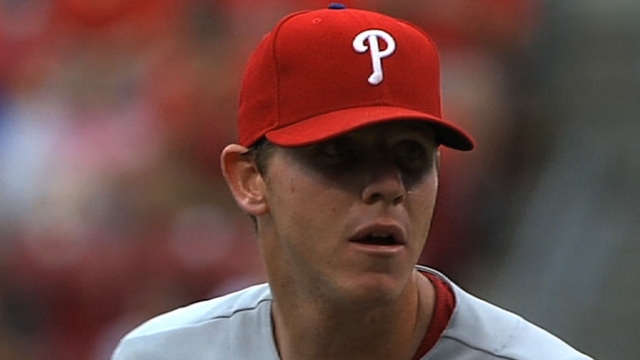 PORT CHARLOTTE, Fla. -- The Phillies have been looking for relievers who can pitch more than an inning. So far this spring, they've used seven different relievers in a longer role.
In Friday's 3-1 loss to the Rays at Charlotte Sports Park, Justin De Fratus pitched the sixth and seventh. After blanking Tampa Bay in his first inning, Shelley Duncan homered on the first pitch De Fratus threw in the seventh. That ended a streak of five straight scoreless innings for him.
The right-hander said the extended outing had nothing to do with the result.
"Giving up a home run had nothing to do with me letting my guard down or anything. I just threw a first-pitch heater and he crushed it," De Fratus said. "It's definitely different, but now's the time to start doing it. We have our eighth and ninth inning locked up, so we have to be sure we're able to do those kinds of things. We've got guys competing for those last few spots. We've got to be able to show we can go multiple innings if need be. We have to be able to show we can do what it takes to get the game to Mike Adams and [Jonathan] Papelbon."
Afterward, Phillies manager Charlie Manuel seemed to throw down a challenge to his young relievers.
"[They] have to start to pick it up, start getting sharper and ready to go, if you follow what I mean," he said. "They've got to start putting more on the ball, throwing strikes and being more aggressive and attacking the hitters. Scoreless innings are fine, but it's how it gets there that counts. It's what I see. A guy can pitch 10 innings and not give up a run, that doesn't mean anything to me. It depends on how he got there.
"I know their talent, but at the same time, their talent still lacks experience. When we were 14 [games] down, it's kind of easy to go out there and pitch. All of a sudden we climb to .500 and the youth in our 'pen showed up. But that's all part of it. We have a chance with the talent that's there to have a big bullpen, but at the same time, the talent also has to produce."
Paul Hagen is a reporter for MLB.com. This story was not subject to the approval of Major League Baseball or its clubs.