Durbin ready to serve as mentor to young relievers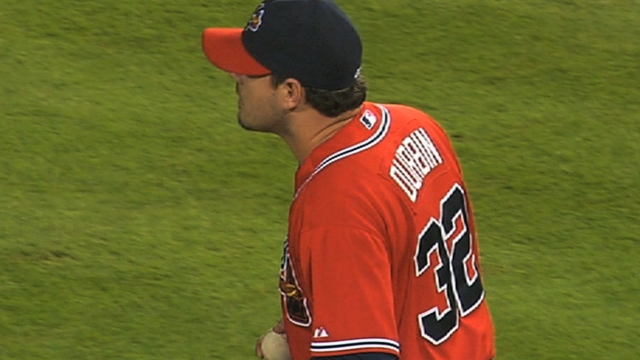 TAMPA, Fla. -- The last time right-hander Chad Durbin pitched out of the Phillies' bullpen, in 2010, such veterans as Brad Lidge, Ryan Madson, Jose Contreras, J.C. Romero and Danys Baez surrounded him.
This year will be quite a bit different.
There are veterans -- Jonathan Papelbon, Mike Adams and Antonio Bastardo -- but there are three jobs available and a bunch of youngsters fighting for them. Durbin, who pitched a scoreless inning in Wednesday's 6-2 loss to the Yankees at George M. Steinbrenner Field, has liked what he has seen.
"I kind of don't look at the arms anymore as much as I did when I was younger," Durbin said. "I kind of look at the makeup. I like when guys get a little bit [ticked] off when it doesn't go well when they're young. Later on you can act like the professional you're supposed to be, but because you're that competitive young … I see that with a couple of guys with electric stuff. Sometimes those guys kind of take it for granted. Everybody has been blowing sunshine up their [rear ends] for 10 years, and they believe it. Whereas I think these guys know, with Pap out there and Adams and those guys, they're not that good yet. I think that's my impression so far. Their makeup is pretty solid. And they work hard."
The Phillies hope that Durbin continues the success he had last season with the Braves, when he went 4-1 with a 3.10 ERA in 76 appearances. But his effectiveness is not the only reason the Phillies brought him back. They also want him to help the young relievers find their way.
Durbin remembered advice he received from teammates when he joined the bullpen in 2008.
"Madson and [Tom Gordon] could tell me, 'Just be ready every day, be ready all the time, and when you get out there, throw strikes,'" he said. "'Make it happen quick. If it's good or bad or ugly, make it happen quick. The manager will hold up to that. He'll be happy with that. But if you go out there and it's a 30-pitch inning, maybe you got out of it, maybe you didn't.' … That helped me out, and I've tried to project that to these guys. It doesn't matter how good your stuff is. The manager might care about it in the meeting, but when he has to make a decision in the game -- Hey, what's our best chance to win? -- He might go with a guy with less stuff because he knows he's going to go out there and it's going to be strike one, 1-2 counts. to give him a better chance."
Todd Zolecki is a reporter for MLB.com. This story was not subject to the approval of Major League Baseball or its clubs.