Dubee insists no reason to worry about Doc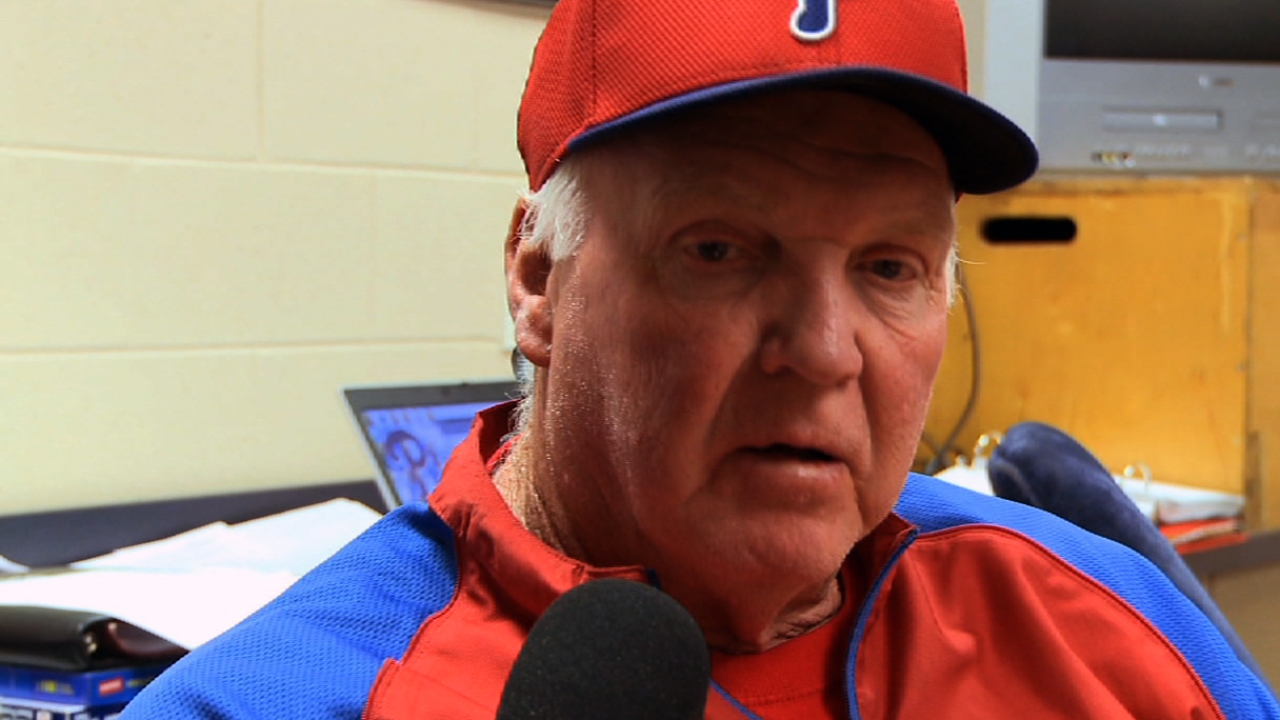 TAMPA, Fla. -- Pitching coach Rich Dubee stood on the top step of the visitors' dugout of George M. Steinbrenner Field on Wednesday afternoon and insisted that this time is different.
This time, Roy Halladay truly is fine.
But there understandably are countless skeptics following Halladay's performance against the Tigers at Bright House Field on Tuesday. He allowed six hits, seven runs, four walks, one wild pitch, two home runs and one hit batsman in 2 2/3 innings. He lacked tempo and command. He lacked velocity. One scout said that his fastball hit just 86 mph to 88 mph on the radar gun. Other reports had his fastball a bit slower than that. His velocity has dropped after his first two Grapefruit League starts.
Halladay, Dubee and others insisted last spring that he was fine despite a drop in velocity, but it was acknowledged later that he had health problems from the beginning of camp, which led to one of the worst seasons of his storied career.
"He had issues last year," Dubee said. "He can't make it public. Why should he? You guys don't need to know everything, first of all. This guy didn't want anybody to know he was banged up last year. … He is not having anything this year. He is not having any physical problems this year. Any. Arm. Back. Legs. Nothing."
But why should people believe that this year?
"You can believe what you want," Dubee said. "I'm telling you what I knew last year and what I know this year. He felt obligated to take the ball. This is a special guy, you know? And he tried to pitch through some stuff last year. Right now, at this point this year, he feels fantastic, physically. Like I said, he doesn't even feel like he pitched yesterday. He threw 70 pitches. He felt like he could throw another 100. He's not there with his delivery and location."
Halladay blamed lethargy for his struggles on Tuesday, saying that a more intense workout program, plus throwing two bullpen sessions between starts, caused the fatigue. He also said that his cutter has been an issue.
Dubee explained that because Halladay had problems with his cutter, he altered his delivery, which caused more problems.
"I know what he's missing," Dubee said. "He's missing his cutter. The cutter is not there. The cutter was there at the beginning of the game yesterday to the far side. And when he tried to throw it back-door, he changes his delivery. He changes his arm slot. He changes his delivery. So all of a sudden, that leads into the other side, too. First of all, he's not there rep-wise to be able to make that adjustment quick enough. Second, right now the back-door cutter is probably too much because he's not locked in delivery wise."
Halladay will throw a bullpen session on Friday at Bright House Field. He is scheduled to pitch on Sunday against the Orioles, although Dubee allowed the possibility he could pitch in a Minor League game at Carpenter Complex instead.
That could be decided on Friday.
It was mentioned again that people are skeptical, because they heard the same "all is well" talk last spring.
Dubee replied, "You can throw any red flag you want up there."
Dubee knew of Halladay's health issues last spring but he wasn't going to announce them publicly. He reiterated that he is not "doom and gloom" this spring, whereas last spring he might have been.
"Absolutely," he said. "Last year I had more concerns. … I'm not going to come out here and say the guy can't do this or can't do that. Why would I? This year, going off what he's been telling me, physically, talking to him, seeing him, yes, physically he is fine."
If this year truly is different, time will tell.
Todd Zolecki is a reporter for MLB.com. This story was not subject to the approval of Major League Baseball or its clubs.