Mid-level starters on Phils' FA shopping list
PHILADELPHIA -- Phillies owner John Middleton said at times it is difficult to be patient with the organization's rebuild.
He is like anybody else. If the team is winning, he's a little more patient. If the team is losing, he isn't.
"There were times when I said, 'We have to do something about this,'" Middleton said on Thursday. "Then, [on] other days, things go better and I say, 'OK, I can kind of see the light at the end of the tunnel a little bit.' But yeah, it's hard. I'm a competitive person."
• 3 questions facing Phillies this offseason
If the Phillies want to be more competitive in 2018, they need to upgrade their starting rotation. During the past two offseasons, they acquired rentals Jeremy Hellickson, Charlie Morton and Clay Buchholz to try to stabilize things. This offseason, they might need to find pitchers who are guaranteed to stick around a little longer than just one season.
Free agents: INF Andres Blanco, RHP Buchholz, OF Hyun Soo Kim and OF Daniel Nava
Arbitration-eligible players: 3B Maikel Franco, SS Freddy Galvis, RHP Luis Garcia, 2B Cesar Hernandez and C Cameron Rupp
Biggest potential free-agent loss: This does not apply to the Phillies, who traded any potential free agents of value before the July 31 non-waiver Trade Deadline.
Potential free-agent targets: It is unlikely the Phillies pursue free-agent starters like Yu Darvish and Jake Arrieta. It just doesn't make sense at this time. Philadelphia is not expected to contend until 2019 at the earliest, so spending more than $100 million on pitchers whose best years will be the first couple years of a deal seems like an excellent way of wasting money -- especially when aces can be found when the time is right to strike (as was the case before with Cliff Lee, Roy Halladay and Roy Oswalt). But there are other mid-level starters available who could work. Alex Cobb, Lance Lynn and Jhoulys Chacin immediately come to mind. The Phillies could also put together a package of pitchers and positions players in a trade to find the starting pitchers they need.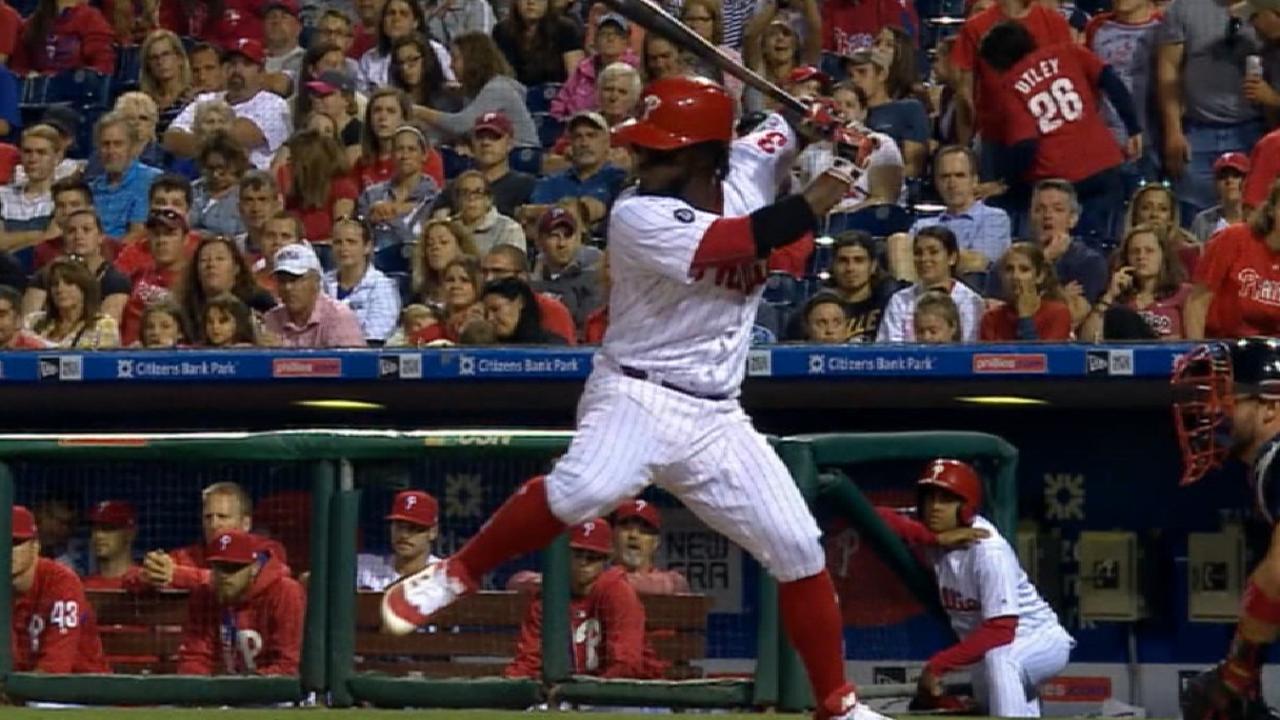 Wild-card scenario: Phillies president Andy MacPhail said last month that ownership sees the route the front office is taking toward contending again. While it understands the need to be patient, it also said the front office should explore any unforeseen opportunities should they present themselves. In the case of the Phillies, perhaps that means trading one of their young position players to help fill a void elsewhere on the roster.
Todd Zolecki has covered the Phillies since 2003, and for MLB.com since 2009. Follow him on Twitter and Facebook and listen to his podcast. This story was not subject to the approval of Major League Baseball or its clubs.