MLB.com Columnist
Paul Hagen
Can Franco find groove like Eagles' Agholor?
Phils' third baseman needs just to look across Broad Street for inspiration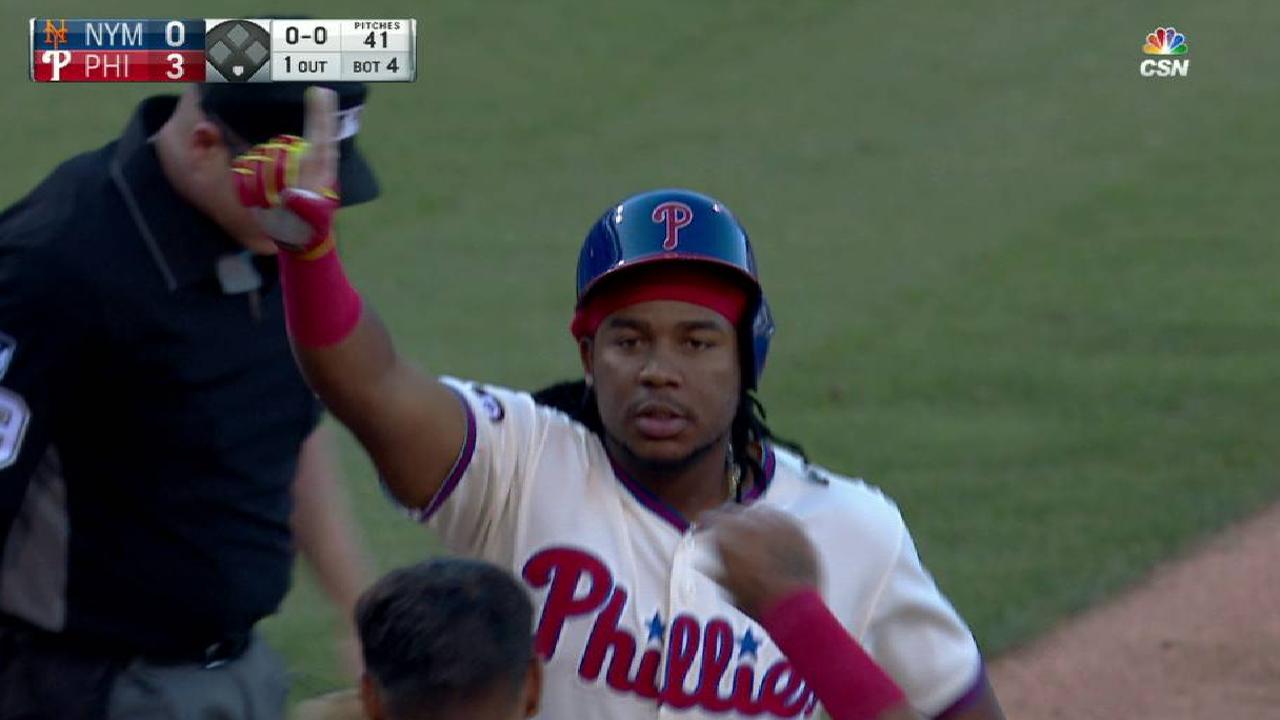 PHILADELPHIA -- The Phillies have a number of knotty decisions that must be unraveled this offseason. None is more vexing than what to do about Maikel Franco.
Once upon a time he was considered a franchise cornerstone. Now, at best, he's an enigma. After loudly announcing his arrival in 2015 with an .840 OPS, that stat declined to .733 the following year and to .690 in 2017, last among qualifying third basemen. And while the front office ponders its options, the vox populi appears to have reached the clamorous verdict that it's time for a change at the hot corner.
General manager Matt Klentak and his baseball people won't rush to judgment. They'll sift through the mountain of data that's available these days before charting their course.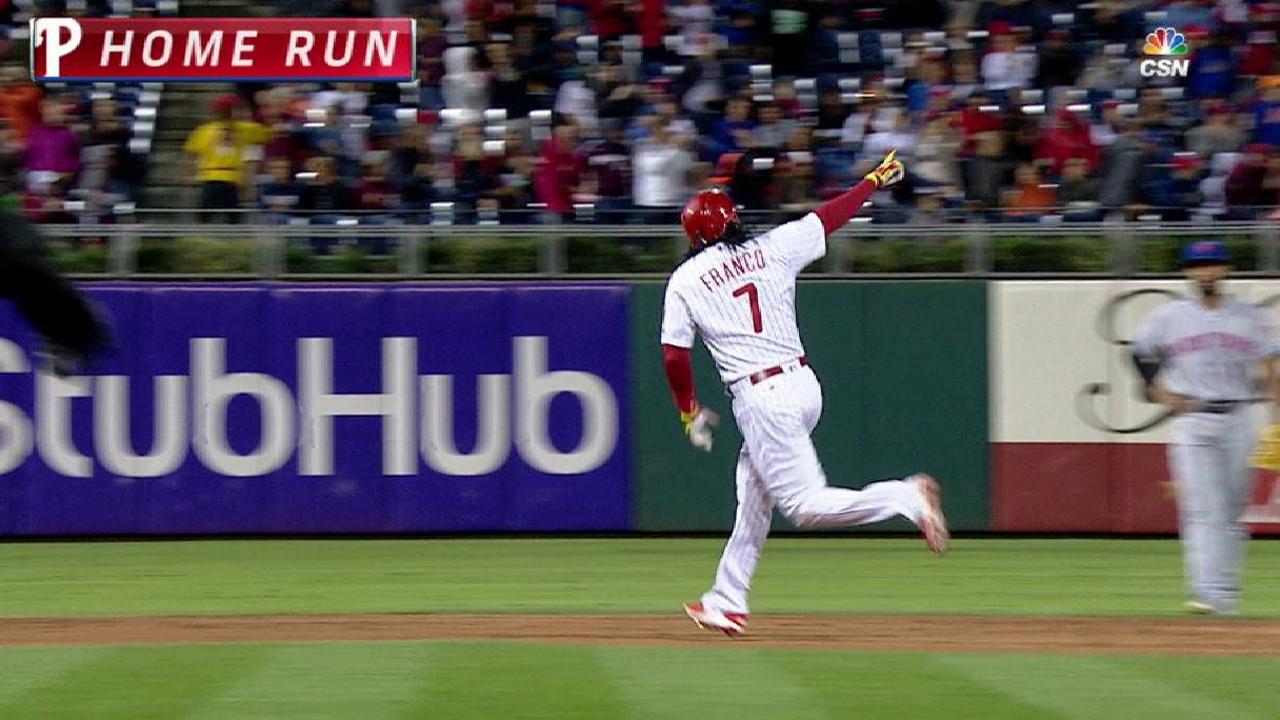 There's one other direction they might look for guidance, though: To their left, across Broad Street from Citizens Bank Park, where the Eagles train and wide receiver Nelson Agholor is a big reason why the surprising Birds are off to a 5-1 start.
Coming out of last season, Agholor was the local football equivalent of Franco. He was a former No. 1 Draft pick who hadn't come close to living up to expectations. In his first two years in the NFL, Agholor had a total of three touchdowns. He had a reputation for dropping the ball and making costly mistakes. The coaching staff, puzzled and frustrated, benched him for a late-season Monday night game against the Packers. The fans were vocal in their desire to see the Eagles upgrade at that position.
Now, Agholor already has four TDs in five games.
There's no way of knowing for sure whether Franco is poised for a similar turnaround, of course. But the right-under-their-noses reminder that it can happen is at least worth contemplating.
In the end, it will be up to Franco. Agholor reportedly rededicated himself last offseason, training diligently with a friend and mentor, former NFL wide receiver Yo Murphy. Franco also has those who can provide a support system.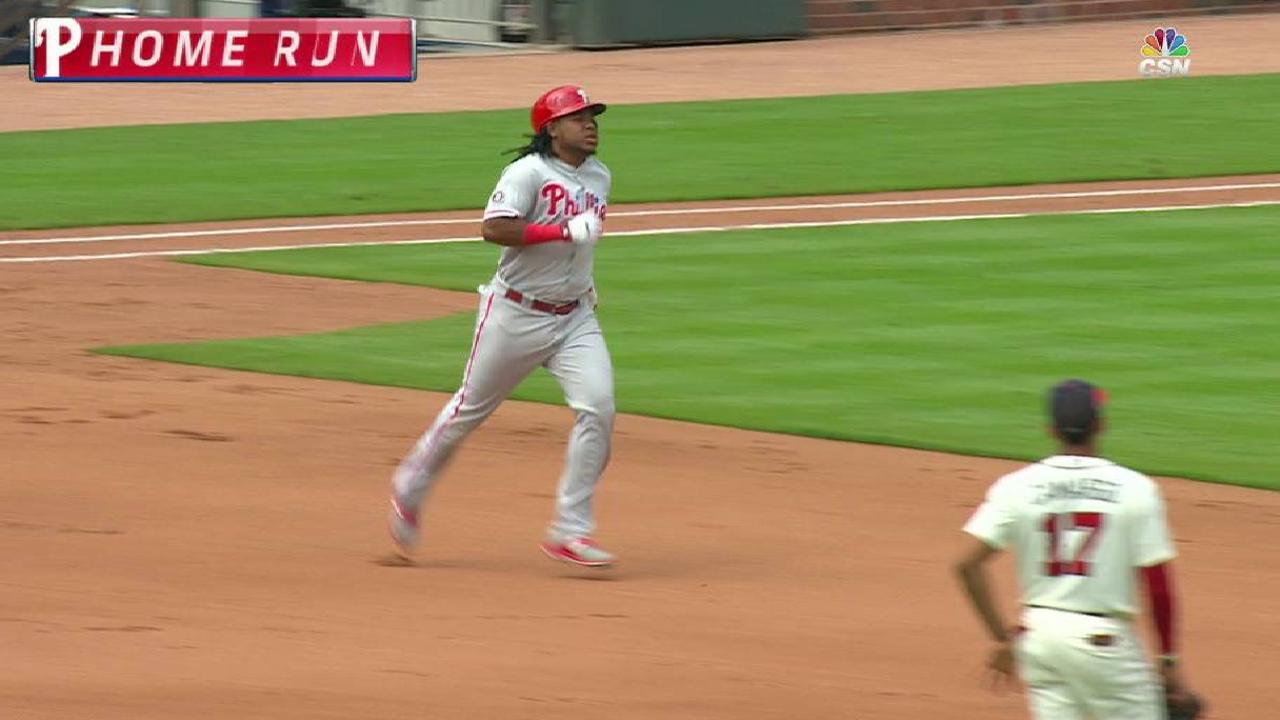 Manny Amador is the field coordinator for the Phillies academy in the Dominican Republic. Franco trusts him implicitly. "For me, Manny Amador is everything," the third baseman said in 2015. "He gives me motivation. He shows me how to play the game right. He's there for me. He's tough on me. He knows what he's doing. He knows baseball. I go out there and try to do everything the right way, just like he told me."
Hitting coach Matt Stairs also remains firmly convinced that Franco can become the player that the scouts projected, although Stairs remains in limbo as the organization searches for its next manager. Even if Stairs returns, the Phillies could even deploy Amador as an extra coach whose assignment would be to focus on Franco, and there's precedent for such a move. In the early 2000s, Carlos Arroyo traveled with the team for a time specifically to nurture right-hander Vicente Padilla.
There are some obvious reasons not to give up on Franco just yet. He's still only 25 years old. His physical tools are undeniable. And, frankly, the Phillies likely wouldn't get much back if they traded him now.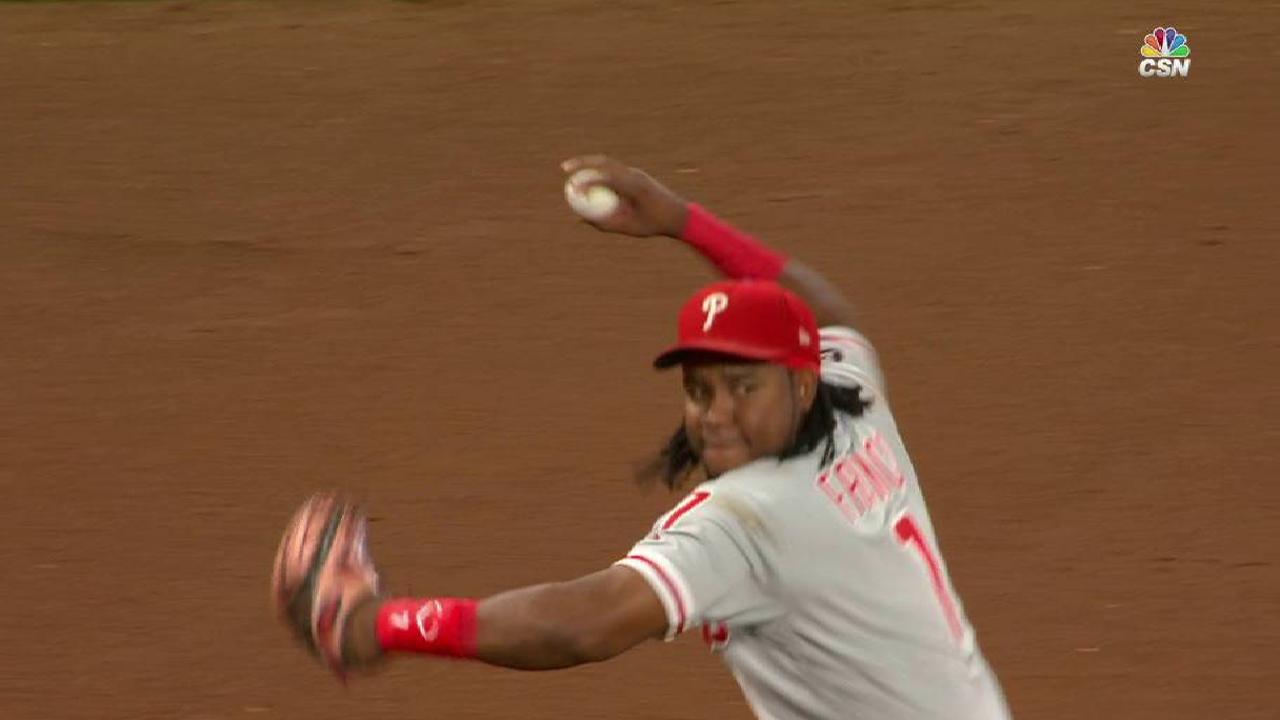 Besides, there's little downside in giving him another look. If this is when it all clicks in for him, great. If not, J.P. Crawford showed in September that he's capable of handling third. It's not difficult to envision an Opening Day roster that includes Crawford as the starting shortstop and Freddy Galvis as a super-utility player. Later in the season, if Franco is still struggling, it would be relatively simple to slide Crawford over to third and reinstate Galvis at short.
Plus, as every Phillies fan knows, Orioles All-Star third baseman Manny Machado could hit the free-agent market at the end of the 2018 season when he'll be just 26 years old.
Knowing all that should only spur Franco. To carry the Agholor comparison a step further, the Eagles signed wide receivers Alshon Jeffery and Torrey Smith coming into this season. Agholor has responded by becoming the player the Eagles hoped for when they drafted him.
Hall of Famer Mike Schmidt is widely regarded as the best third baseman who ever played the game. At the beginning of Spring Training last year, Schmidt noted that he batted .196 with a .697 OPS in 1973, his first full year in the big leagues. But the following year he hit 36 homers, drove in 116, made the All-Star team and attracted some National League Most Valuable Player Award votes.
Franco, Schmidt suggested, could be on the verge of a similar leap before the 2017 season.
It didn't happen, which doesn't mean it won't in 2018.
There's an old saying in baseball that it's better to trade a player a year too early than a year too late. Franco looks like an exception to that adage. If he doesn't blossom next season, there will be plenty of time -- and ways -- for the Phillies to upgrade.
There's another old saying that sometimes the best move is the one you don't make. For a reminder, the Phillies need to look no further than across the street.
Paul Hagen, a reporter for MLB.com, won the J.G. Taylor Spink Award in 2013 for a lifetime of excellence in baseball writing. This story was not subject to the approval of Major League Baseball or its clubs.