Altherr not taking slam off Kershaw for granted
Go-ahead shot followed strong at-bats by Kelly, Hoskins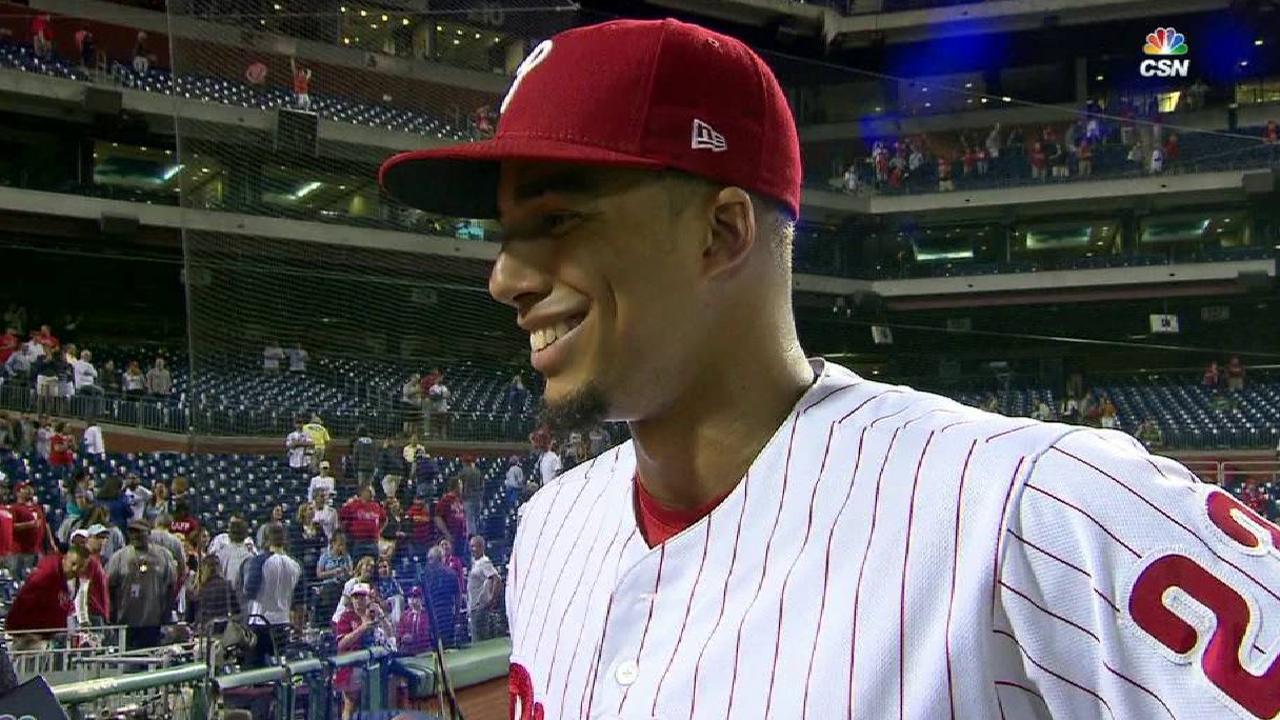 PHILADELPHIA -- Phillies left fielder Aaron Altherr tried to treat Monday night's game against Dodgers ace Clayton Kershaw like any other.
His efforts proved futile.
"Deep down, you know it's really not," Altherr said after crushing a grand slam against Kershaw in a 4-3 victory at Citizens Bank Park. "He's a future Hall of Famer."
Altherr made some history against Kershaw. It was the first grand slam Kershaw had allowed in his storied career. Of course, it was just the 104th time Kershaw had faced a batter with the bases loaded, which is pretty unbelievable considering he has pitched nearly 2,000 innings.
• Grand slams mean 40% off pizza
"That's obviously pretty special to be the first one to do that," Altherr said. "I definitely don't take it for granted."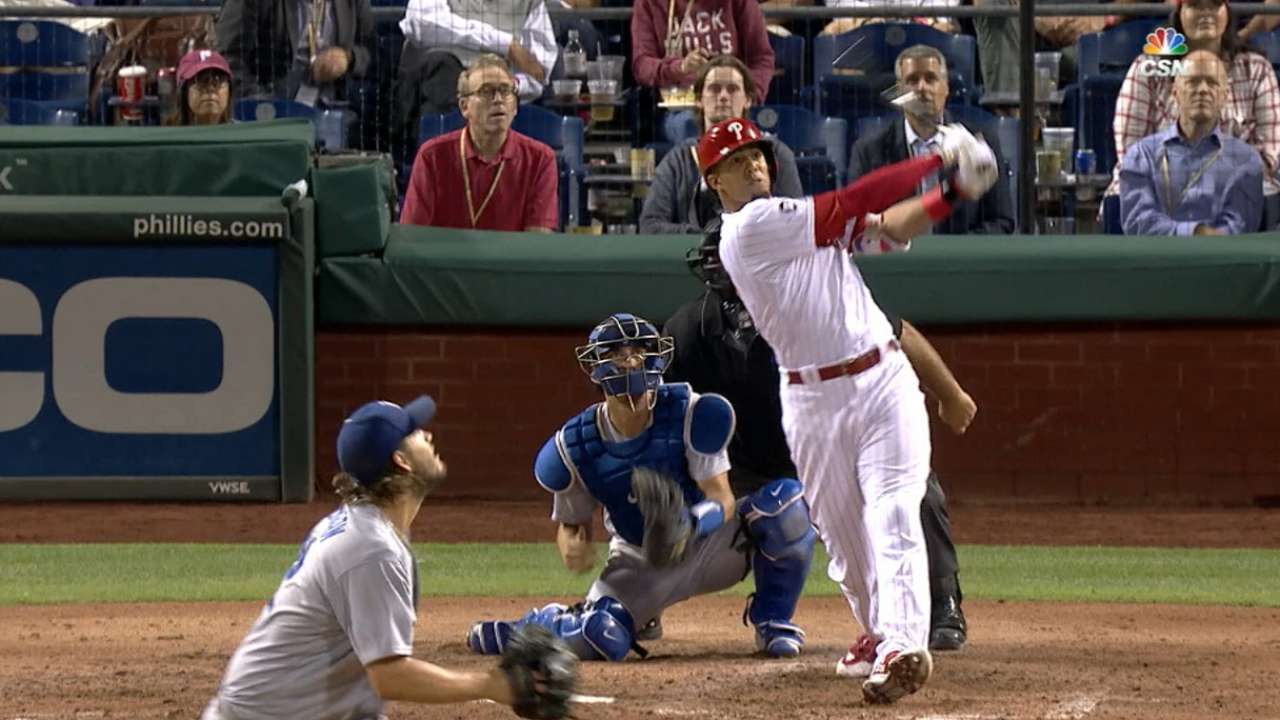 Pinch-hitter Ty Kelly worked a leadoff walk to get things started in the sixth. Freddy Galvis' one-out single to left put runners at first and second. He is 6-for-10 against Kershaw in his career. Nick Williams struck out swinging for the second out, then Rhys Hoskins worked an impressive seven-pitch walk to load the bases.
Impressive because home-plate umpire Brian O'Nora called a 1-1 curveball a strike, even though it was outside. Hoskins then laid off a 1-2 slider, which was low. He fouled off a 2-2 curveball before taking the next two pitches for a walk to load the bases.
"The third at-bat, you kind of have an idea of what they're trying to do to you," Hoskins said. "It was the first time I've seen him. You kind of know what the pitches look like, so I was definitely more comfortable stepping in there. I felt pretty good that he either had to come to me or face the guy behind me, who's also pretty good."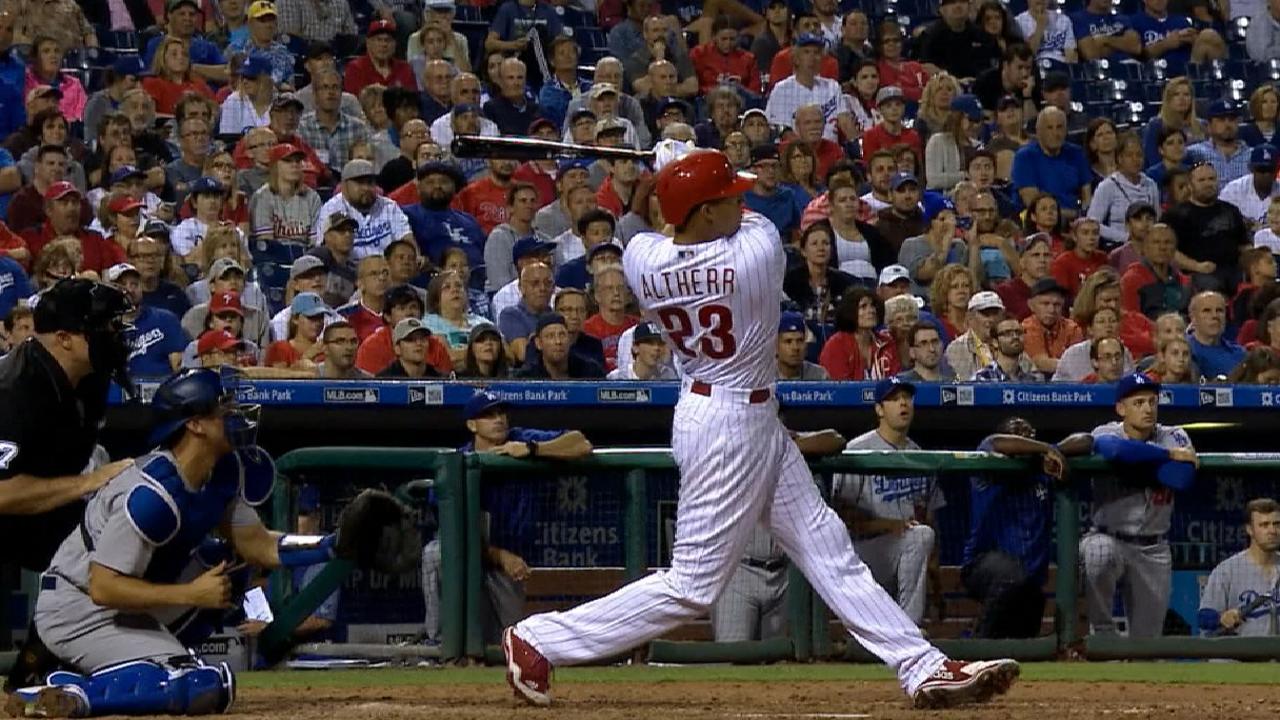 "Any time a guy walks to load the bases and the next guy hits a grand slam, I'm real happy about it," Phillies manager Pete Mackanin said.
Altherr, who hit an inside-the-park grand slam in September 2015, crushed a 1-1 slider over the heart of the plate in the second deck in left field.
It was a rare Kershaw mistake.
"Thank God I was able to get a good pitch to hit," Altherr said.
Altherr is hitting .276 with 21 doubles, 4 triples, 17 home runs, 55 RBIs and an .870 OPS in 362 plate appearances. It's likely that Altherr, Williams and Odubel Herrera will be the Phillies' Opening Day outfield. No question the Phillies are eager to see what Altherr can accomplish over the course of a full season. He missed most of last season following wrist surgery, and he had two stints on the DL this season because of a strained right hamstring. Before his hamstring injuries, he had been on pace to have the Phillies' highest OPS in a full season since Jayson Werth in 2010.
Nights like Monday certainly make Phillies fans a little more excited about the future. Kershaw suffered his first loss against the Phillies since 2010. He had been 3-0 with a 0.95 ERA in five starts since.
"We definitely have a special team here," Altherr said. "We have a lot of talented young guys. The sky's the limit for what we can do."
Todd Zolecki has covered the Phillies since 2003, and for MLB.com since 2009. Follow him on Twitter and Facebook and listen to his podcast. This story was not subject to the approval of Major League Baseball or its clubs.