'Rhys Lightning' strikes again with HR No. 17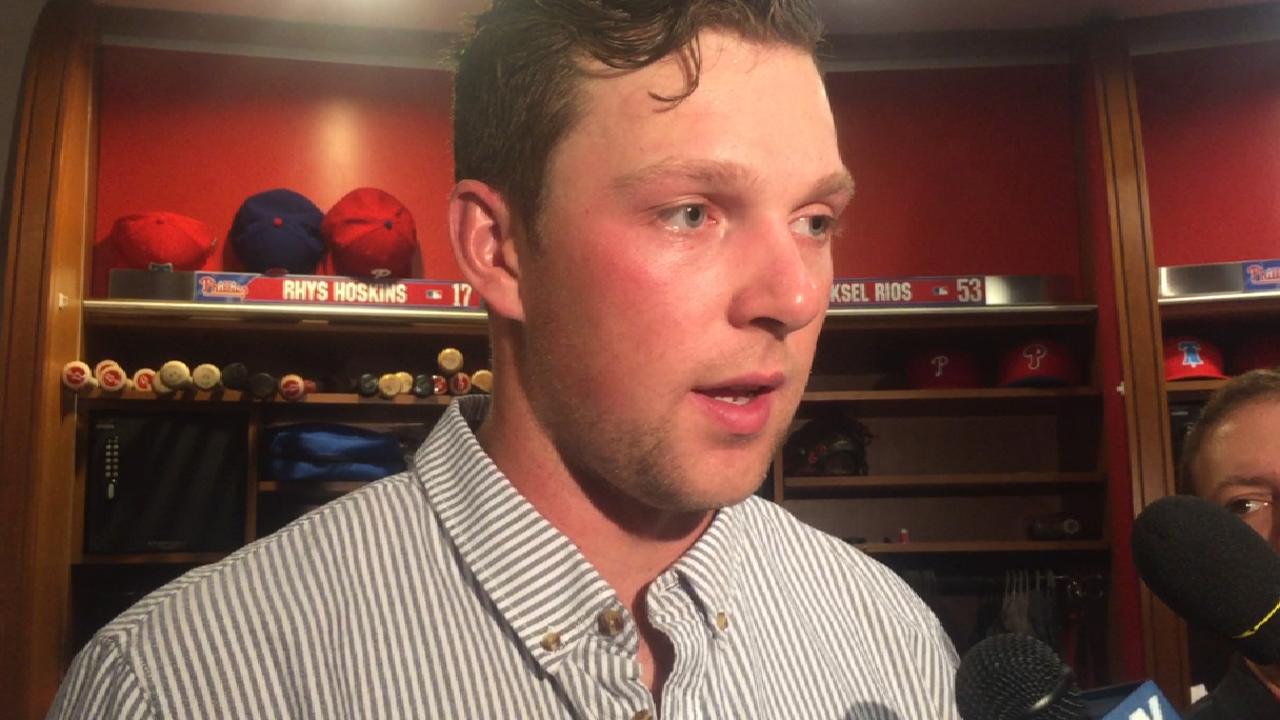 PHILADELPHIA -- Pete Mackanin said Wednesday night that he wants Rhys Hoskins to autograph a baseball for him.
He might want to get a jersey and bat autographed, too. They might be good investments.
Hoskins hit his 17th home run of the season in Wednesday night's 8-1 victory over the Marlins at Citizens Bank Park. He is the fastest player on record to hit 17 homers, reaching the mark in just 33 career games. Wally Berger held the previous record, but he needed 42 games to hit 17 homers in 1930. Hoskins also is tied with Joe DiMaggio, Ted Williams and Zeke Bonura for the record for most RBIs in a player's first 33 games.
Hoskins said at this point, even he has surprised himself.
"I had to give a little look into the dugout and just kind of shrug," he said about his homer. "I don't know, it's fun."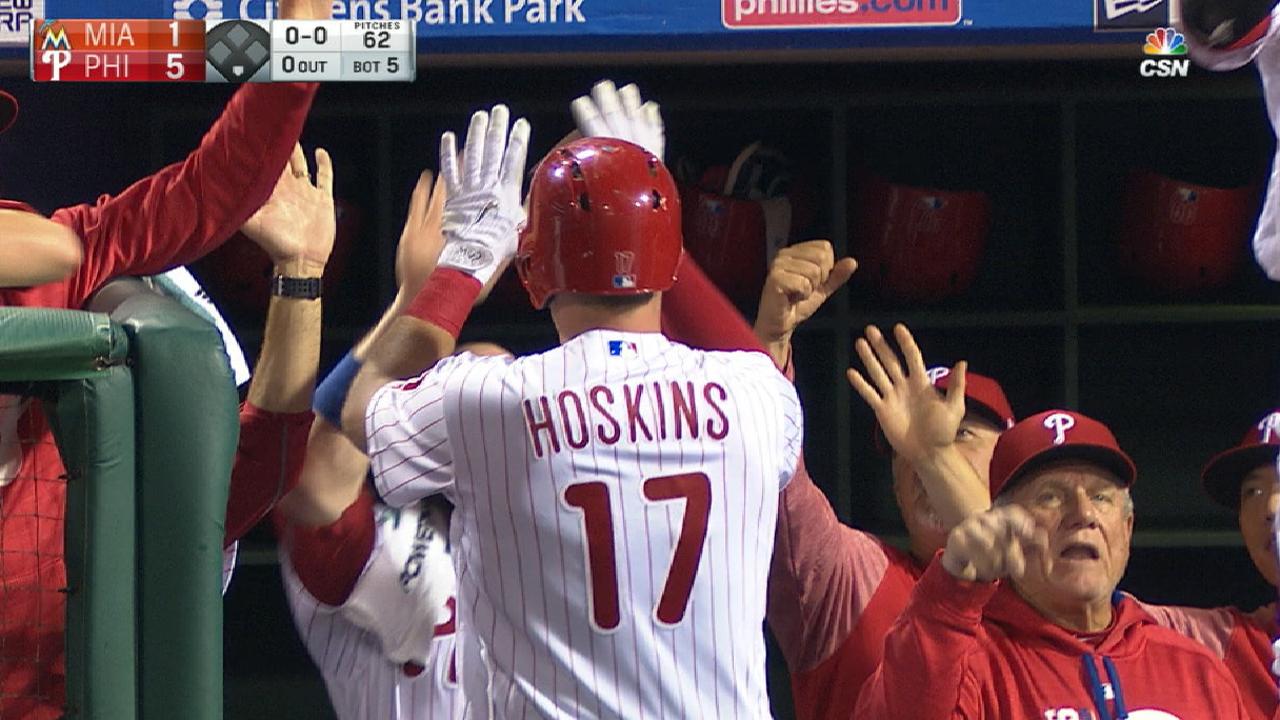 Hoskins is getting noticed more and more around baseball and around Philly. Marlins slugger Giancarlo Stanton chatted with him at first base in Tuesday's 15-inning affair.
"Keep it going," Stanton told him.
"Obviously the work is going to need to be there for your whole career," Hoskins said. "He just kind of reiterated that. It was pretty cool. That guy is obviously a star in this game. Especially with the year that he's having, to be able to share that with him is pretty cool."
Hoskins got recognized a couple times Wednesday morning on his way to breakfast. He probably should get used to that.
"Just the, 'Hey' on the street, which is pretty cool," he said. "I kind of still see myself as a normal kid playing baseball who happens to be in a big city."
Marlins right-hander Dan Straily threw Hoskins an 0-1 fastball in the fifth, which he crushed high into the air before it landed in the left-field seats. The two-run homer handed the Phillies a 5-1 lead.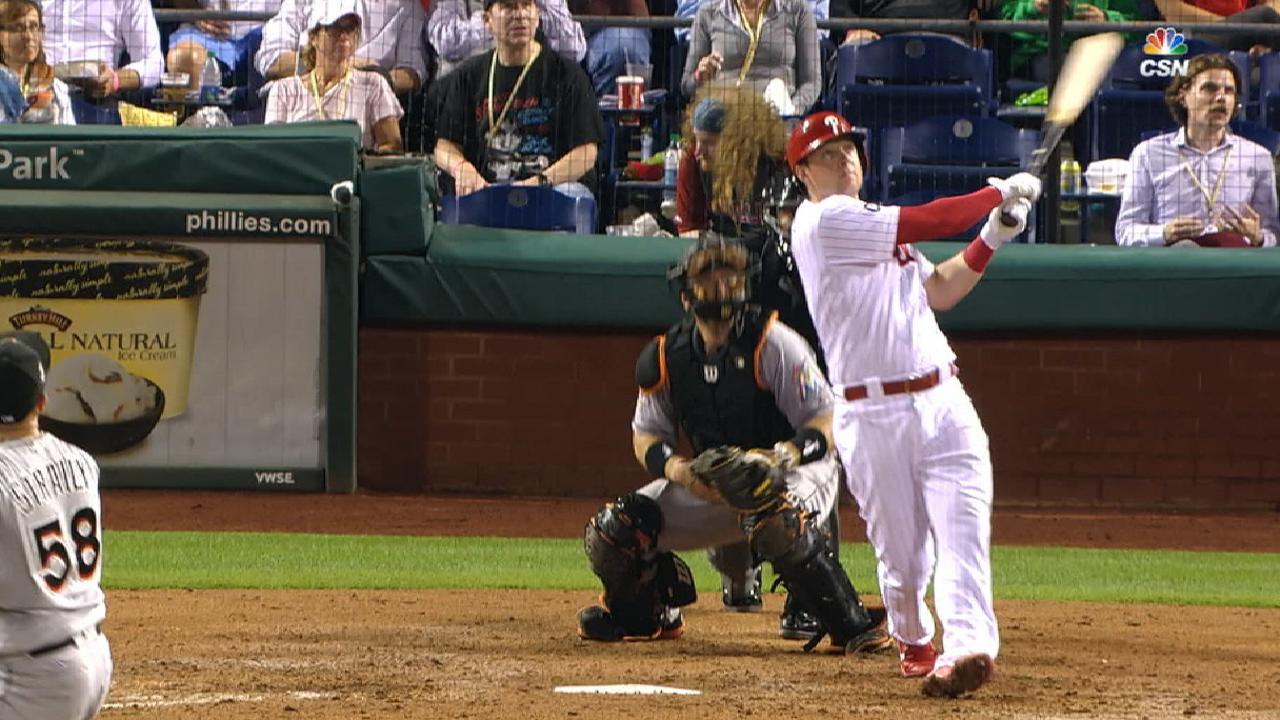 Hoskins is 6-for-8 with three home runs against Straily.
"That guy is racing to the bat rack when I come up. He just is," Straily said. "I've tried everything and it's just not working."
Hoskins is hitting .311 with a .776 slugging percentage against fastballs, which is second in baseball (minimum 50 fastballs put in play) since he made his debut Aug. 10. J.D. Martinez entered the night ranked first at .825. Hoskins also entered the game with the third-highest rate of home runs per swing (6.6 percent) since his debut Aug. 10. Only Stanton (7.4 percent) and Martinez (6.7 percent) ranked higher.
Could teams start employing a defensive shift against Hoskins as one measure to stop Hoskins?
"We can't put guys in the seats, can we now?" Marlins manager Don Mattingly said.
Good point.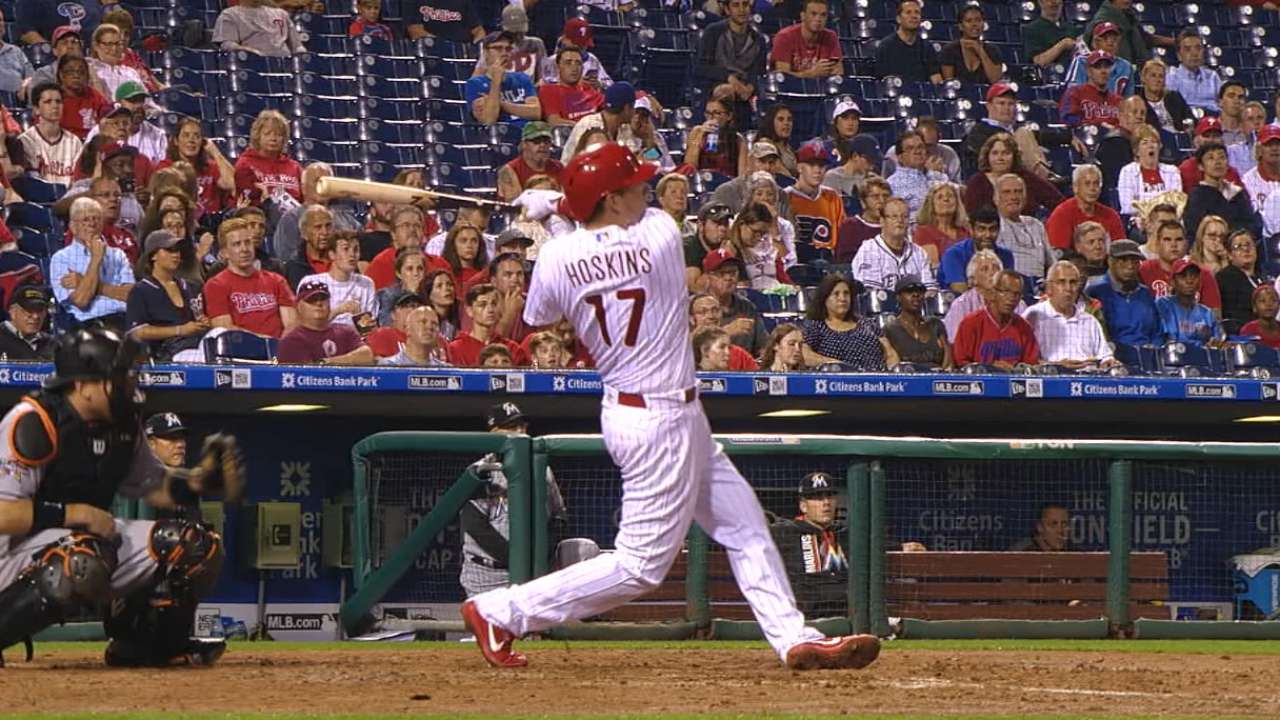 "I mean, it's pretty amazing," Phillies right-hander Aaron Nola said. "His approach is so good, if he doesn't hit a home run, he gets a hit. If he doesn't get a hit, he walks. I get some texts every now and then like, 'Hoskins is unbelievable.' I'm thinking like, 'Yeah, we all know.' The guy is awesome."
Todd Zolecki has covered the Phillies since 2003, and for MLB.com since 2009. Follow him on Twitter and Facebook and listen to his podcast. This story was not subject to the approval of Major League Baseball or its clubs.