'Smart hitter' Hoskins impressing Mackanin
Rookie's 14th HR sets mark for first 30 games; bases-loaded walk key in win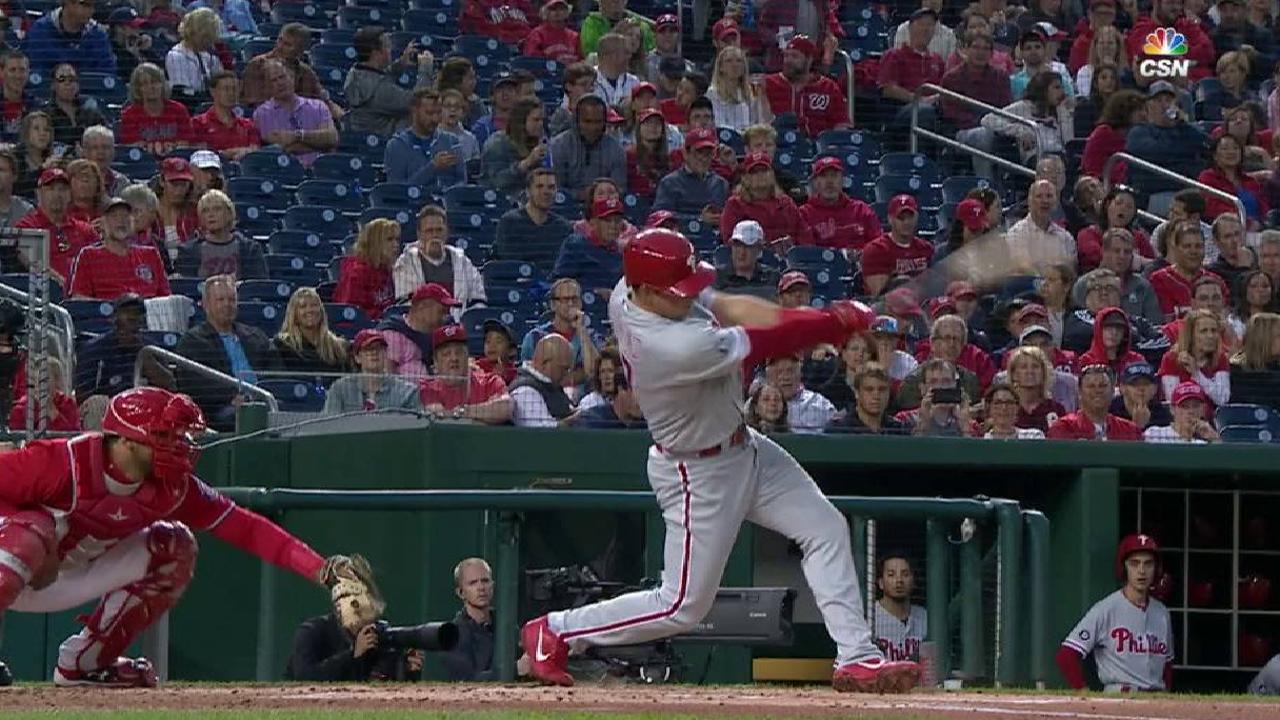 WASHINGTON -- In his short tenure in the big leagues, Rhys Hoskins has turned heads primarily because of his prodigious power. But in Saturday's 5-4 win against the Nationals, the Phillies' rookie first baseman showed off the other trait that might impress manager Pete Mackanin just as much: his patience.
"You don't see many guys like that with that kind of plate discipline who also can hit," Mackanin said. "OPS is great, but on-base percentage is a big part of that."
That rare mix of power and patience was on display during the 24-year-old's all-around evening: he launched a game-tying home run -- his 14th in 30 games -- drew three walks and even stole a base for the first time in his career. Most importantly, the game's decisive run came via Hoskins' bases-loaded walk in the fourth inning.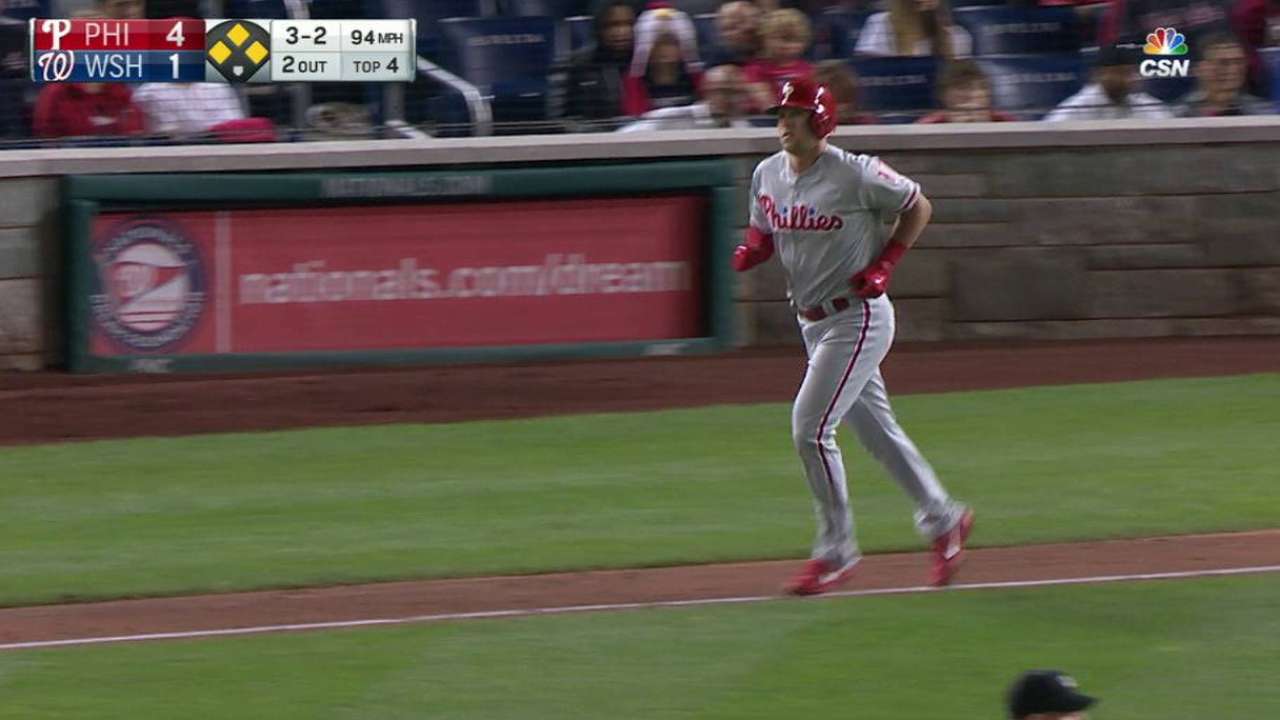 "It obviously ended up being a big run," Hoskins said. "The guy made two good pitches in 2-0, and 3-1. ... I knew he had to come into the strike zone. Just wasn't a pitch that was close 3-2. ... Just try to slow the game down as much as you can. You've got to make the pitcher come to you."
Added Mackanin: "He'll take a walk with the bases loaded rather than trying to hit a grand slam. If it comes up, he gets the right pitch, he can do that also."
Before Hoskins drew the key walk, he had already flashed his power swing. In the second inning, he took a hanging slider from Nats starter Edwin Jackson and sent it to left field for a game-tying solo home run.
"That's the first game that I've pitched against him," Jackson said. "He's a great hitter. He's one of those guys that is an up-and-coming talent, young guy, can put the ball over the fence."
Prior to Hoskins' torrid stretch, no big league hitter had ever hit their first 14 career home runs in fewer than 35 games. And yet the rookie has done it in just 30 games, which remarkably puts him on pace to potentially take over the team lead by season's end. Perhaps even more impressively, he's already notched 21 walks on the season, good for second on the Phillies since the All-Star break.
It's a given that Hoskins' eye-popping numbers likely won't persist over a larger sample size. But for a team looking for building blocks for 2018, he's already given the Phillies enough to wonder what kind of player he might be over a full season.
"He's a smart hitter," Mackanin said. "You don't find a lot of hitters like that. They don't come along very often."
Daniel Shiferaw is a contributor to MLB.com based in Washington and covered the Phillies on Saturday. This story was not subject to the approval of Major League Baseball or its clubs.