Galvis, Crawford could battle for SS job in '18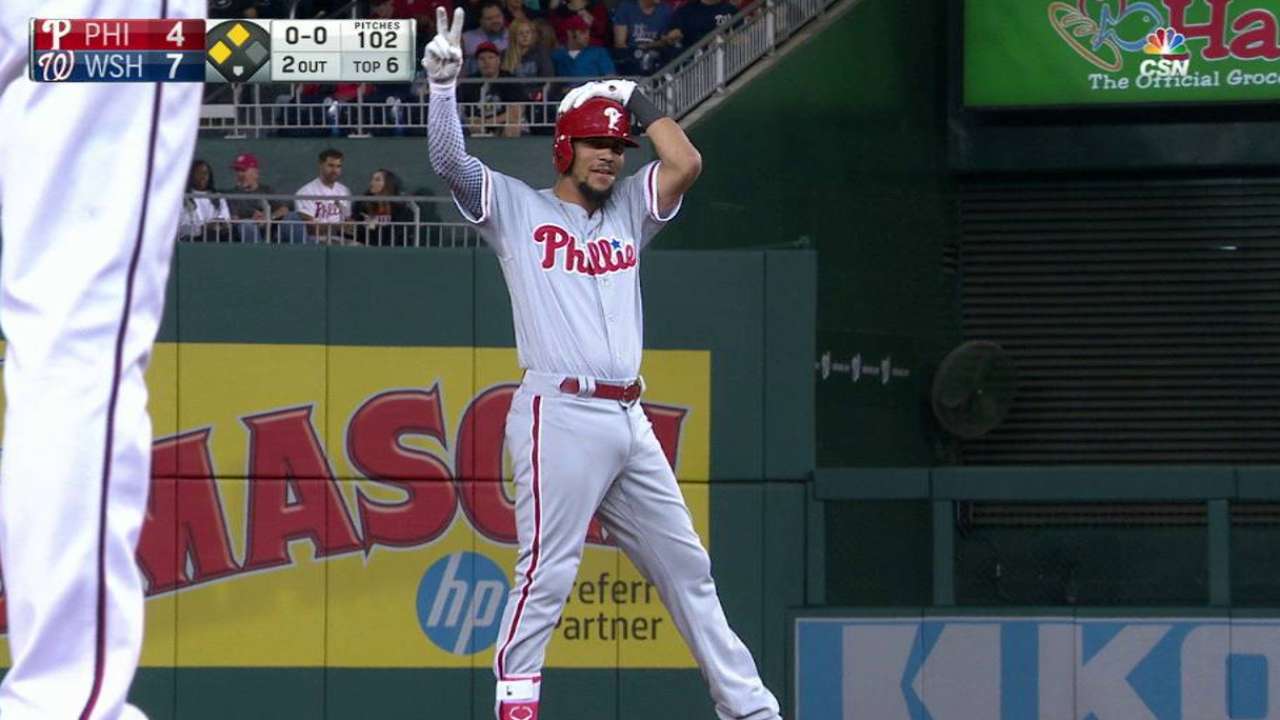 WASHINGTON -- Phillies shortstop Freddy Galvis could win a Gold Glove in a few months, but in Friday night's 11-10 loss to the Nationals, he took a back seat to J.P. Crawford.
Galvis will make way for Crawford a few more times before the end of the season. Next season, who knows?
"It's kind of weird, not seeing your name in the lineup," Galvis said before Friday's game at Nationals Park.
Galvis, who pinch-hit in the sixth, had started all 140 previous games this season, including 139 at short. The only reason he had not started every game at short is because the Phillies moved him to center field in the second game of last week's doubleheader against the Braves. They said they wanted to see Galvis at different positions, but it probably had more to do with Crawford's imminent arrival and the Phillies wanting to make things less awkward by ending Galvis' streak before Crawford got promoted.
Crawford, the club's No. 4 prospect per MLBPipeline.com, went 2-for-5 with a double and an RBI on Friday. It was the first extra-base hit and RBI of his career.
Manager Pete Mackanin said last week he intended to start Galvis all 162 games, even if it meant playing him out of position. But Galvis said he experienced a sore right elbow following the game in center field.
"It's a different throw," Galvis said.
So, Galvis will either start at short or sit during the season's final month. He has been remarkably good-natured about the move. Other players might complain.
"I have to take it well," Galvis said. "It's baseball, you know what I mean? This is a team. We're trying to win. It's September. You know what happens in September. They try to see other players. Like I said before, I always put my team in front of me. Just try to be a good teammate. I understand the situation. So just be professional and that's it."
Galvis could still be the Phillies' Opening Day shortstop in 2018 in at least two scenarios. One, Crawford struggles enough this month that the organization thinks he needs more seasoning in Triple-A. Two, Crawford plays well enough at third base this month that they move him there. Third baseman Maikel Franco's .656 OPS entering Friday ranked last among 23 qualified third basemen. His minus-0.9 WAR was 148th out of 152 players, according to FanGraphs.
"It's four days into [Crawford's] Major League career, I don't want to project too much on his positional future," general manager Matt Klentak said. "The fact that we have a talented young player that can play multiple spots, it opens a lot of doors for us. We know Freddy can play multiple positions. There's no one way to win a game or to build a winning team. If we have more players than can do more things, that should bode well for the organization."
Todd Zolecki has covered the Phillies since 2003, and for MLB.com since 2009. Follow him on Twitter and Facebook and listen to his podcast. This story was not subject to the approval of Major League Baseball or its clubs.