Phils drop slugfest after late rally falls short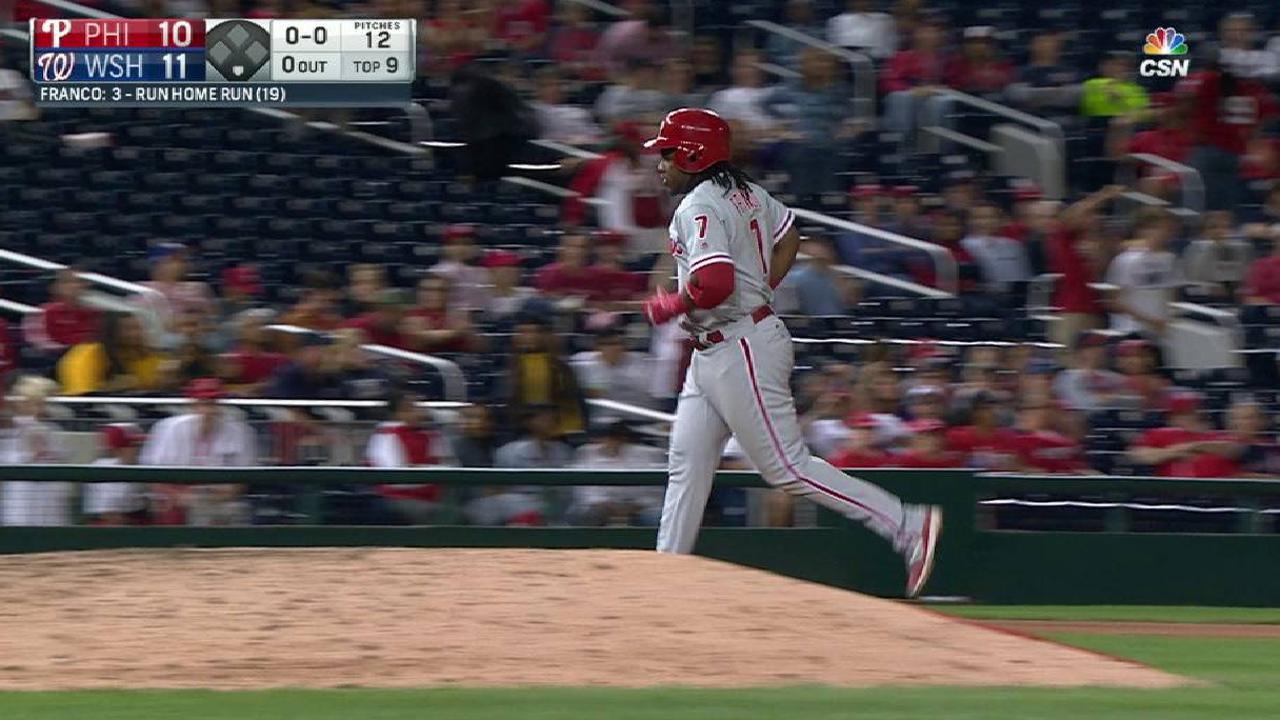 WASHINGTON -- Michael A. Taylor showed off his variety of tools during a spectacular Friday night at Nationals Park, as he had four hits and five RBIs, including an inside-the-park grand slam and an outfield assist to help carry the Nationals to an 11-10 victory over the Phillies.
Taylor's efforts helped bring the Nationals closer to clinching the National League East crown, decreasing their magic number to three, with the Marlins pulling off a 7-1 victory in Atlanta. After the Dodgers' 5-4 loss to the Rockies on Friday night, the Nats sit just 5 1/2 games behind Los Angeles in the race for the best record in the National League.
• Taylor's feat also completed by Phils' Crawford
Taylor's career night began in the third inning when he hit a line drive to center field off right-hander Jake Thompson. The hit was misplayed by Odubel Herrera, giving Taylor the opportunity to race around the bases for the first Nationals inside-the-park grand slam since 2015 and a curtain call for his efforts.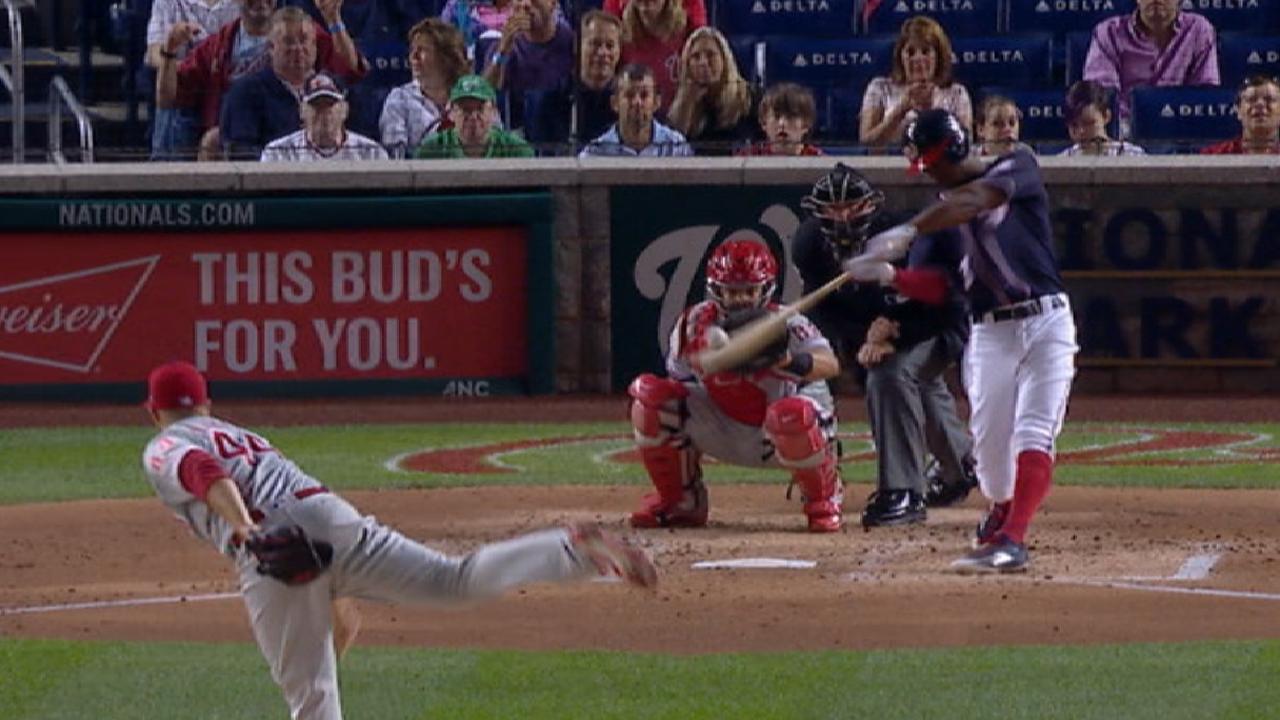 "Soon as it went over his head, I was thinking four right there," Taylor said.
• Grand slams mean 40% off pizza
Washington did not receive the usual dominant effort from its ace, Max Scherzer, who began his night with a bumpy first inning, when he surrendered back-to-back walks followed by a three-run homer to Nick Williams.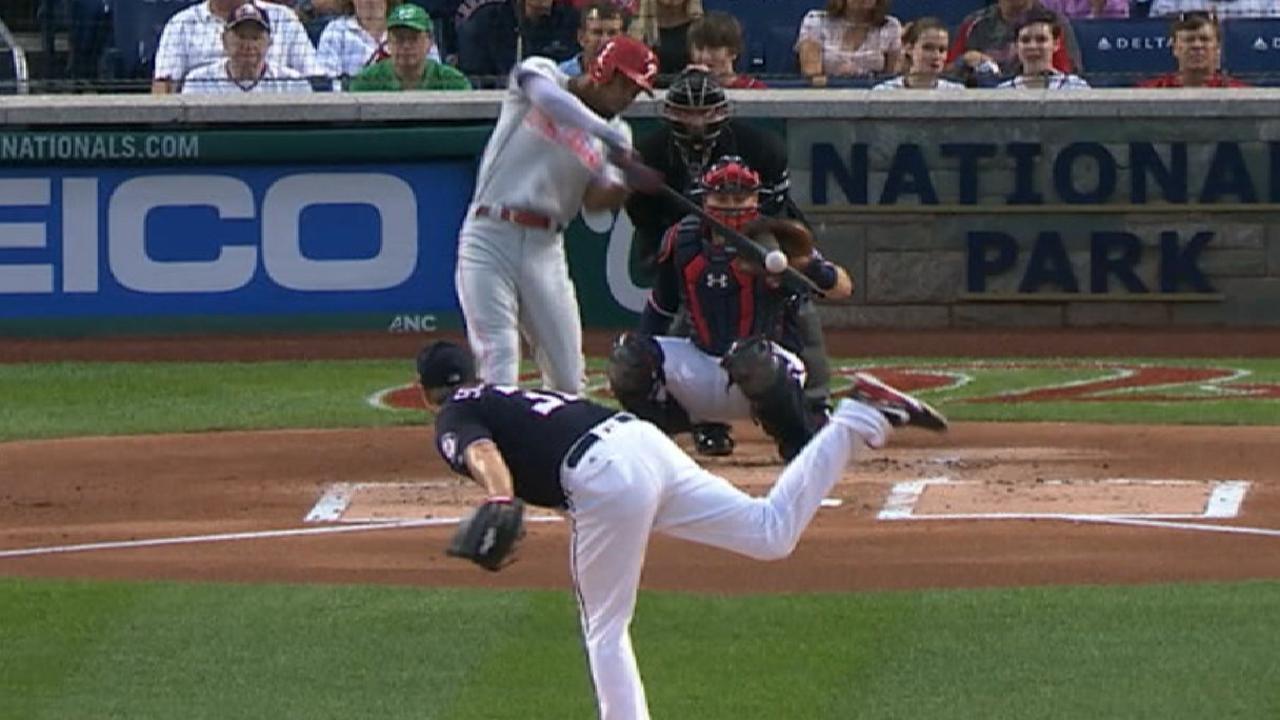 "The two walks, that's what you kick yourself over," Scherzer said. "I was trying to throw a fastball in to Williams and I left it over the middle of the plate. That happens. I can live with that. It's the walks that drive me nuts."
But Scherzer settled in to hold the Phillies to four runs over six innings with seven strikeouts.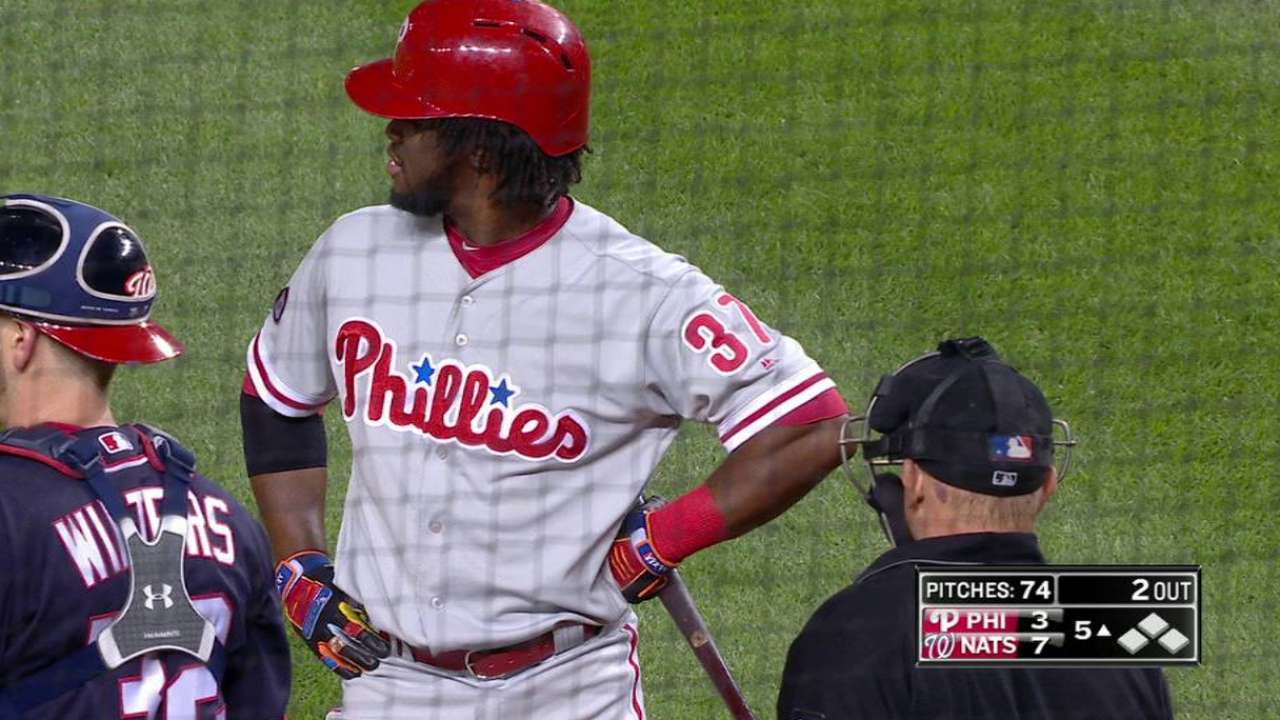 The Phillies drew closer with a pair of three-run homers -- by first baseman Rhys Hoskins in the seventh inning and Maikel Franco in the ninth -- but left-hander Sean Doolittle came on to strike out the side and protect a one-run lead in the ninth for the save.
"I don't think I've ever won a game when the opposition hits three three-run homers," Nationals manager Dusty Baker said.
Phillies manager Pete Mackanin concurred.
"If you would've told me that on a night we hit three three-run home runs, [we] lost the game, I wouldn't believe it," he said. "Especially on a night that Scherzer pitched."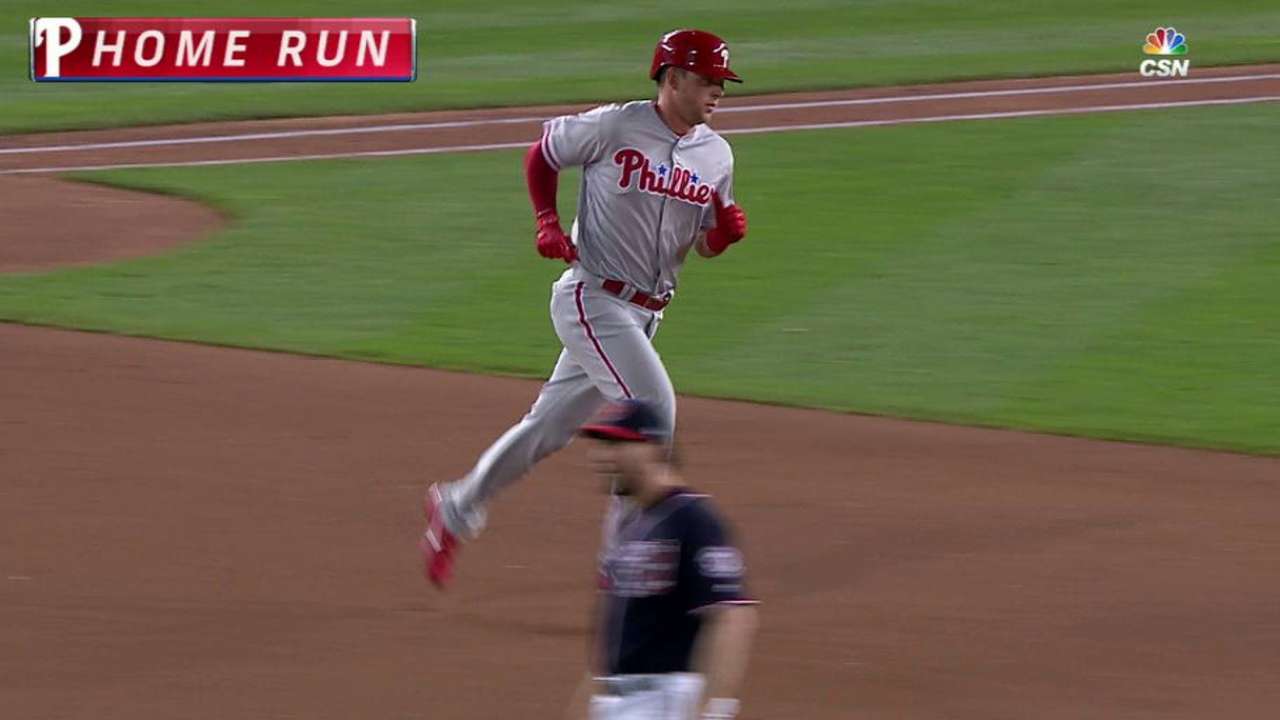 MOMENTS THAT MATTERED
Taylor touches 'em all: Herrera initially charged in on Taylor's line drive, but the ball sailed over his outstretched glove. According to Statcast™, Herrera had an 87 percent catch probability on the play. Taylor took advantage once the ball went past Herrera, racing around the bases in 15.04 seconds, the second-fastest inside-the-park home run in the Majors this season.
• Herrera extends Majors' best hitting streak to 21
"I didn't read the line drive well," Herrera said. "I thought it was going to sink. It didn't. It picked up."
Taylor's impressive day was not finished. In the seventh inning, he added an outfield assist when he threw Williams out at the plate. It was his eighth outfield assist of the season as he launched a 96.3-mph throw from 243 feet.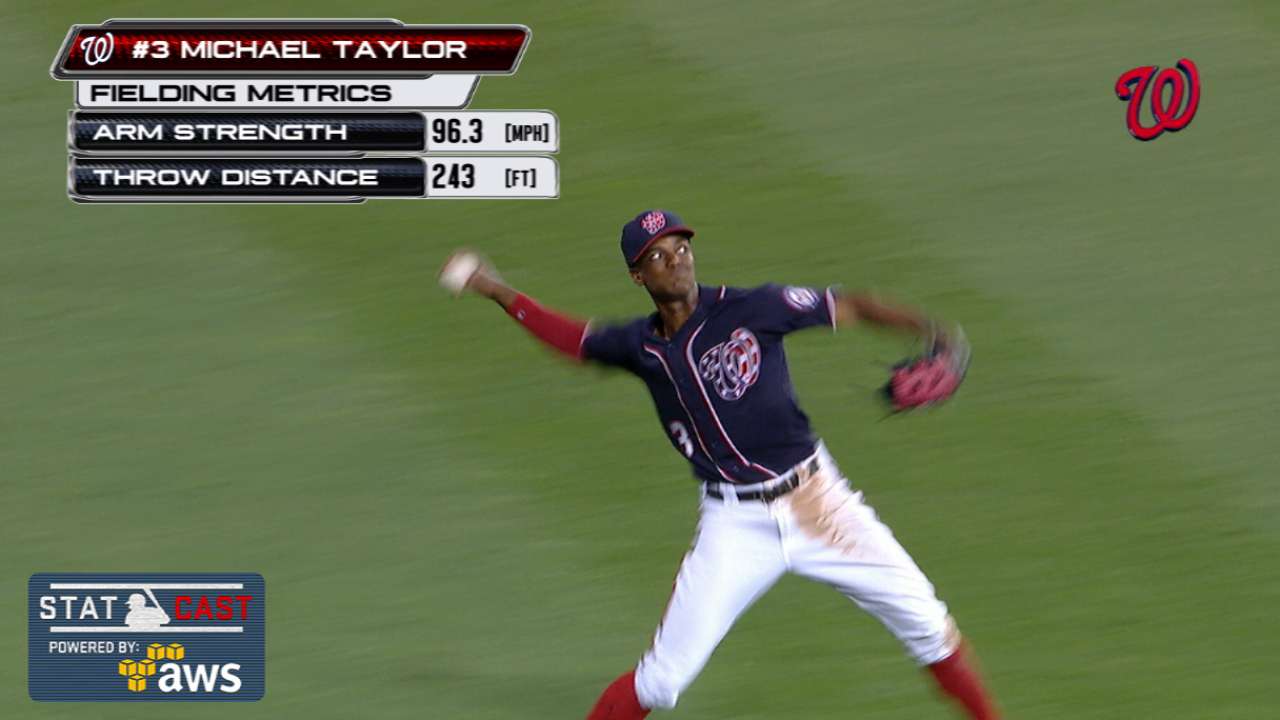 Phillies strike in ninth: With a four-run lead in the ninth inning, Baker turned to right-hander Shawn Kelley, apparently trying to give the struggling Kelley some confidence. But Kelley did not record an out as the Phillies collected three straight hits, with back-to-back singles followed by the home run from Franco to cut the Nationals' lead to one.
"We need him to be confident and on top of his game," Baker said about Kelley. "I'm sure he's pulling that pretty hair he has out trying to figure it out like we all are. You hate to see a teammate or a guy that you've seen in the past do well, you hate to see a guy struggle like that."
The Nationals summoned Doolittle to close out a one-run game and the lefty responded to strike out the side and seal the victory.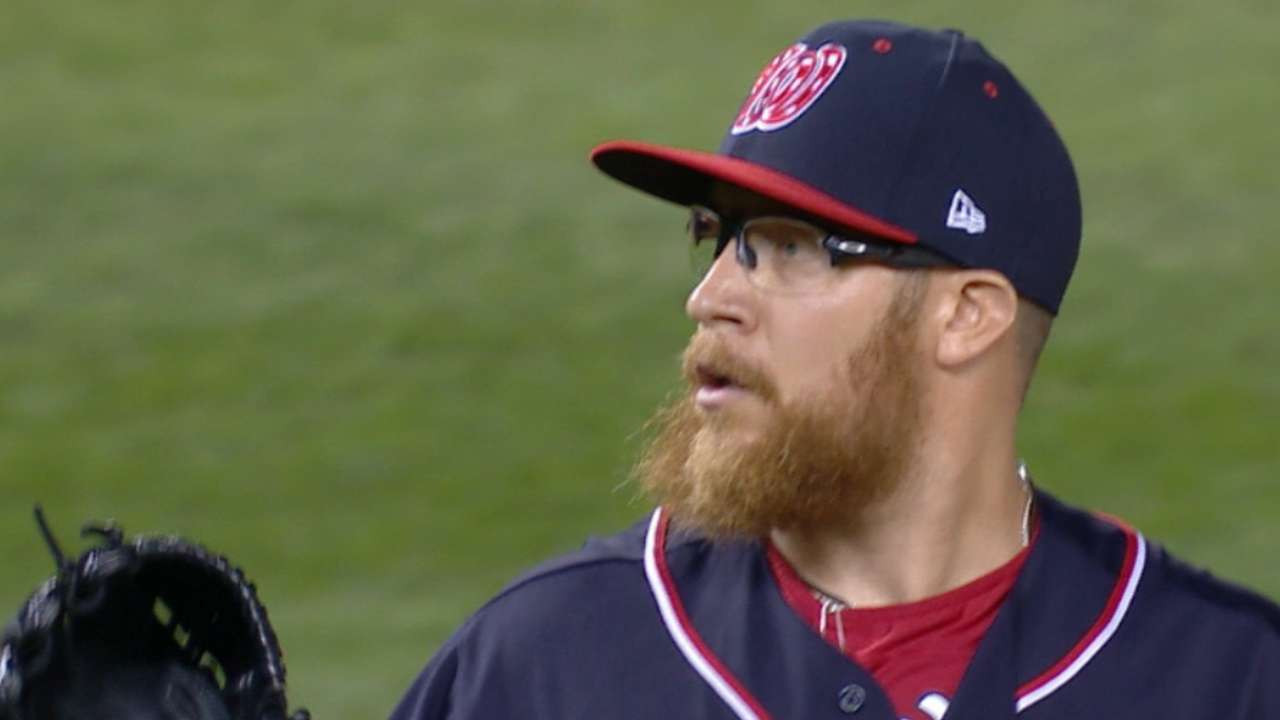 QUOTABLE
"In the cage, [hitting coach Matt] Stairs said this is probably the best pitcher you'll face in this league. A lot of people think he's the best pitcher in the game. I've watched him before on TV. You step in the box and the feeling is kind of crazy. It's like a big league callup all over again. When I was a kid you watch these guys do what they do, then you finally step into the box against them. And then the result, that was crazy. I can't even explain it." -- Williams, on his three-run homer in the first inning against Scherzer
SOUND SMART WITH YOUR FRIENDS
Coincidentally, the last inside-the-park grand slam came in a game also between these two teams, on Sept. 25, 2015, when Phillies outfielder Aaron Altherr rounded the bases on a ball that was misplayed in center field by Taylor.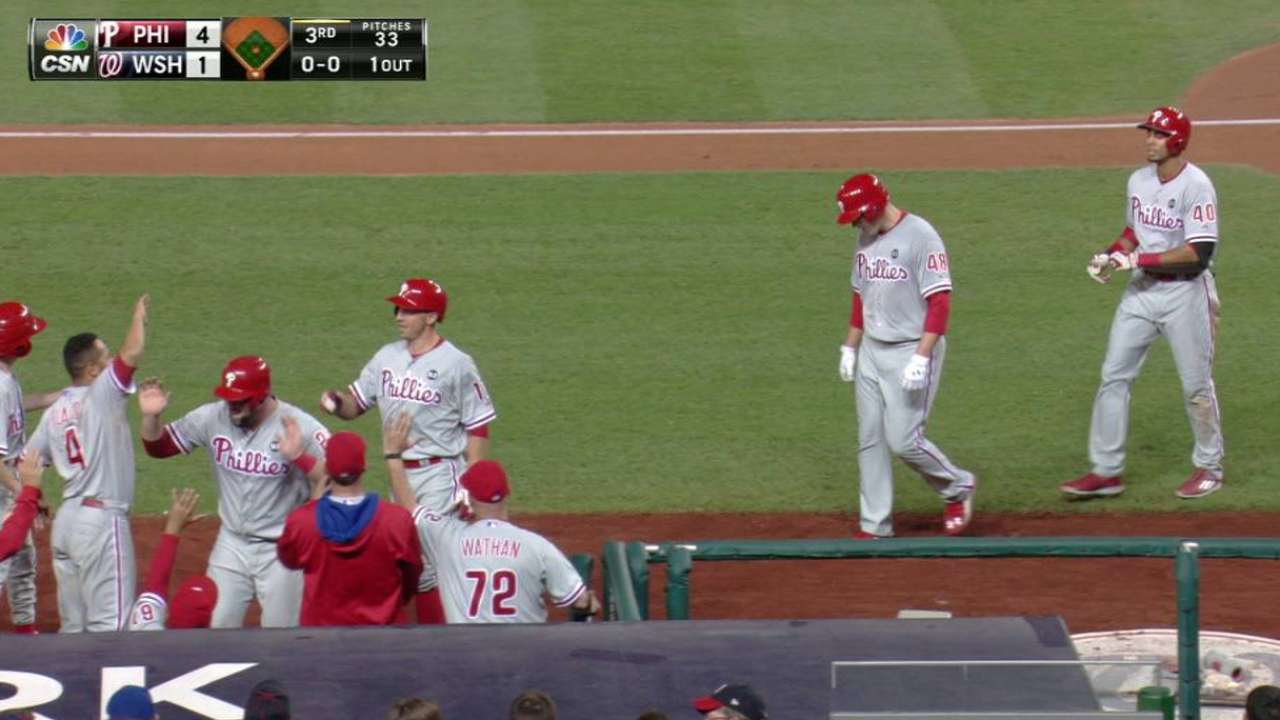 WHAT'S NEXT
Phillies: Right-hander Mark Leiter (2-5, 4.74 ERA) faces the Nationals in the third game of a four-game series Saturday night at Nationals Park at 7:05 p.m. ET. Leiter allowed nine runs in just 3 1/3 innings earlier this week against the Mets at Citi Field. He had pitched relatively well before that, posting a 3.88 ERA..
Nationals: As the Nats move closer to clinching the NL East, they send right-hander Edwin Jackson to the mound Saturday night against the Phillies. Jackson struggled in his last outing against the Brewers, who tagged him for five runs in five innings.
Jamal Collier covers the Nationals for MLB.com. Follow him on Twitter at @jamalcollier.

Todd Zolecki has covered the Phillies since 2003, and for MLB.com since 2009. Follow him on Twitter and Facebook and listen to his podcast.

This story was not subject to the approval of Major League Baseball or its clubs.