Hoskins' history not enough as Lively, Phils fall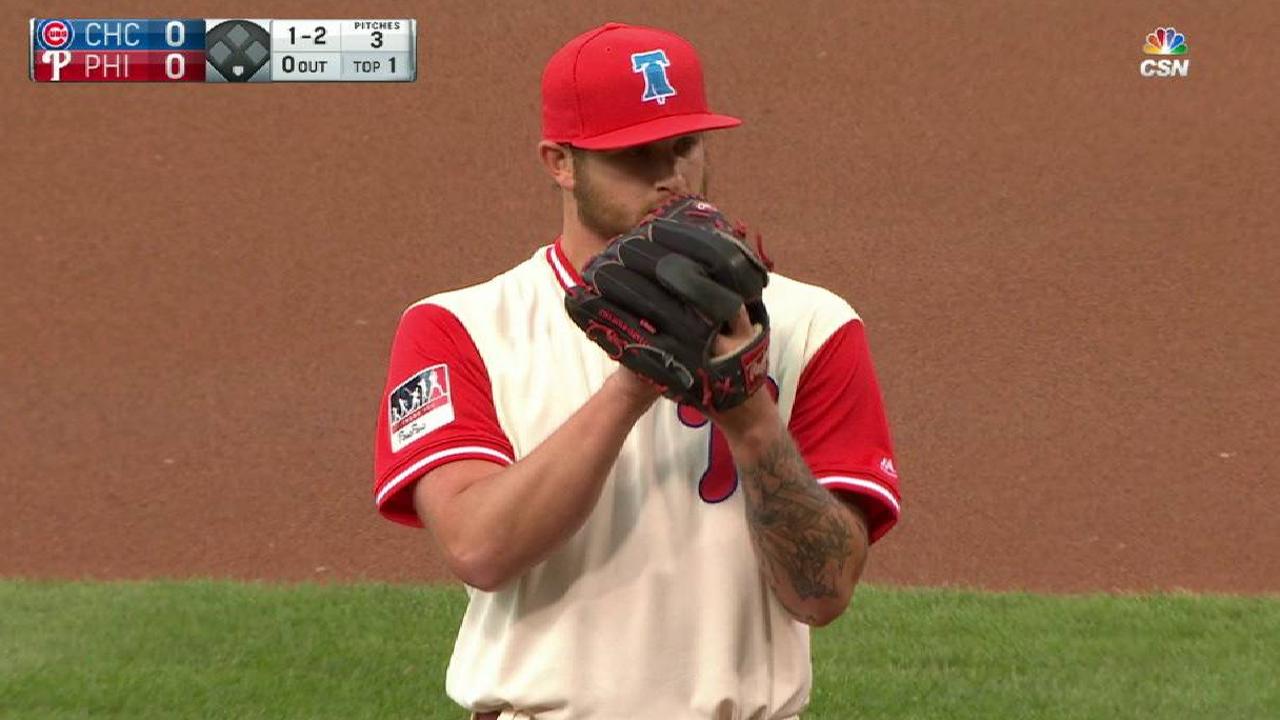 PHILADELPHIA -- The Cubs weren't going to stay down for long.
After scraping across three runs combined in Thursday's series finale against Cincinnati and Friday's series opener against the Phillies, the Cubs broke out for a season-high 17 runs and tied a season high with six homers to beat the Phillies, 17-2, and even the series at Citizens Bank Park. Chicago's six hits and seven runs in the top of the seventh tied season highs for both in an inning.
Anthony Rizzo (aka "Tony" for Players Weekend) clubbed a pair of homers and drove in five runs to raise his season totals to 30 and 90, respectively. It was part of a 3-for-5 night for Rizzo, who is hitting .426 with 19 RBIs over his past 12 games.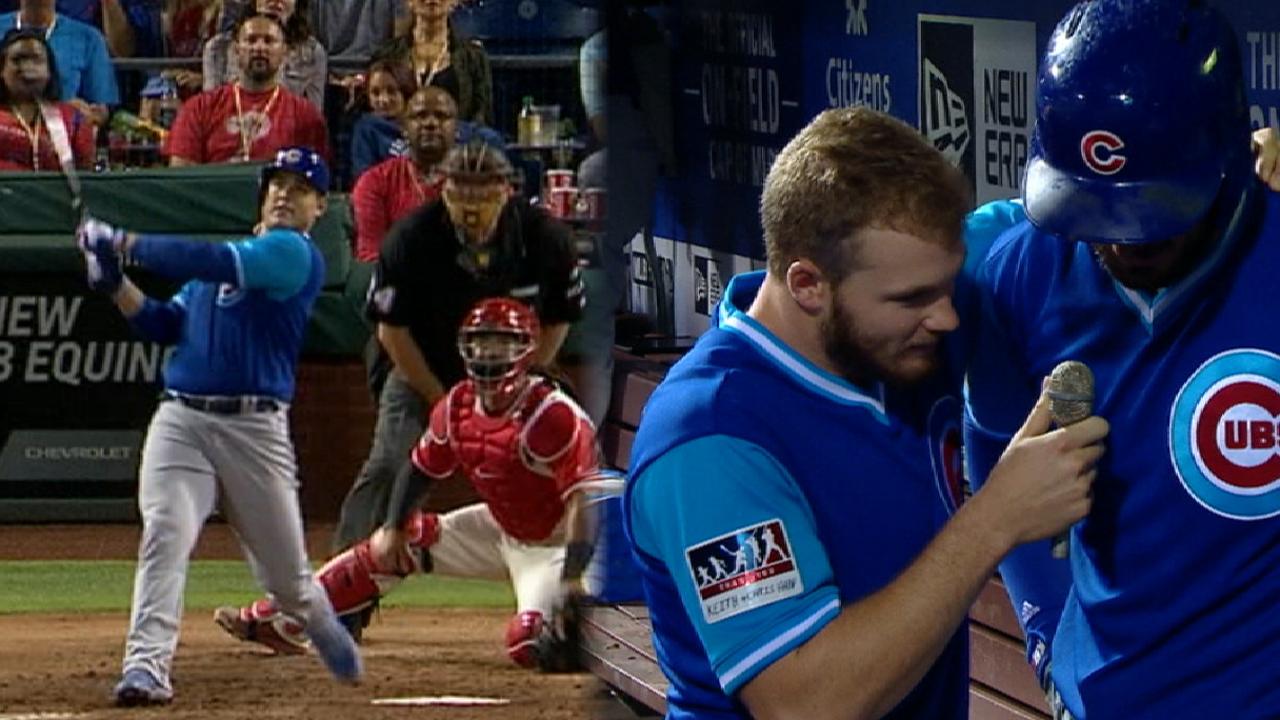 "It's the end of August, so your body is coming into that period of getting to the next couple weeks and adrenaline starts taking over," Rizzo said. "At the plate, you're just trying to put good swings on the ball. Not more complicated than that."
The Cubs' lead over Milwaukee in the National League Central remained three games after the Brewers' win against the Dodgers in Los Angeles.
Tommy La Stella also hit two homers for the Cubs -- the team's first in the second inning and its fifth in the ninth. It was the first career multi-homer game for La Stella, who has five homers this season, and a career-best four RBIs.
"It's not going to go like this all the time," said La Stella, who has seven RBIs in his last two starts. "It's rare when you feel like this at the plate, but I feel good up there right now. I want to keep it going."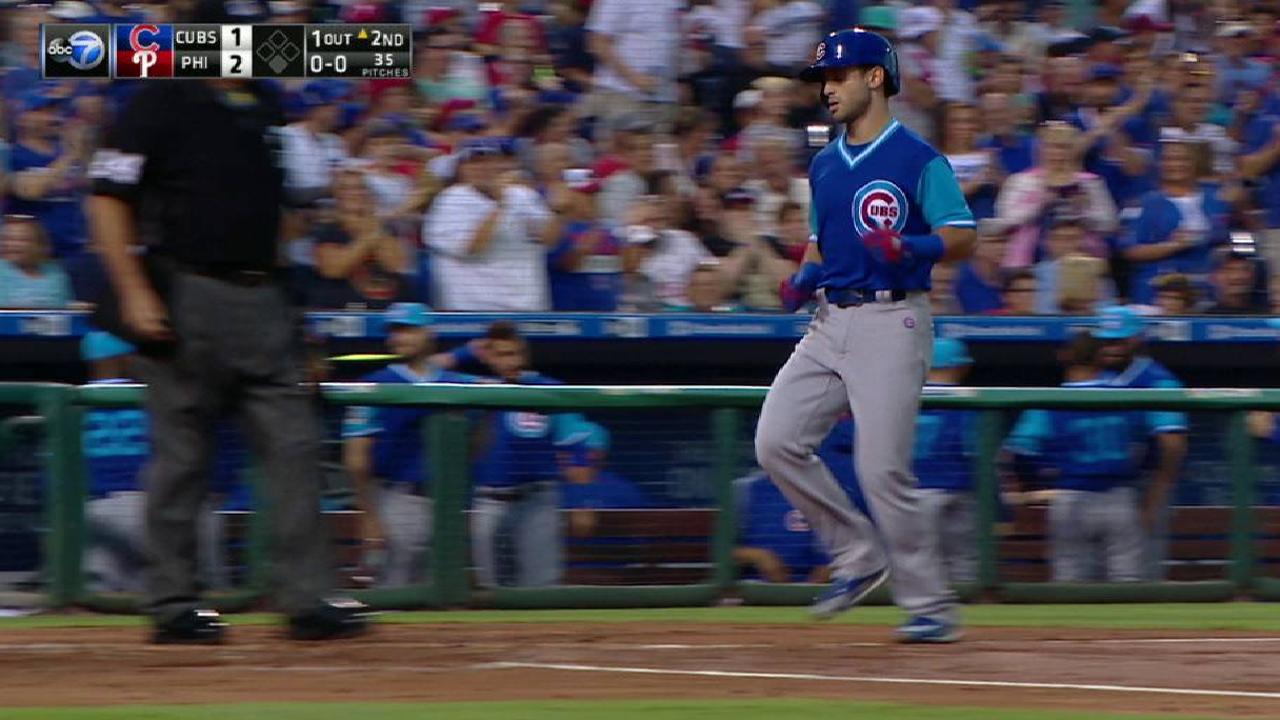 Phillies phenom Rhys Hoskins hit his seventh homer in as many days, his 10th in his first 17 games, a Major League record dating back to at least 1913.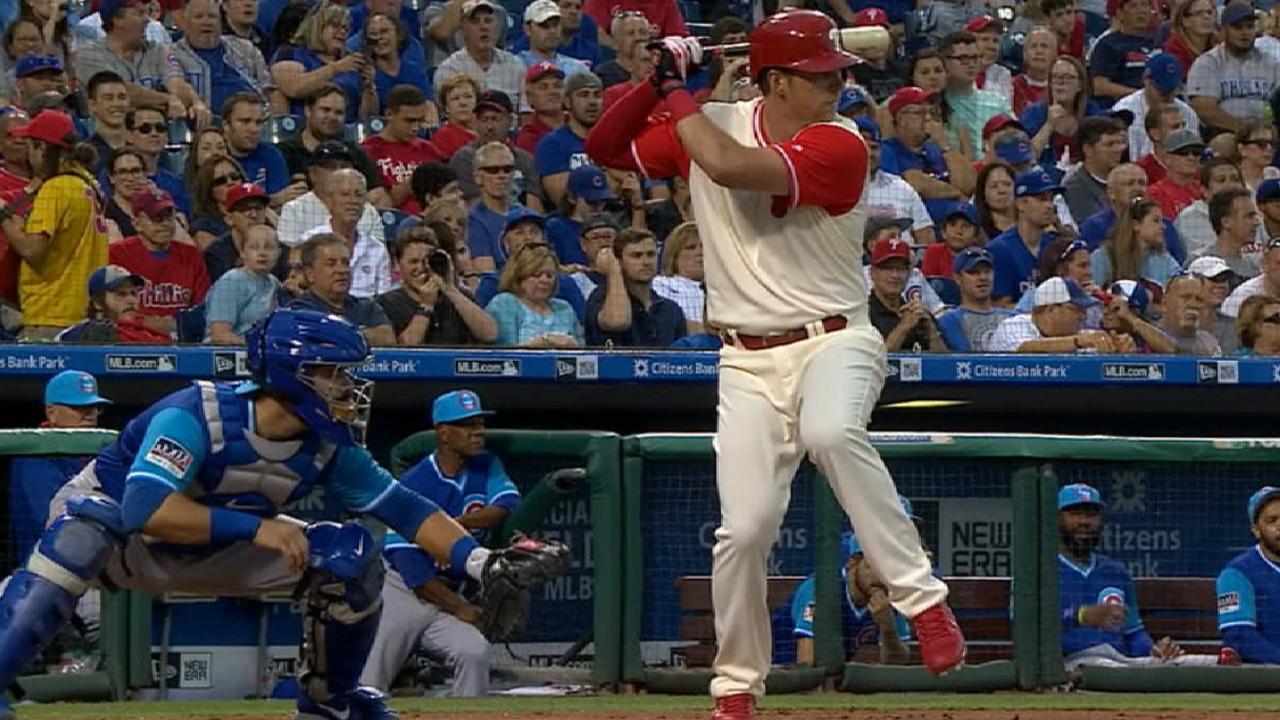 Kyle Hendricks ("Hendo") allowed Hoskins' homer in the first inning, but kept the Phillies quiet after. The Cubs' righty struck out eight in seven innings and allowed just the two runs on six hits. Hendricks' bat also made an impact. He collected two hits in the seventh, including a two-run, two-out double.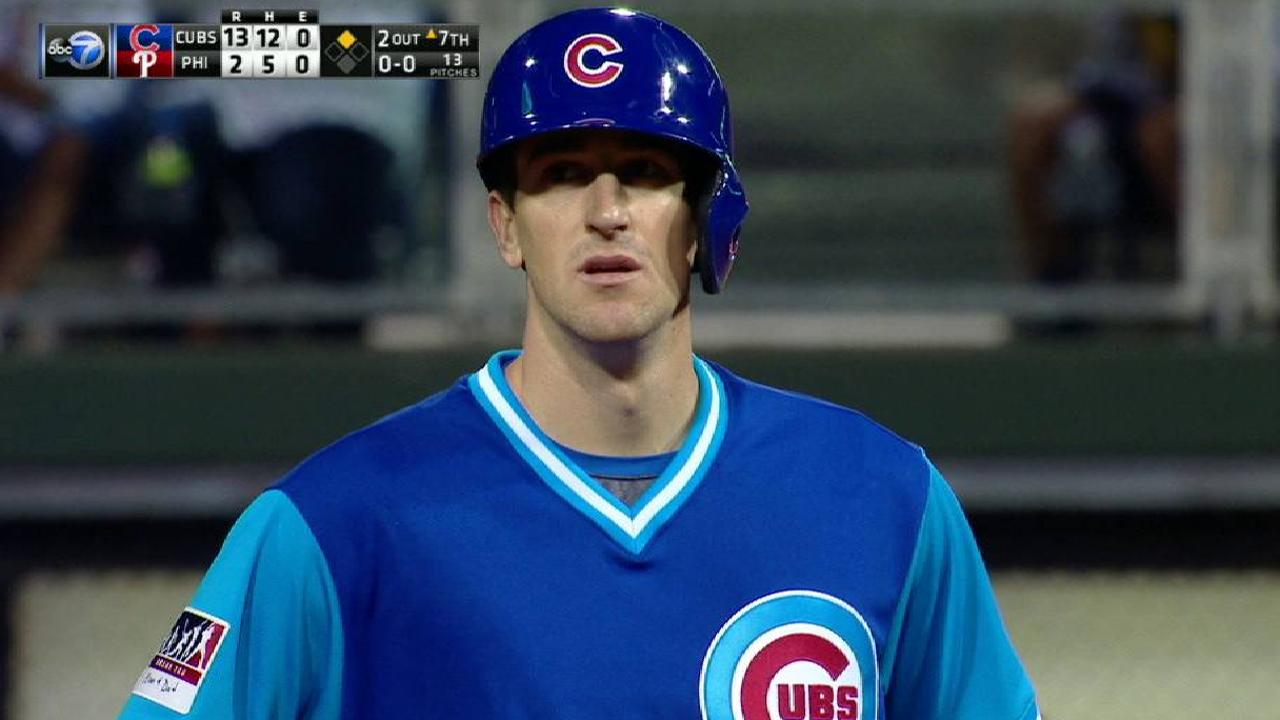 Phils rookie starter Ben Lively struggled keeping the ball in the yard, allowing four of the Cubs' six homers, as many as he had surrendered in his 48 2/3 innings entering Saturday. According to Phillies manager Pete Mackanin, the Phillies' internal report on Lively's outing counted missed locations on 29 of his 74 fastballs. Missed locations, according to Mackanin, are pitches supposed to be in one zone and end up in the opposite -- inside instead of outside, not just missing location by a few inches.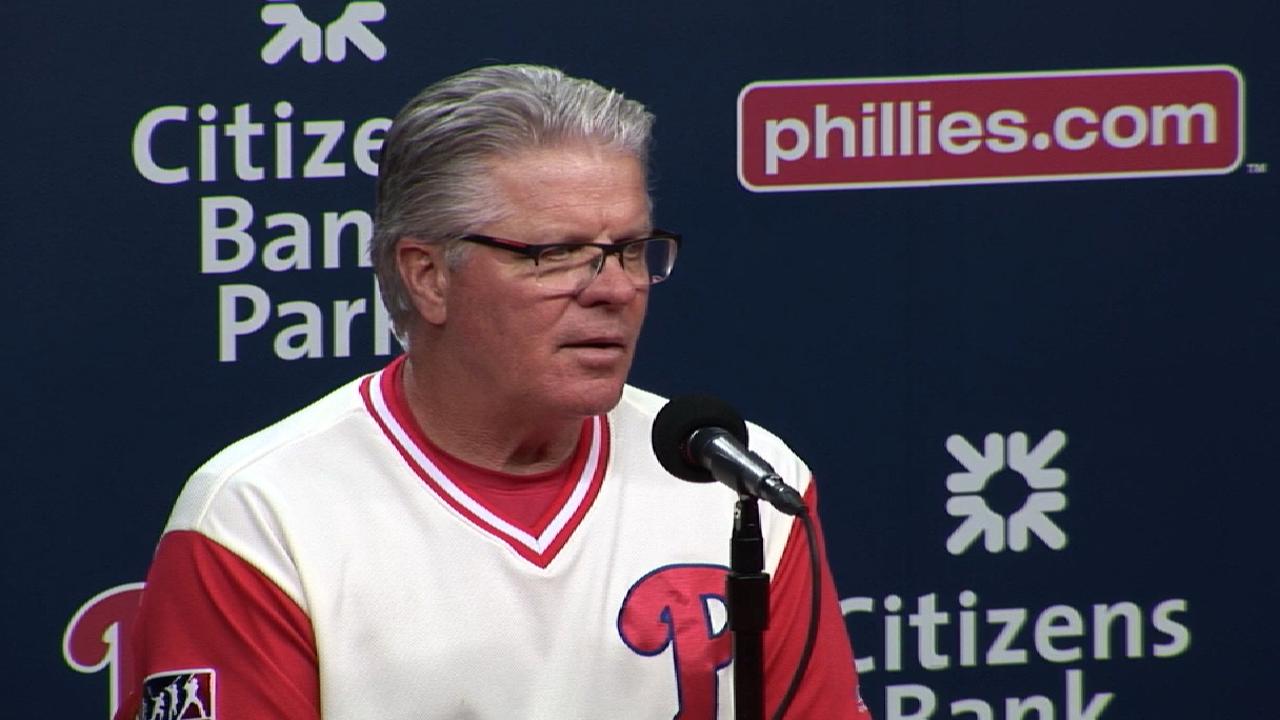 Lively had a different diagnosis.
"My fastball was fine," he said. "It was tough to be on the same plane with [catcher Jorge Alfaro]. … I wanted to throw more in, we just weren't on the same page, and my curveball was crap early and I tried to fix it early, but too late."
MOMENTS THAT MATTERED
Bryzzo go back-to-back: Kris Bryant ("KB") and Rizzo totaled 846 feet of home run distance when they went back-to-back in the fifth inning. Bryant smacked a 422-foot homer to left field, and Rizzo followed and bested his teammate by two feet, hitting a 424-foot blast into the Phillies' bullpen.
"It goes without saying, but if those two guys would get going simultaneously, that'd be nice for us," Cubs manager Joe Maddon said of Bryant and Rizzo.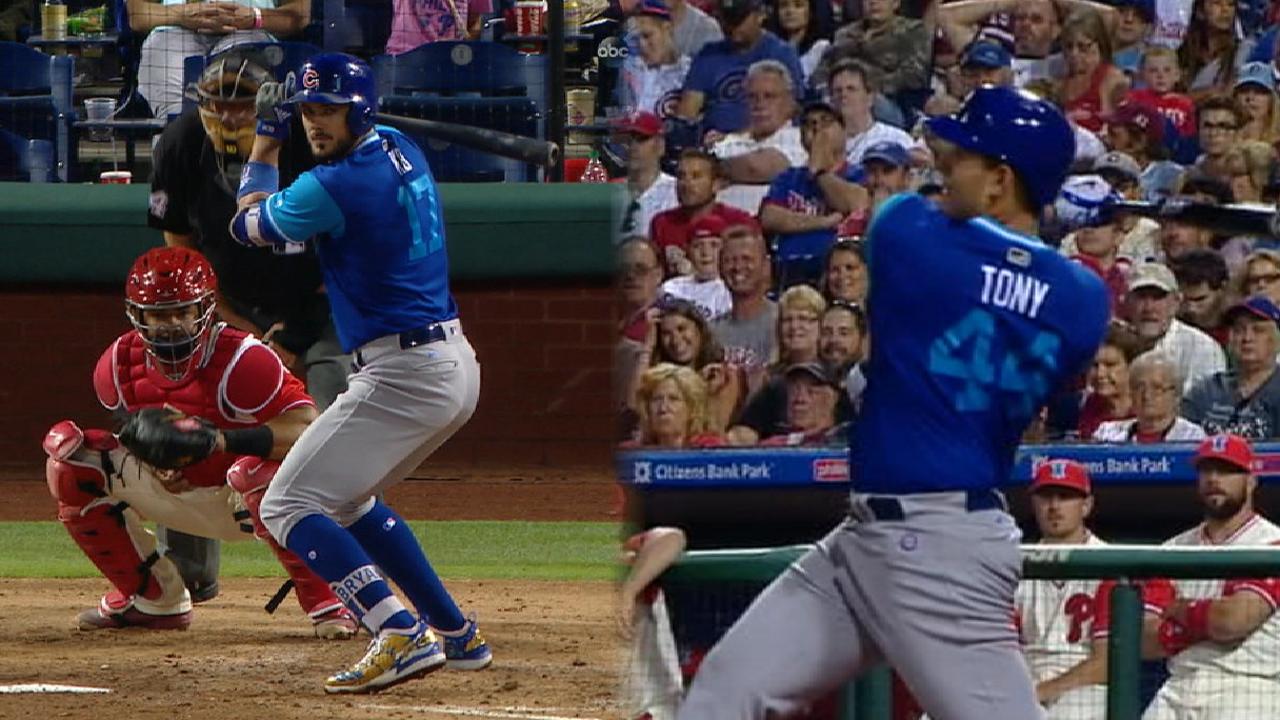 "Parkman" breaks it open: Alex Avila ("Parkman") was at the heart of the Cubs' seven-run seventh. Avila sent a double to the center-field wall to make it 9-2 with one out. Avila ended up scoring on a La Stella single.
"We were in it for six innings, still had a chance," Mackanin said of the Phillies' 6-2 deficit at the time. "The pitching let us down today."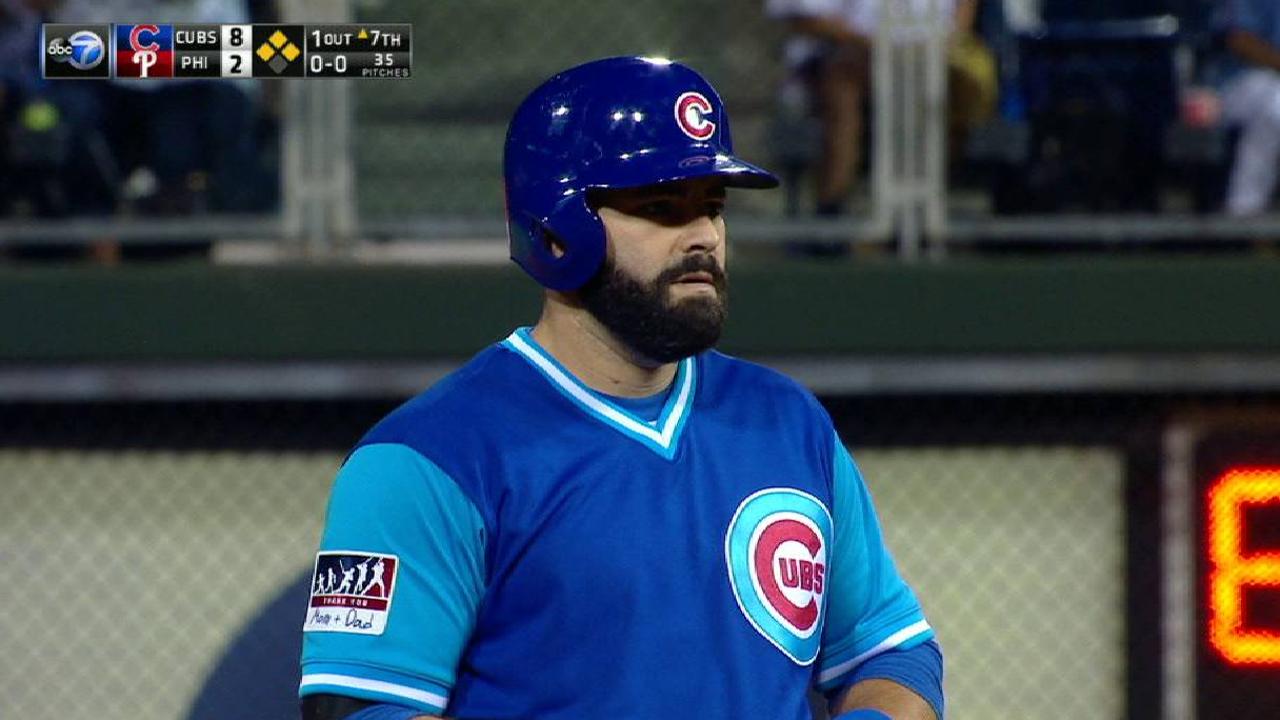 WHAT'S NEXT
Cubs: John Lackey will head to the mound in Sunday's series finale at 12:35 p.m. CT in Philadelphia. Lackey (10-9, 4.90 ERA) has won his last five decisions. He has a 2.77 ERA in 10 career starts against the Phillies.
Phillies: Nick Pivetta (4-8, 6.25 ERA) is slated to return to the Phils for Sunday's series finale at 1:35 p.m. ET at Citizens Bank Park. August has been rough for Pivetta -- his 14.49 ERA in four starts this month is the highest for any starter in baseball with at least five innings pitched.
Watch every out-of-market regular-season game live on MLB.TV.
Ben Harris is a reporter for MLB.com based in Philadelphia and covered the Phillies on Saturday.

Stephen Pianovich is a contributor to MLB.com based in Philadelphia and covered the Cubs on Saturday.

This story was not subject to the approval of Major League Baseball or its clubs.