Cozart takes #ASGWorthy leap, leads at NL SS
Harper passes 2-million mark while duels continue at first, third, outfield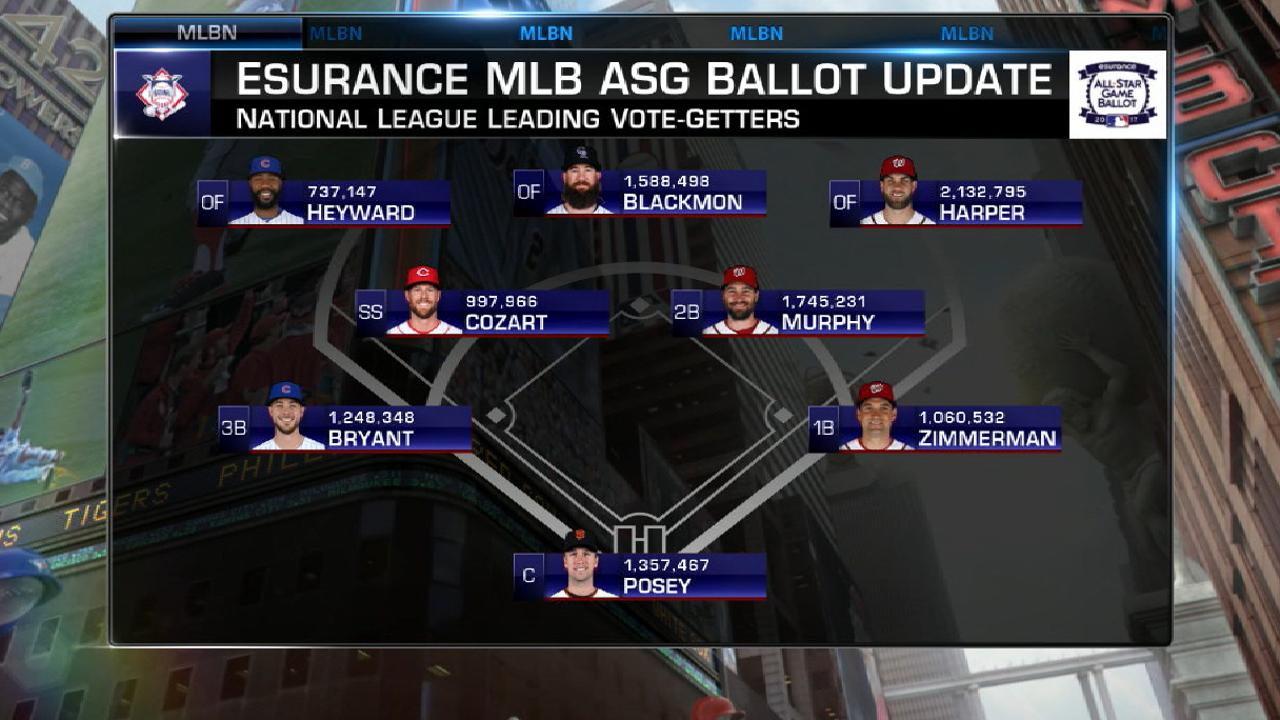 Reds shortstop Zack Cozart has overtaken reigning National League Rookie of the Year Award winner Corey Seager for the top spot among shortstops in the third installment of fan-voting updates in the Esurance MLB All-Star Game Ballot for NL starters released Monday.
Cozart, who is having a career year manning the middle of the Reds' infield, is one of the few NL stars moving up the voting leaderboards this week ahead of the 88th All-Star Game presented by MasterCard, scheduled for July 11 at Marlins Park in Miami.
• Vote now on the Esurance MLB All-Star Game Ballot
Here are the latest results:
CATCHER
1. Buster Posey, Giants: 1,357,467
2. Willson Contreras, Cubs: 740,372
3. Yadier Molina, Cardinals: 669,641
4. Matt Wieters, Nationals: 455,498
5. Yasmani Grandal, Dodgers: 343,112
The order remains the same at the catcher position, with the four-time All-Star Posey still leading the way by a large margin. The Giants backstop leads all qualified catchers in hits (66), batting average (.347), on-base percentage (.437) and slugging percentage (.521). Posey has also been remarkably patient at the plate, drawing 27 walks compared to just 18 strikeouts in 53 games, entering play this week.
FIRST BASE
1. Ryan Zimmerman, Nationals: 1,060,532
2. Anthony Rizzo, Cubs: 950,851
3. Paul Goldschmidt, D-backs: 560,456
4. Freddie Freeman, Braves: 522,827
5. Joey Votto, Reds: 334,802
Zimmerman continues to hold the top spot among first baseman, and has actually extended his lead over Rizzo despite missing the past couple of games with a back injury. The Nationals first baseman is still pacing the league with a .365 batting average in what has become a bounceback campaign. Goldschmidt leapfrogged Freeman after going 8-for-18 (.444) with a homer, six RBIs and seven runs scored over the past week.
SECOND BASE
1. Daniel Murphy, Nationals: 1,745,231
2. Javier Baez, Cubs: 1,029,025
3. DJ LeMahieu, Rockies: 287,131
4. Brandon Phillips, Braves: 261,704
5. Kolten Wong, Cardinals: 226,981
Murphy sits in first place among second basemen, but it's LeMahieu who has continued his ascent, nearly doubling his vote tally from a week ago. The Rockies infielder surpassed Phillips to move into third place, but it looks like it could be a two-man race from here on out; Baez, who eclipsed 1 million votes this week, appears to be the only one in the group capable of catching Murphy at this point.
THIRD BASE
1. Kris Bryant, Cubs: 1,248,348
2. Nolan Arenado, Rockies: 951,747
3. Justin Turner, Dodgers: 503,286
4. Anthony Rendon, Nationals: 489,809
5. Jake Lamb, D-backs: 387,228
Bryant blasted two home runs and drew eight walks over the week, helping him retain the lead at the hot corner. Arenado, Turner and Rendon remain in the same order as they were in previously, but Lamb is a new addition to the top five, overtaking the Cardinals' Jedd Gyorko. Lamb clubbed two homers and drove in 11 runs in his past six games.
SHORTSTOP
1. Zack Cozart, Reds: 997,966
2. Corey Seager, Dodgers: 804,788
3. Addison Russell, Cubs: 758,037
4. Trea Turner, Nationals: 502,988
5. Chris Owings, D-backs: 426,590
Cozart came back to earth in the box score over the past seven days, but still managed to pass Seager atop the shortstop leaderboard. It's the full body of work the fans are seeing (Cozart leads Seager by more than 130 points in OPS over the course of the season) and it has resulted in the Reds' breakout star nearly doubling his vote total from last week. Cozart has never made an All-Star team, but he's playing his way toward his first honor as he leads all Major League shortstops in on-base (.416) and slugging percentage (.580).
Turner, who was in fifth place in the voting at the position last week, stole five bases in his past six games and move up one spot over Owings.
OUTFIELD
1. Bryce Harper, Nationals: 2,132,795
2. Charlie Blackmon, Rockies: 1,588,498
3. Jason Heyward, Cubs: 737,147
4. Ben Zobrist, Cubs: 678,795
5. Matt Kemp, Braves: 641,728
6. Marcell Ozuna, Marlins: 613,356
7. Giancarlo Stanton, Marlins 603,290
8. Kyle Schwarber, Cubs: 599,910
9. Yoenis Cespedes, Mets: 430,879
10. Adam Duvall, Reds: 379,541
11. Dexter Fowler, Cardinals: 379,070
12. Jayson Werth, Nationals: 360,664
13. Jay Bruce, Mets: 322,023
14. Yasiel Puig, Dodgers: 284,869
15. Carlos Gonzalez, Rockies: 275,714
The top three spots among outfielders remains the same as Harper and Blackmon have seen their vote totals soar over the past seven days. Harper is the first NL player to eclipse the 2-million-vote mark and Blackmon has more than twice the number of votes of Heyward, who still holds the third spot on the leaderboard.
Blackmon is putting together a magnificent season for the first-place Rockies, who have proved to be for real. Colorado's center fielder hit .435 (10-for-23) with two homers, four doubles, six RBIs and 11 runs scored in his past six games as he attempts to keep pace with Harper. The Nats right fielder has not homered since May 26, but he's still first among NL outfielders with a 1.044 OPS.
Ozuna and Duvall made the two biggest jumps on the leaderboard since last week. The Marlins center fielder passed Schwarber and his own teammate Stanton to move into sixth, while Duvall leapfrogged Fowler, Bruce and Werth, in spite of an illness that kept him out of the lineup for a couple of games over the weekend.
Fans may cast votes for starters at MLB.com and all 30 club sites -- on computers, tablets and smartphones -- exclusively online using the 2017 Esurance MLB All-Star Game Ballot until Thursday, June 29, at 11:59 p.m. ET. On smartphones and tablets, fans can also access the ballot via the MLB.com At Bat and MLB.com Ballpark mobile apps. Vote up to five times in any 24-hour period for a maximum of 35 ballots cast.
Following the announcement of the 2017 All-Star starters, reserves and pitchers, fans should return to MLB.com and cast their 2017 Esurance MLB All-Star Game Final Vote for the final player on each league's All-Star roster. Then on Tuesday, July 11, while watching the 2017 All-Star Game presented by MasterCard live on FOX, fans may visit MLB.com to submit their choices for the Ted Williams Most Valuable Player Award presented by Chevrolet with the 2017 MLB All-Star Game MVP Vote.
The 88th Midsummer Classic, at Marlins Park in Miami, will be televised nationally by FOX Sports; in Canada by Rogers Sportsnet and RDS; and worldwide by partners in more than 160 countries. ESPN Radio and ESPN Radio Deportes will provide exclusive national radio coverage, while MLB Network, MLB.com and SiriusXM will have comprehensive All-Star Week coverage. For more information about MLB All-Star Week and to purchase tickets, please visit AllStarGame.com and follow @AllStarGame on social media.
Oliver Macklin is a reporter for MLB.com based in Washington, D.C. Follow him on Twitter at @OMacklinMLB. This story was not subject to the approval of Major League Baseball or its clubs.