Phillies target fastballs in offensive approach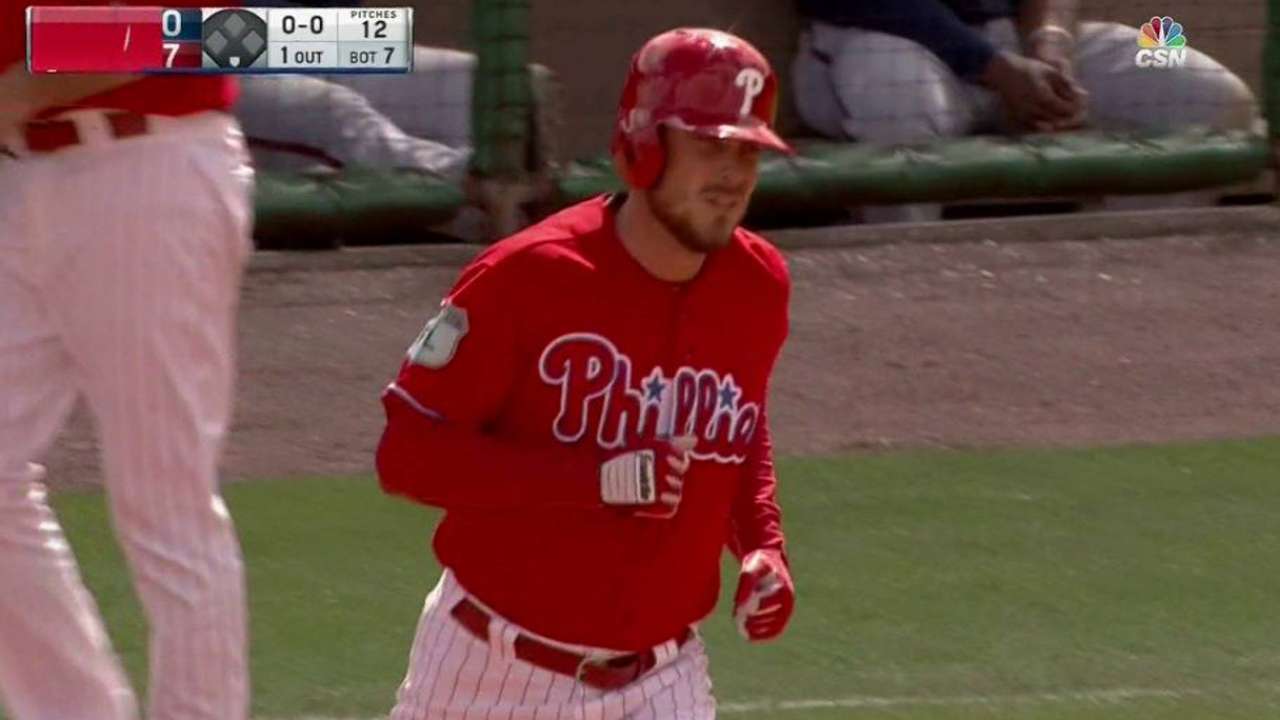 TAMPA, Fla. -- Phillies hitting coach Matt Stairs has preached the importance of being a stubborn hitter.
That means stepping into the batter's box with a plan and sticking with it. That means each hitter knowing his strengths and weaknesses. If a hitter crushes fastballs low and inside, don't chase the first-pitch fastball low and away.
The Phillies scored fewer runs than any other club in the Majors last season and one reason is because they struggled to hit fastballs. They hit .261 with a .418 slugging percentage against them, according to Statcast™. That ranked 29th and 28th in MLB, respectively. In comparison, Major League teams hit .276 and slugged .450 against fastballs.
The Phillies know they must improve in 2017. It starts with their approach at the plate.
"You've got to be able to hit the fastball," catcher Cameron Rupp said. "You work to get into hitters counts to hit the fastball. You don't want to see sliders, curveballs, offspeed pitches. Those aren't the pitches you want to hit. You've got to be ready to hit. When you're not doing that you're going to struggle."
Only four current Phillies hit better than the Major League average last season against fastballs (minimum 50 at-bats): Odubel Herrera (.306), Tommy Joseph (.286), Cesar Hernandez (.285) and Maikel Franco (.279). Only three slugged better than the MLB average: Joseph (.492), Rupp (.475) and Freddy Galvis (.452).
New Phillies right fielder Michael Saunders should help. He hit .306 and slugging .577 against fastballs.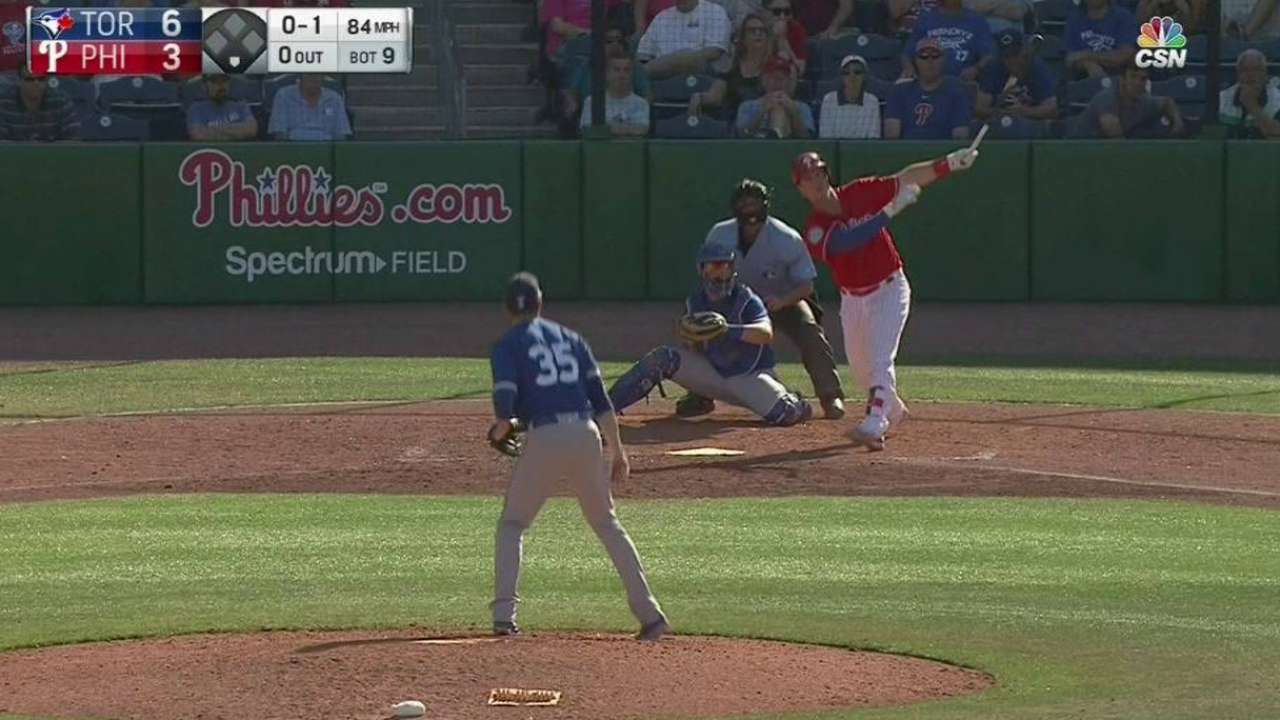 Joseph hit .242 with 17 home runs, 34 RBIs and a .767 OPS in 283 plate appearances through Sept. 5. He hit .267 and slugged .479 against fastballs in that span. He hit .327 with four homers, 13 RBIs and a 1.024 OPS in 64 plate appearances the rest of the way. It is no coincidence that he hit .359 and slugged .538 against fastballs in that stretch.
"I got into a lot of comfortable positions, whether that was hitting or with my approach," Joseph said. "I really did a good job of having the same approach every day. When it comes to hitting, you try to focus on a few things every day. The more you focus on the harder it is to succeed. I think I did a good job trying to simplify things at the end of the year. I think that's something that makes the great hitters great. They simplify things."
Stairs agrees. He said two things can help the Phillies hit more fastballs this year.
"Pitch selection on the fastball is important," Stairs said. "And being ready to hit the fastball is important. Just being ready to attack the first-pitch fastball. Sometimes hitters get in the thought process of checking the location, instead of being ready for it. Not a man alive can be looking for location then react. You've got to be ready to hit and react.
"You can't cover both sides of the plate. Have a game plan on the first-pitch fastball. If you want to look out over the plate, if it's inside, you let it go. You stay with your game plan and you stick with it. The second time through, you make the adjustments."
Todd Zolecki has covered the Phillies since 2003, and for MLB.com since 2009. Follow him on Twitter and listen to his podcast. This story was not subject to the approval of Major League Baseball or its clubs.