Stairs' philosophy? 'Be a stubborn hitter'
CLEARWATER, Fla. -- Minutes after the Phillies made Matt Stairs their hitting coach in November, Stairs typed out the strengths and weaknesses of 14 Phillies batters that he had seen the previous three years as a broadcaster and guest instructor.
"I had video, but it was in my head," Stairs said on Thursday morning at Spectrum Field.
Stairs could not wait to get to work. He flew to Philadelphia in early January to meet with the hitters at the Phillies' prospects seminar. He flew to Clearwater on Jan. 16. He has not stopped working since, energized by his new gig.
"The two biggest things are being positive and communication," Stairs said. "I don't know what happened in the past. I don't care. My job, at the end of every day, after BP, is give high-fives, give knuckles and walk out of that cage with something positive."
Spring Training: Info | Tickets | Schedule | Gear
Stairs also plans to improve the team's anemic on-base percentage. The Phillies' .301 OBP ranked 29th in the Majors last season. It marked the franchise's lowest mark since 1971 (.298) and the sixth-lowest clip since 1888.
But, really, is it possible to improve a hitter's OBP, or is it just wishful hitting? A batter is who he is, right?
Stairs, who compiled a career .356 on-base percentage over 19 seasons, believes hitters can still learn a few things.
"You cut down on giving at-bats away," Stairs said.
The 48-year-old said on the low end, a batter might give away five plate appearances a week. Giving away an at-bat means sitting on a fastball and swinging at a first-pitch slider, for example.
Five plate appearances per week equates to 130 in a season. Cut that number in half, Stairs said. If a hitter can do that, the OBP will increase.
"So be a stubborn hitter," Stairs said.
Catchers Batting Practice https://t.co/0R0xfqWjIl

— Phillies (@Phillies) February 16, 2017
Stairs has communicated with the Phillies' front office a few times since he got the job. The Phillies have been building a substantial analytics department, using Statcast™ and other metrics to identify the strengths and weaknesses of hitters.
The Phillies are not alone. Teams like the Cubs look at those numbers, and their philosophies have filtered into the clubhouse. Cubs pitcher Jon Lester even told The New York Times last year, "There's no slug on the ground."
That is where metrics like average exit velocity and average launch angle come into play.
"It's more about certain guys hitting too many ground balls, or why isn't the ball coming off their bat more solidly when they're so strong?" Stairs said of those conversations with the front office. "We haven't gotten too deep into the details, but you have to take baby steps. The biggest thing I'm teaching them right now is [hitting from] left-center to right-center and how to use the top hand when you hit. I think when they start realizing less body, more hands, that's when the exit velocity jumps."
Maikel Franco is an example of that. He might be one of the strongest, most talented hitters on the team, but his average exit velocity at 91.1 mph ranked just fifth on the club last season among players with 50 or more balls in play.
It should be better than that.
"When he takes a swing and his helmet comes off and he makes contact, the ball isn't coming off his bat because he's got too much body movement," Stairs said. "The more body movement you have, the slower your swing is. That's why Cameron Rupp's exit velocity [92.4 mph] is so impressive. He thinks about using his hands, and he has good technique. Franco gets in trouble because he swings from his heels."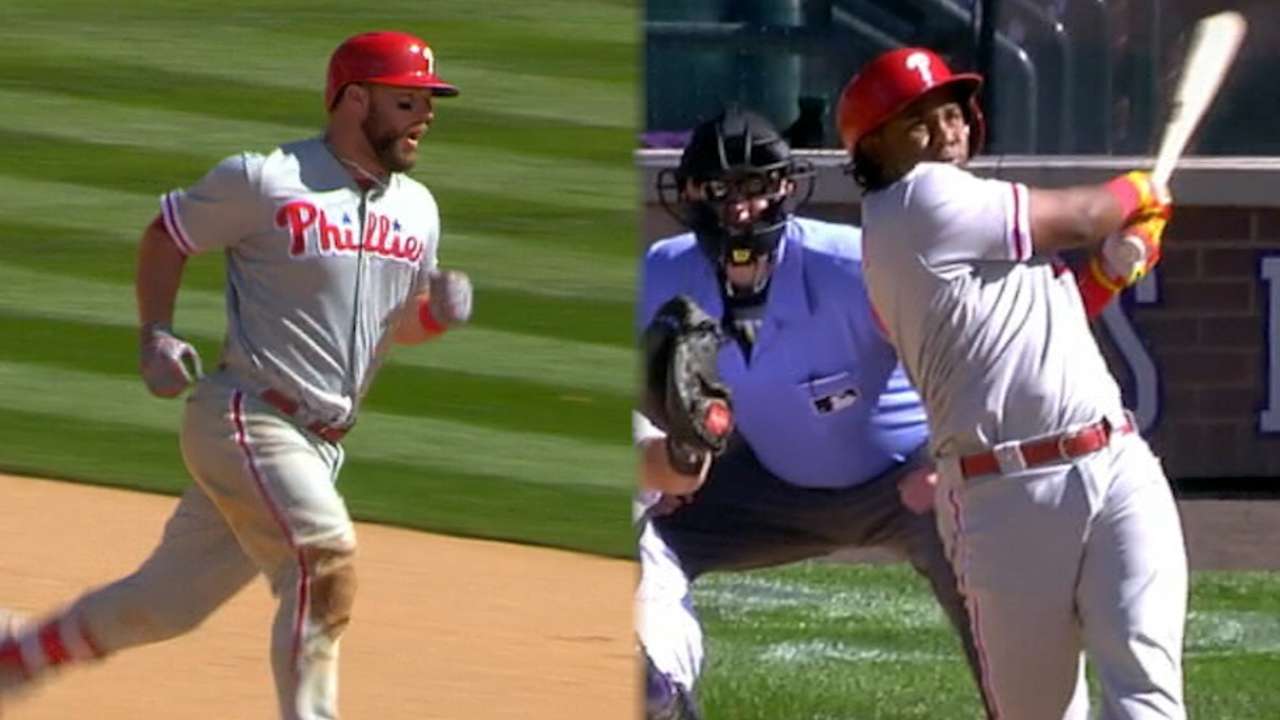 Speedsters like Roman Quinn and Cesar Hernandez are other examples. The idea that small, fast players should hit the ball on the ground is antiquated and flat-out wrong, according to Stairs. Ground balls typically equal outs. Line drives are king.
"You want to drive the ball through a shortstop or second baseman," Stairs said. "If I tell Roman Quinn, 'We don't want you hitting the ball in the air, we want you hitting ground balls.' … We don't want you hitting ground balls. What happens is you start guiding the ball through the zone and you top it and kill the ants and worms in front [of the plate], or you carve it and hit fly balls.
"The approach we have this spring is the first two rounds [of batting practice], I want you killing the second baseman and shortstop, up the middle and hard. Don't think about hitting the ball on the ground. Think about having that good top hand, driving the ball through the infielders on a good line drive. And if you clip it a little bit, now you have gap power."
Stairs declined to put a number on how much the Phillies' offense can improve this season, but he is optimistic it will be better.
"I'm very positive," Stairs said. "I said when the game starts, I'm the little guy that sits on your shoulder. I remind you constantly, 'What's happening? Stay short. Stay in the middle of the ballpark. Hit off the fastball.'"
And don't give those at-bats away. If you don't, Stairs believes good things will happen.
Todd Zolecki has covered the Phillies since 2003, and for MLB.com since 2009. Follow him on Twitter and listen to his podcast. This story was not subject to the approval of Major League Baseball or its clubs.