Quinn one of few game-changing speedsters
Fleet-footed rookie plays role in all 3 Phillies runs Tuesday vs. Bucs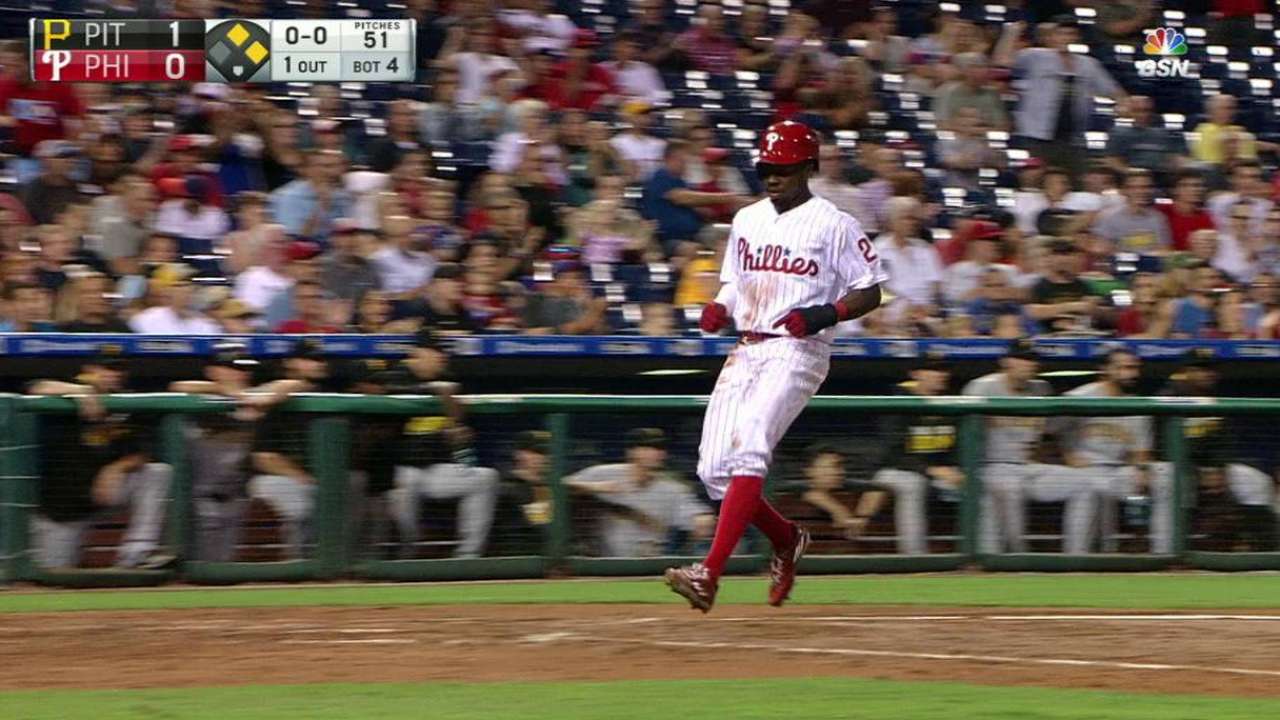 PHILADELPHIA -- For a long time Phillies fans had heard only stories about Roman Quinn's speed.
The man can run, but Tuesday night at Citizens Bank Park might have been the first time many had seen how Quinn's speed can affect a game. He played a significant role in a 5-3 loss to the Pirates, a game spoiled by Jeanmar Gomez's second blown save this month in which he did not retire a single batter. Quinn singled and scored a tying run in the fourth inning, put a go-ahead run into scoring position with a bunt single in the sixth and singled and scored a short-lived go-ahead run in eighth.
"It's definitely a big part of my game and I want to use it as much as possible," Quinn said about his speed.
Quinn is the organization's No. 8 prospect, according to MLBPipeline.com. Phillies manager Pete Mackanin said earlier this week that he plans to give Quinn an extended look in the final few weeks of the season. He started him Sunday in center field, started him Monday in right and started him Tuesday in left.
"He's an exciting player to watch," Mackanin said.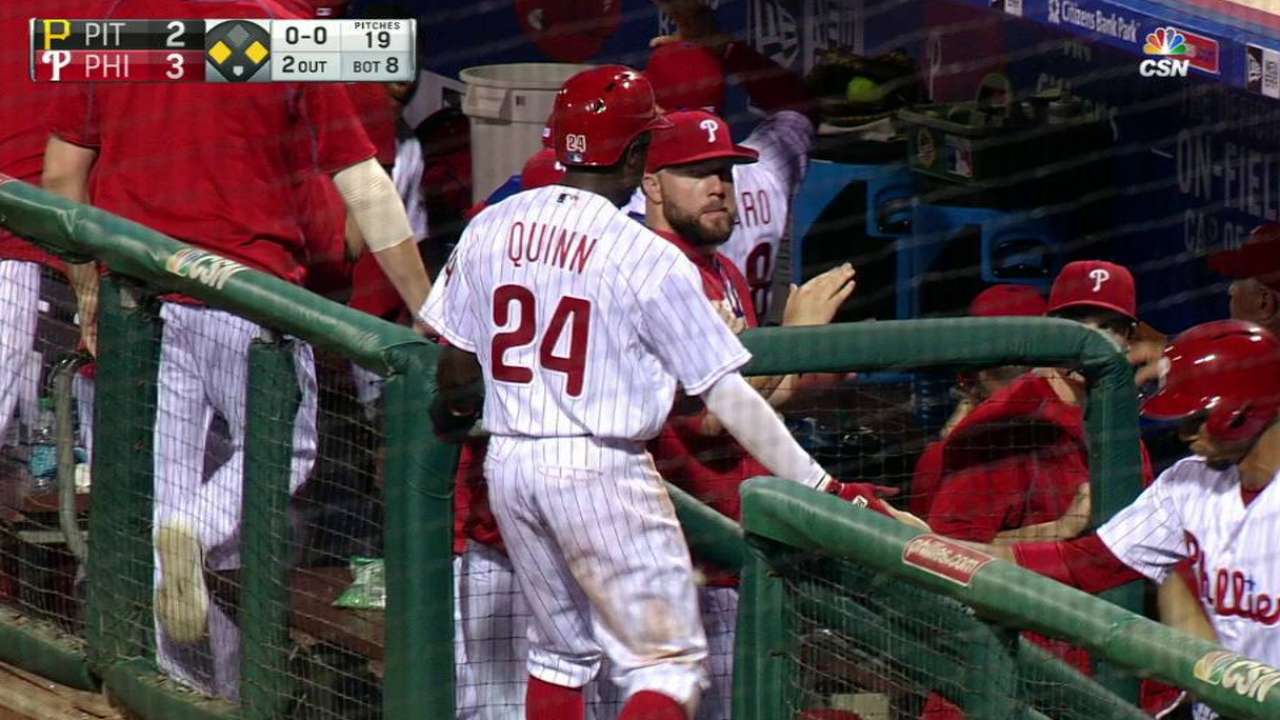 Quinn singled to center to start the fourth. He advanced to second on a wild pitch that travelled a few feet away from Pirates catcher Francisco Cervelli. A slower-footed player would have remained at first, but Quinn reached second easily.
"We did early baserunning today, and that's one thing we worked on -- pitches in the dirt," Quinn said. "It was almost a reaction, like, I already did this. It was just a reaction, for sure."
Quinn later scored when Ryan Howard hit a ground ball into the defensive shift in shallow right-center field. Quinn had slowed down as he reached third base only to see Pirates second baseman Adam Frazier boot the ball.
He turned on the jets and scored easily to tie the game at 1.
"I thought the ball was right at him," Quinn said. "But I picked up the ball real quick and reacted again."
Quinn dropped a bunt in front of Pirates pitcher Ivan Nova in the second. Quinn moved down the first-base line so fast that Nova did not even bother to throw to first. Cesar Hernandez advanced to second on the play and later scored to give the Phillies a 2-1 lead.
"Cesar had a good at-bat," Quinn said. "We've got a runner on first, no outs, I felt like it was a great time for me to bunt, especially with a drag. I got a good pitch to bunt and got it down."
Quinn also fell behind Felipe Rivero, 0-2, in the eighth, but worked a one-out walk. He later scored from third on Freddy Galvis' sacrifice fly to give the Phillies a 3-2 lead.
"It's good to see a guy that can run like that," Mackanin said. "There's a few of them in the game and he's one of them. I'm anxious to see him, going forward."
Todd Zolecki has covered the Phillies since 2003, and for MLB.com since 2009. Read his Phillies blog The Zo Zone, follow him on Twitter and listen to his podcast. This story was not subject to the approval of Major League Baseball or its clubs.