Asher's strong start for naught as Pirates rally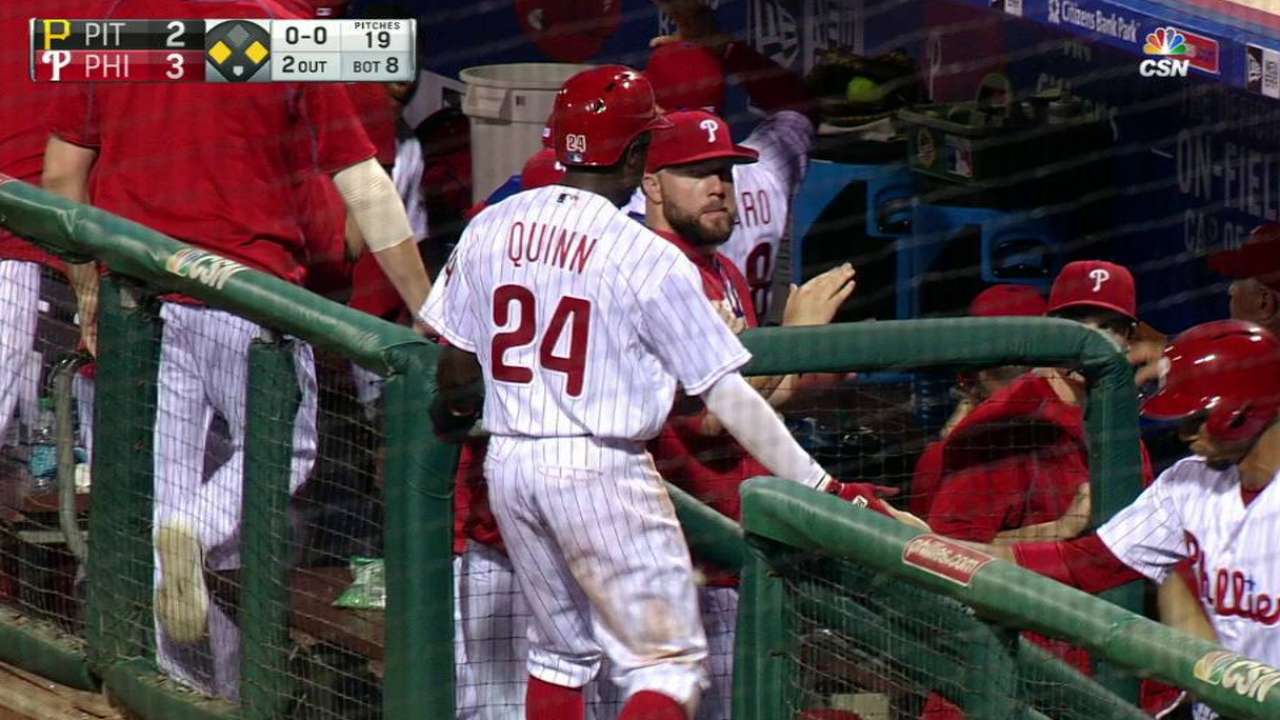 PHILADELPHIA -- The Pirates were three outs away from a five-game losing streak Tuesday night before Sean Rodriguez stopped their September skid. Rodriguez lined a three-run homer to right field off Phillies closer Jeanmar Gomez, leading the Bucs to a 5-3 win at Citizens Bank Park.
"It's easier said than done, but you try to simplify it," said Rodriguez, who set a new career high with his 13th homer. "You just try to execute. That's all you can do and just hope it works out. Today, I was able to come out on top."
But they snapped that streak -- and their four-game slump -- to undo the Phillies' one-run lead on Tuesday. Francisco Cervelli drew a leadoff walk, Jordy Mercer doubled to right and Rodriguez ripped his second career pinch-hit homer. Left-hander Tony Watson slammed the door in the bottom of the ninth, picking up his 12th save.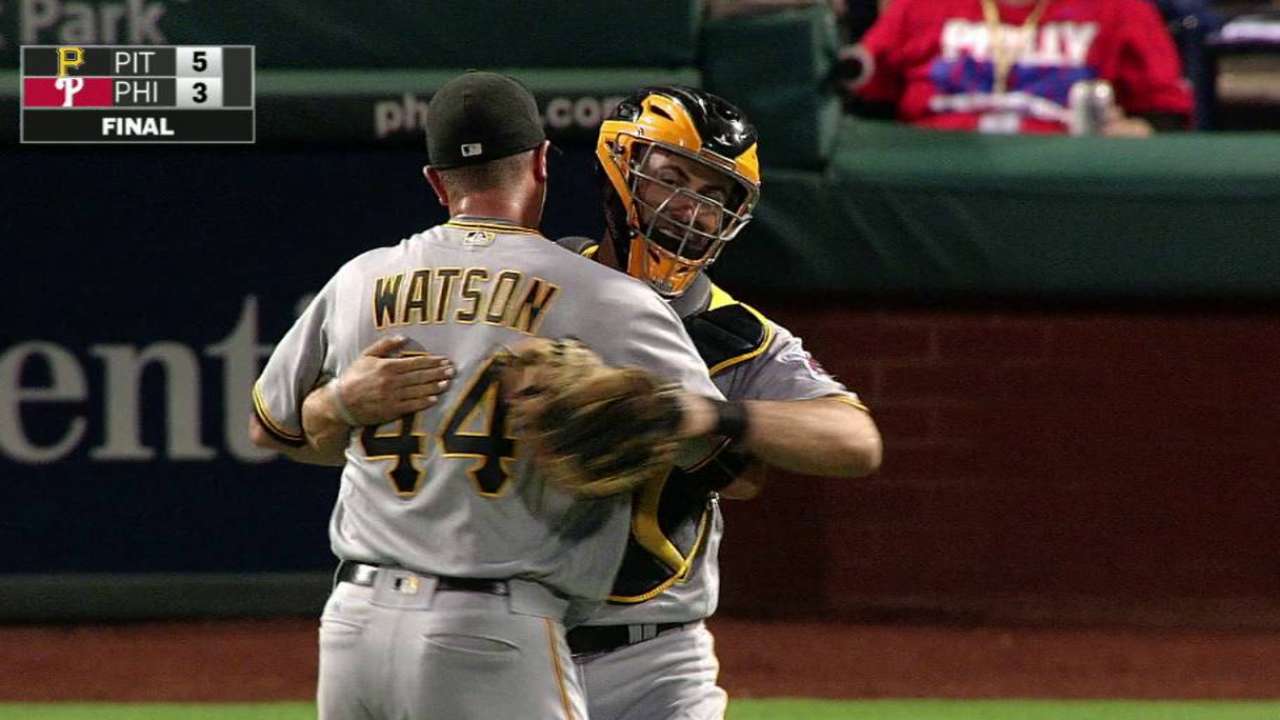 The Bucs had lost 140 straight games when trailing after eight innings, with their last such win coming on July 12, 2014, against the Reds. But they snapped that streak -- and their four-game slump -- to undo the Phillies' one-run lead on Tuesday.
"We were talking about it in there tonight because they kept bringing it up on the TV. I heard it 37 times in the ninth inning," Pirates manager Clint Hurdle said. "It's something that's really peculiar, and I'm really glad it's over."
The Pirates got another strong start from rental right-hander Ivan Nova, who struck out 11 over six solid innings. By the end of the fourth inning, Nova had struck out each hitter in the Phillies' lineup at least once. He left after allowing two runs (one earned) on five hits and a walk. In eight starts with the Pirates, Nova has put together a 2.41 ERA with 43 strikeouts and only three walks in 52 1/3 innings.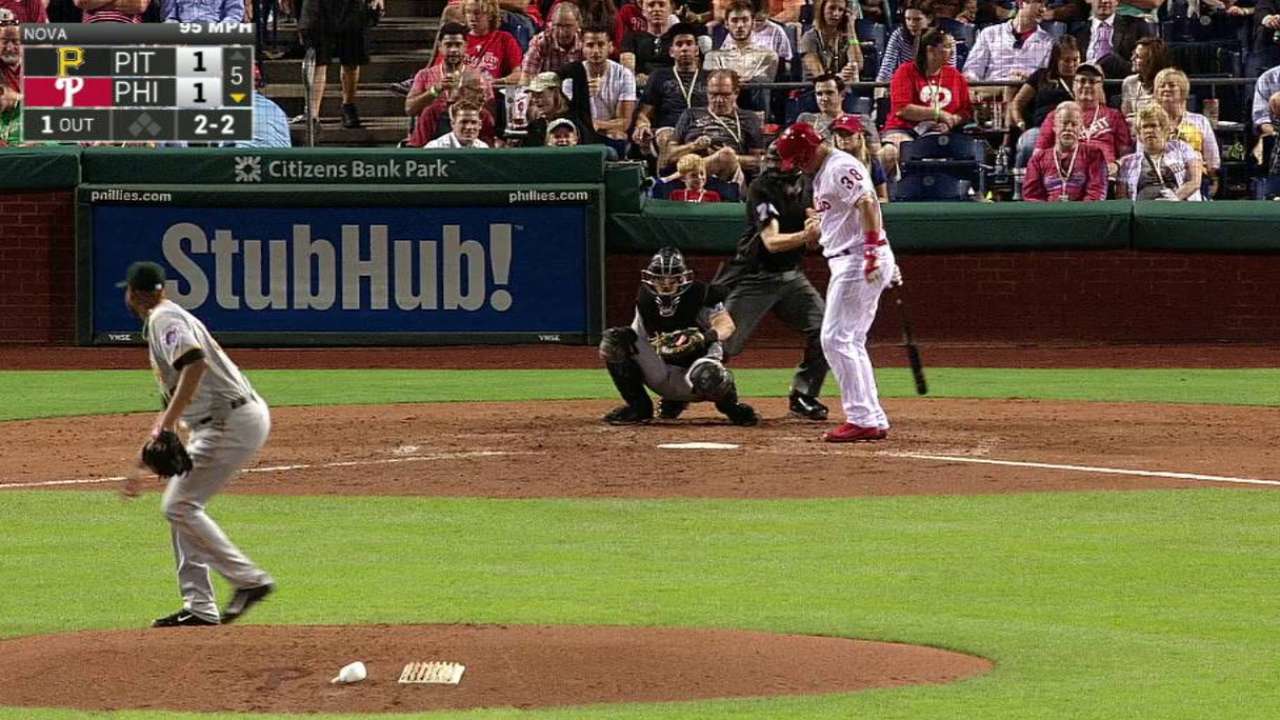 "All my pitches were working," Nova said. "Getting ahead in the count, and the curveball was sharp. … Be able to throw it for a strike and bounce it when you need to, that's one of the things that I've focused on."
Phillies rookie Alec Asher permitted two runs on four hits and three walks while striking out four in 6 1/3 innings. With the game tied in the eighth inning, Freddy Galvis knocked lefty Felipe Rivero's 0-1 fastball to deep center field for a sacrifice fly, driving in the go-ahead run.
"That's a shame to lose that game, the way the guys hung in there and battled," Phillies manager Pete Mackanin said. "We kind of shot ourselves in the foot. It was a good game for eight innings -- until the ninth."
MOMENTS THAT MATTERED
Quinn makes his mark: Phillies rookie Roman Quinn is getting an opportunity to prove himself in the season's final weeks, and he made the most of his opportunity Tuesday. He singled and scored the tying run in the fourth, reached on a bunt single in the sixth that moved a go-ahead run into scoring position and singled and scored a run in the eighth.
"It's definitely a big part of my game, and I want to use it as much as possible," Quinn said about his speed. More >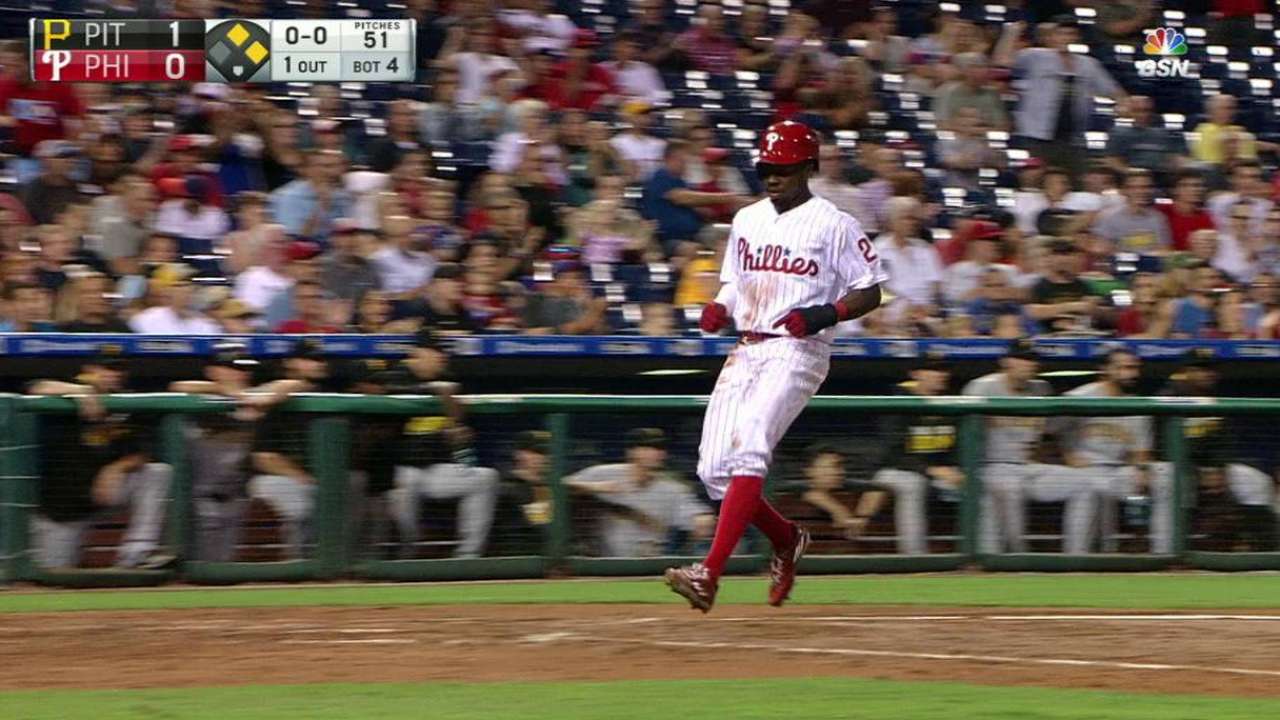 Rookie mistakes: Pirates second baseman Adam Frazier had a rough night on the bases and in the field, making a pair of costly misplays. Frazier gave the Pirates a 1-0 lead with an RBI single in the third inning but tried to stretch it into a double, only to be thrown out at second base. The next batter, Josh Bell, hit a double to center that might have scored Frazier. The rookie utility man booted Ryan Howard's grounder in the fourth inning, allowing Quinn to score from second to tie the game.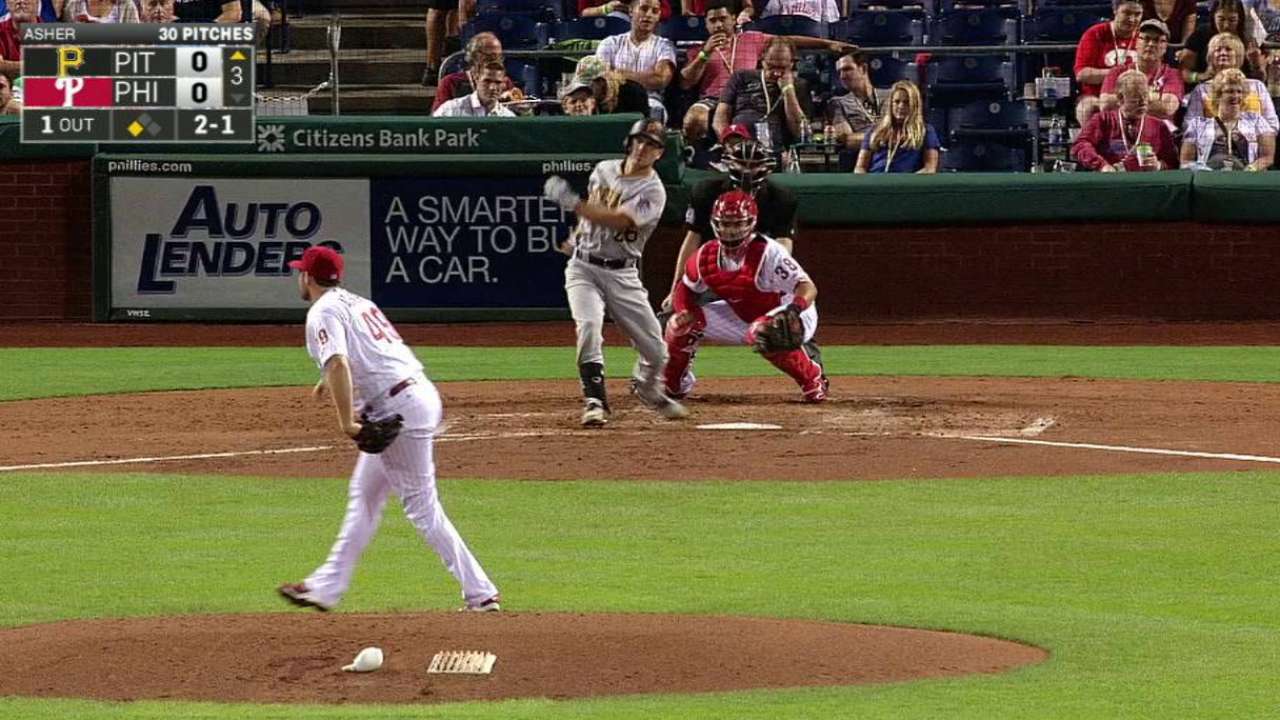 Path interference? Pirates manager Clint Hurdle was ejected in the sixth inning for arguing that first-base umpire Alan Porter interfered with Frazier's route to first base on what would have been an inning-ending double play. Instead, Howard reached safely on a grounder to first base and Cesar Hernandez scored to give the Phillies a 2-1 lead. More >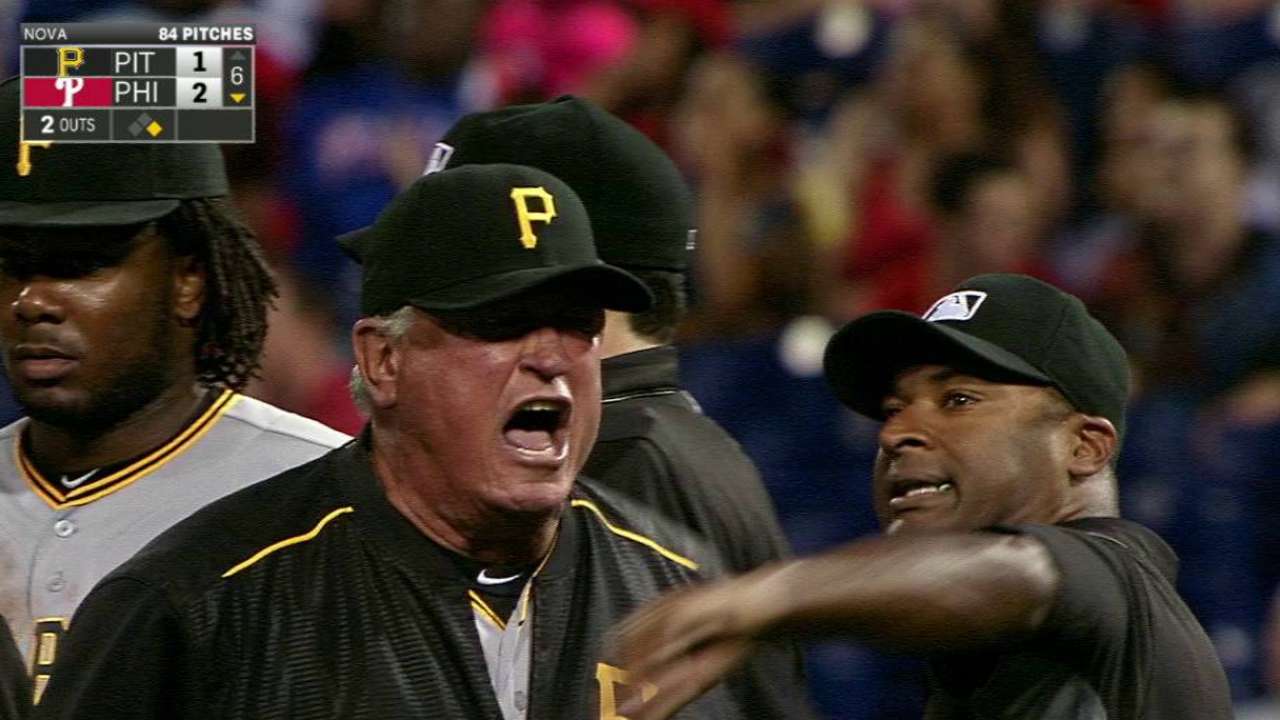 Asher starts strong: Asher has fared well in his first two starts of the season, posting a 1.46 ERA (two runs in 12 1/3 innings). After a scoreless start last week against the Nationals, he allowed four hits, two runs and three walks and struck out four in 6 1/3 innings against the Pirates. Asher might have pitched longer, but he walked two batters with one out in the seventh. One of those runners eventually scored on a Michael Mariot wild pitch to tie the game, 2-2.
"Obviously, I don't want to give up three bases that late in the game, but it happens," Asher said. "The best thing is just to learn from it."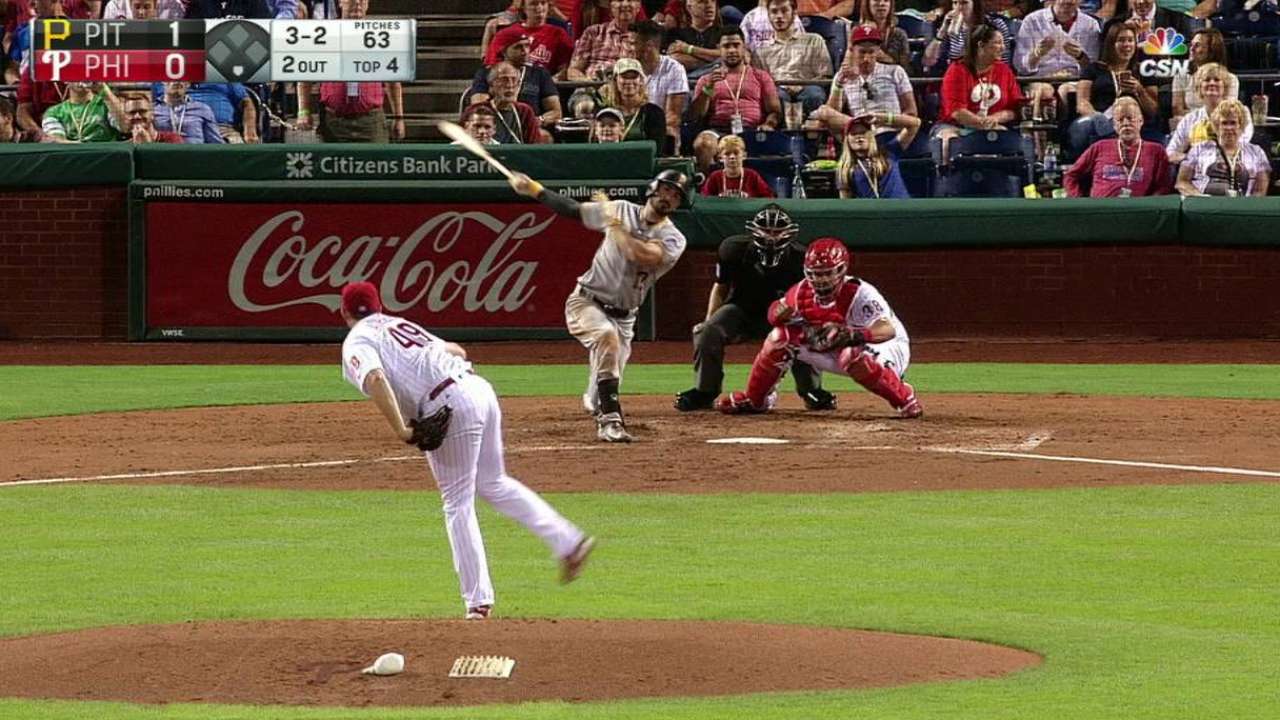 QUOTABLE
"Watching that guy coming out to hit, you're expecting something. … He hit a homer. What more can you ask for?"-- Nova, on Rodriguez's game-winning homer
"I knew it was definitely far enough to get [pinch-runner Alen] Hanson in from third. I was just hoping it got over his head so Mercer could score. Sure enough, I look up and see it's gone. I'm like, 'Oh, that makes it even better.'"-- Rodriguez
SOUND SMART WITH YOUR FRIENDS
This was Nova's sixth career double-digit strikeout performance and his first since July 5, 2013. He has faced 201 batters as a Pirate and walked three of them.
The last time the Pirates won a game when trailing after eight, they beat the Reds, 6-5, in 11 innings. The save for Pittsburgh that day, oddly, went to Gomez, who coughed up Philadelphia's lead on Tuesday.
GOMEZ'S SLIDE
Gomez has fallen on tough times recently. He has a 9.00 ERA (12 earned runs in 12 innings) in 14 appearances since Aug. 14. He has blown two saves this month in which he did not retire a single batter.
"I feel really confident," Gomez said. "It was a tough day. Tomorrow is another day."
WHAT'S NEXT
Pirates: Rookie left-hander Steven Brault will make his sixth Major League start Wednesday night at Citizens Bank Park at 7:05 p.m. ET, looking for more run support than he's received thus far in his young career. Pittsburgh has scored five runs for Brault in his first five starts. Since his last recall, Brault has put up a 3.21 ERA with 11 strikeouts and seven walks in 14 innings over three starts.
Phillies: Phillies right-hander Jake Thompson faces the Pirates on Wednesday night in the third game of a four-game series at Citizens Bank Park. The rookie had a 9.78 ERA after his first four starts this season, but he has a 2.33 ERA (five earned runs in 19 1/3 innings) in his last three.
Watch every out-of-market regular-season game live on MLB.TV.
Adam Berry has covered the Pirates for MLB.com since 2015. Follow him on Twitter at @adamdberry.

Todd Zolecki has covered the Phillies since 2003, and for MLB.com since 2009. Read his Phillies blog The Zo Zone, follow him on Twitter and listen to his podcast.

This story was not subject to the approval of Major League Baseball or its clubs.