Hellickson a 'stabilizer' in Phils' young rotation
Veteran pitcher yields one unearned run in 6 1/3 frames vs. Pirates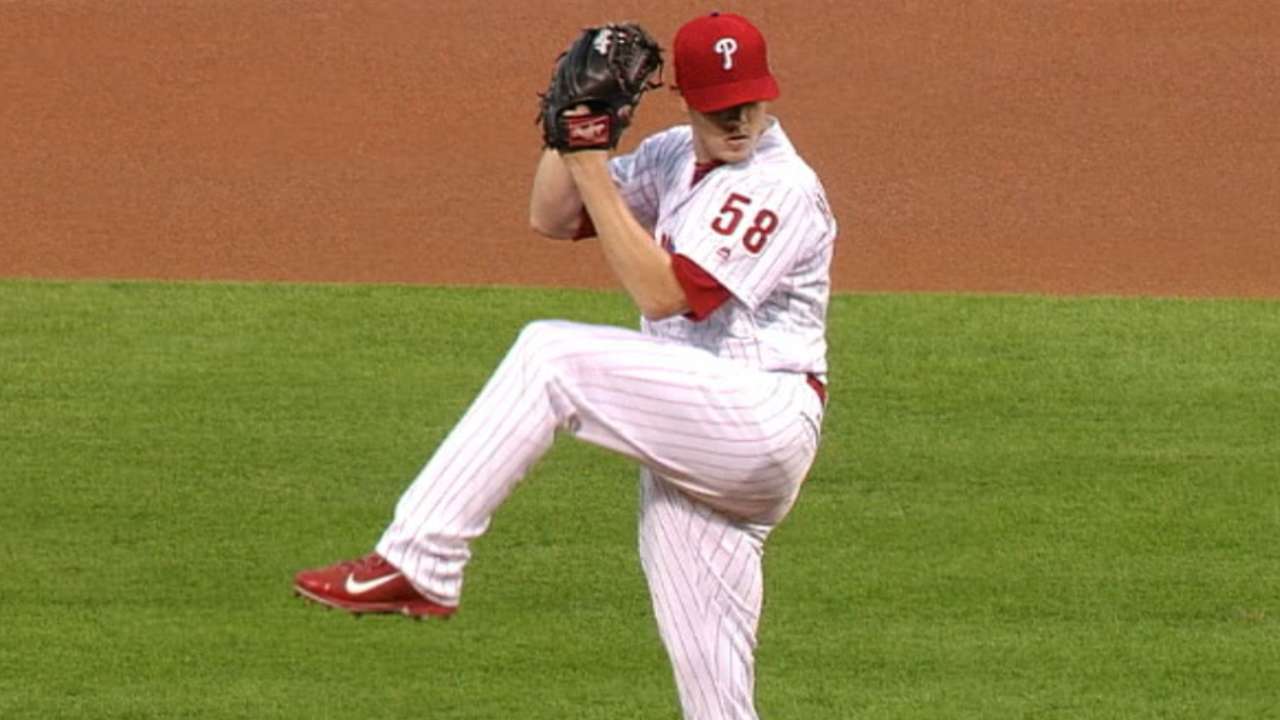 PHILADELPHIA -- So much of the Phillies' focus has been on the young pitchers this season, and that's understandable. Jerad Eickhoff, Jake Thompson, Vince Velasquez, Aaron Nola, Zach Eflin and Adam Morgan are among the arms the organization hopes might anchor their rotation for years to come.
In a 6-2 win over the Pirates on Monday night at Citizens Bank Park, though, 29-year-old right-hander Jeremy Hellickson was a reminder of the value of a savvy veteran. He earned his team-leading 11th victory by allowing just one unearned run on three singles in 6 1/3 innings.
Hellickson can be a free agent at the end of the year. That means decisions have to be made. The Phillies could try to sign him. They could make him a qualifying offer, meaning that they'd get a compensatory Draft pick if he rejects it, but they could end up paying him around $16 million for one year if he accepts.
Strictly from a baseball perspective, manager Pete Mackanin thinks the decision is easy.
"I'd like to see him back," Mackanin said. "He's been a stabilizer for us. He gives us a lot of innings."
Hellickson has been steady much of the season, but he came into Monday night with a 6.75 ERA in his previous three starts.
"I think the last couple games I was getting ahead of guys and just wasn't able to put them away," Hellickson said. "And I gave up some big home runs with guys on base. I was just one pitch away from those games, and this time I was able to put guys away when I got ahead, for the most part."
Hellickson gave up an unearned run in the first, but he was able to settle down after needing 29 pitches to get through that inning.
"I knew after that I had to bear down and throw strikes and get some early outs the next few innings to go six or six-plus," Hellickson said. "It was just commanding both sides of the plate. I lost command of the fastball to a few guys, but I was getting ahead and making good two-strike pitches."
Hellickson ended up throwing just 80 pitches in his last 5 1/3 innings.
Said Mackanin: "He was outstanding. No earned runs. He pitched extremely well."
Paul Hagen is a reporter for MLB.com. This story was not subject to the approval of Major League Baseball or its clubs.