Prospects Quinn, Alfaro record first MLB hits
OF also notches first SB, RBI; C pinch-hit, will start Tuesday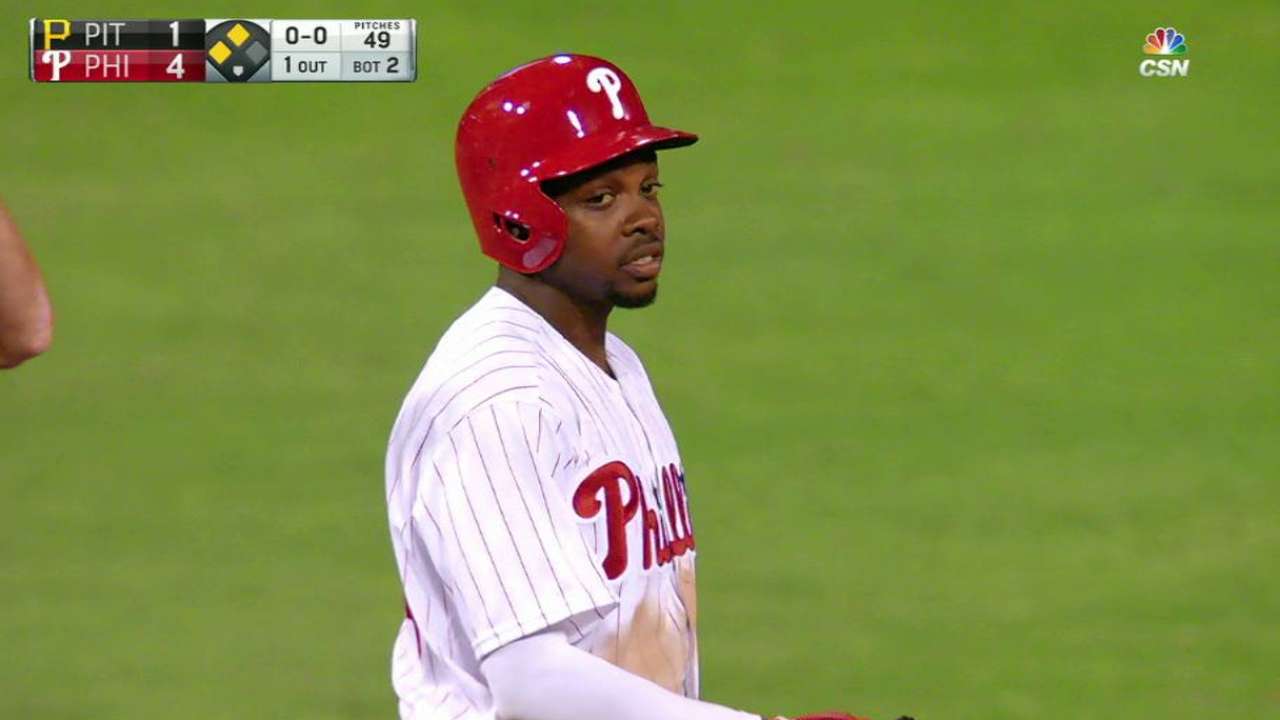 PHILADELPHIA -- Outfielder Roman Quinn and catcher Jorge Alfaro now have one more thing in common in addition to being top Phillies prospects -- Nos. 8 and 4, respectively, according to MLB.Pipeline.com -- and being called up by the Phillies on Sunday after Double-A Reading's season ended.
Both players got their first Major League hits in Monday night's 6-2 win over the Pirates at Citizens Bank Park.
Quinn's was a hard-hit double to left-center in the second that also resulted in his first two RBIs. He had recorded his first stolen base in the first inning after walking with one out and nobody on. In the sixth he doubled again, a long drive to dead center that almost cleared the fence.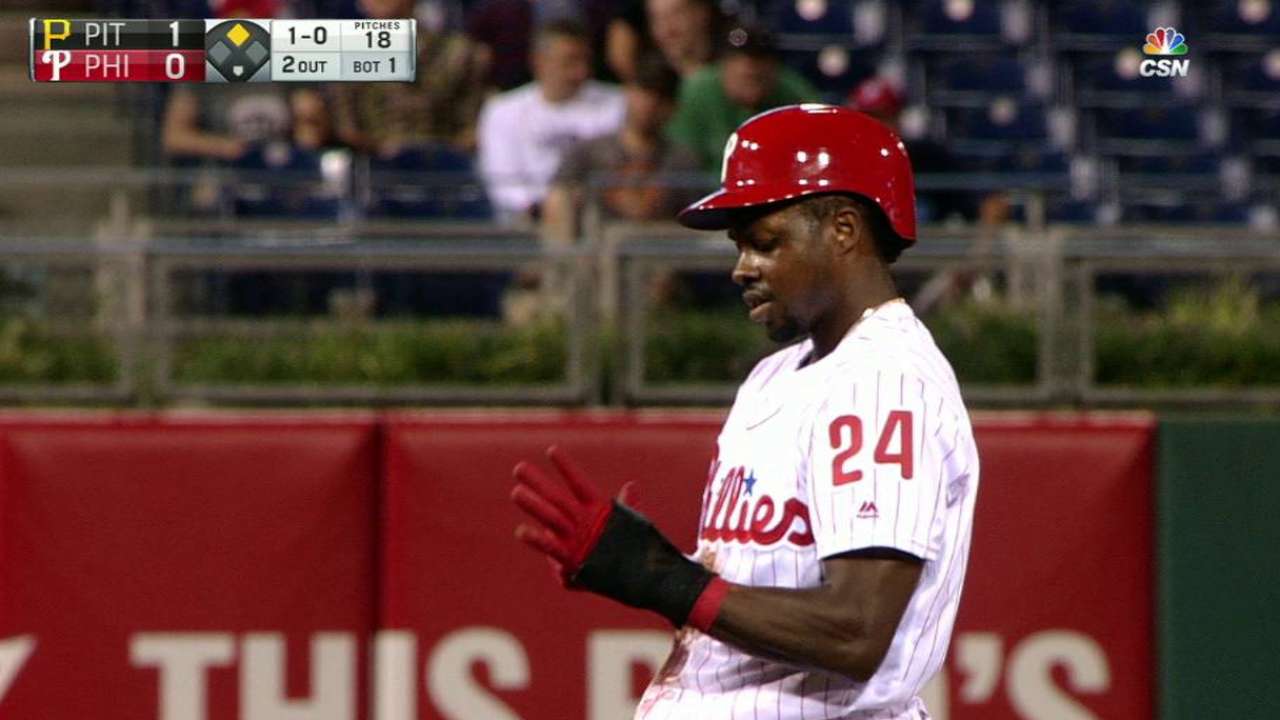 Alfaro, who is expected to get his first big league start Tuesday night, made his Major League debut as a pinch-hitter in the eighth and reached on a swinging bunt up the third-base line.
Manager Pete Mackanin said he expects Quinn, 23, to play a lot in the final three weeks of the regular season and that Alfaro, also 23, could get between six and eight starts.
"They're not going to be able to establish themselves, but they're going to be able to make a really good first impression," Mackanin said. "They could make a statement."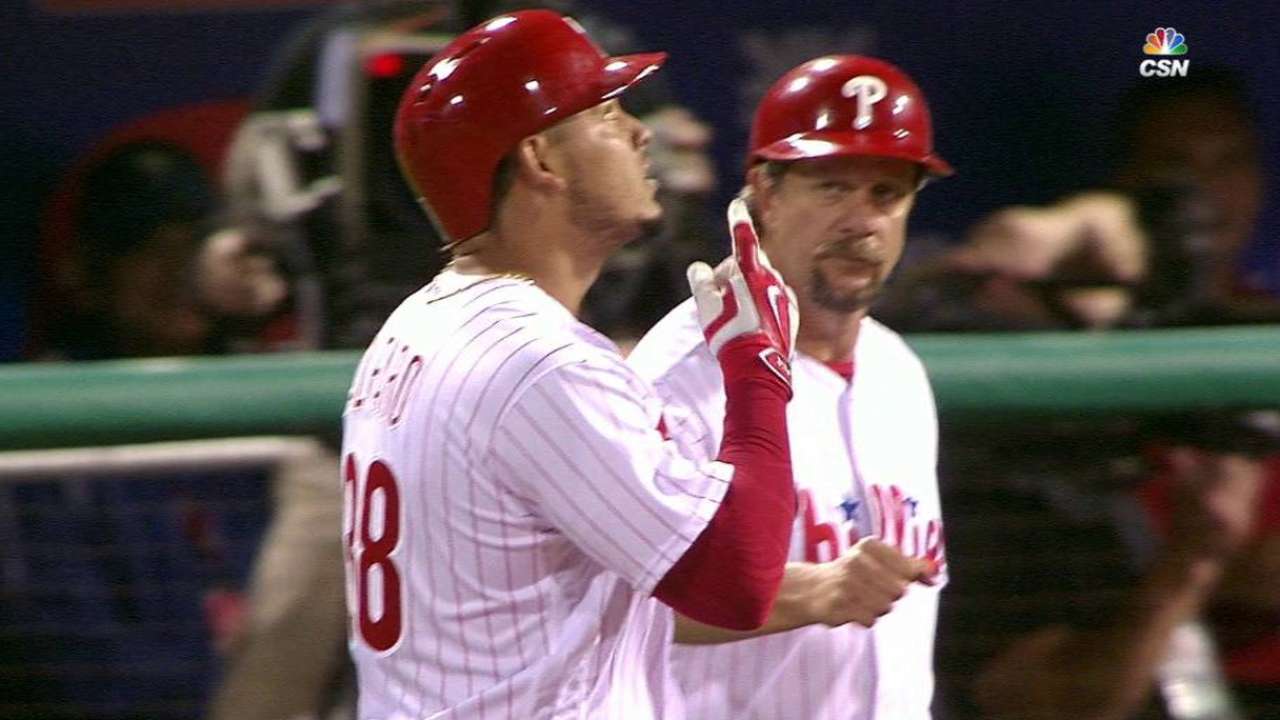 Said Quinn, who was showered with ice by his teammates at his locker after the game: "It always feels good to get the first one out of the way. And it felt great. This is a dream come true, and I'm looking forward to it."
Said Alfaro: "I was really excited. It was nice to get an at-bat. I was really nervous. So I think it will help me [Tuesday], because I have an at-bat already. Now I'll try to make good contact."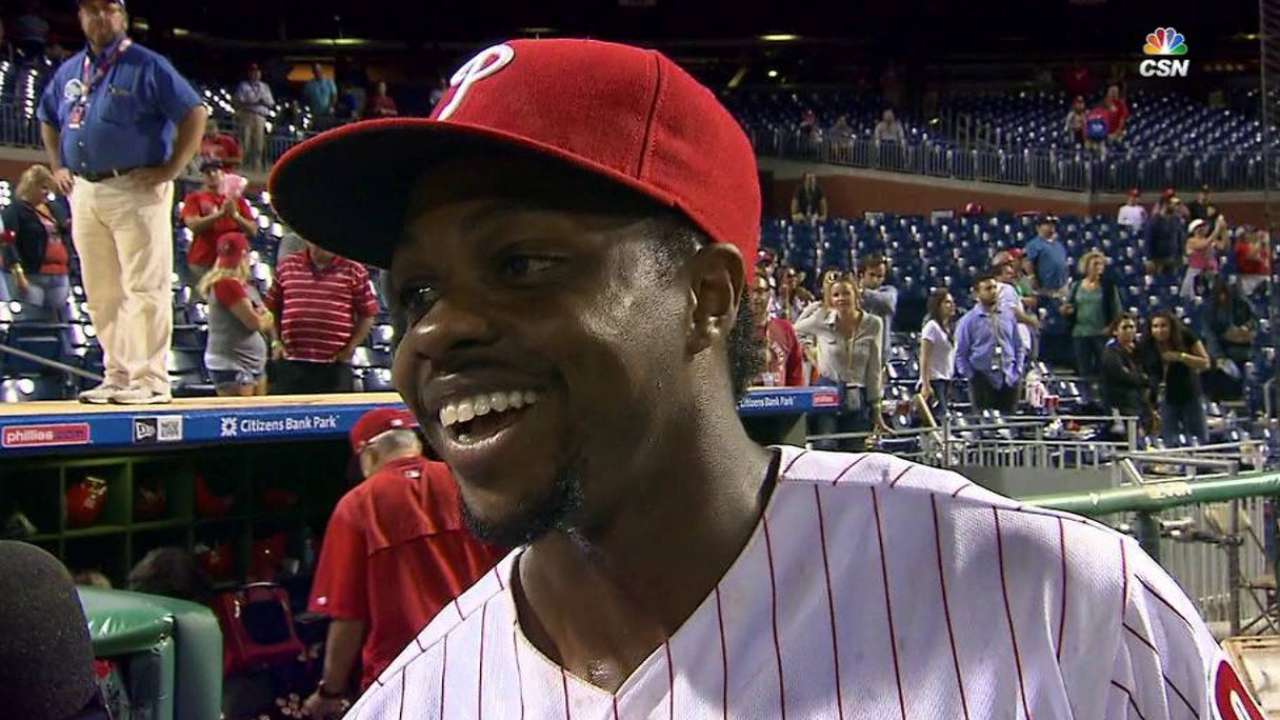 While Mackanin will get a good look at the speedy Quinn in the final 18 games, he won't always be looking at him in center field. Quinn, long viewed as a potential center fielder of the future, made his Major League debut Sunday at his natural position. Monday night, though, he was in right.
The reason is simple. Odubel Herrera, a converted second baseman, has only started in center this season.
"We don't want to send any message to Odubel. He's our center fielder right now," Mackanin said. "Then we'll look at the whole picture at the end of the season and see what we've got and see what makes the most sense."
Herrera profiles as a left fielder, but the Phillies will keep their options open. Quinn, who batted .302 and had 36 stolen bases in 77 games between the Fightin' Phils and a Gulf Coast League rehab assignment, was used all around the outfield this season, and that will continue in the big leagues.
"I'd like to see him in all three positions," Mackanin said.
Paul Hagen is a reporter for MLB.com. This story was not subject to the approval of Major League Baseball or its clubs.