Arms from Hamels deal give Phils promise
Asher, Thompson, Eickhoff deliver solid starts against Nationals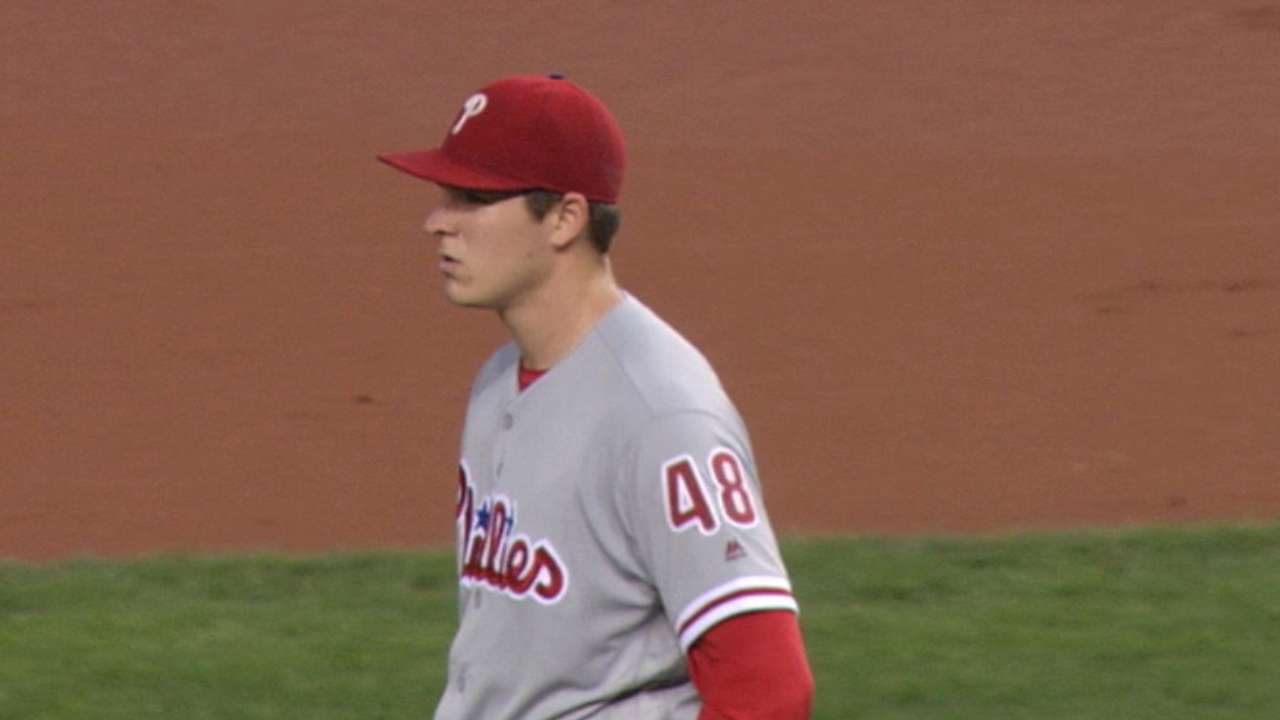 WASHINGTON -- Jerad Eickhoff could reflect positively about any number of things Saturday night at Nationals Park.
The right-hander threw six scoreless innings in a 3-0 loss to the Nationals, striking out five, including Bryce Harper three times on curveballs in the first, third and sixth innings. He has pitched six innings in five consecutive starts and six or more innings in 20 of 29 starts this season, essentially making him the workhorse of the Phillies' rotation.
But it also had to feel good to follow strong performances Thursday from Alec Asher (six scoreless innings) and Friday from Jake Thompson (two earned run in 5 1/3 innings), considering they joined the Phillies in July 2015 in the Cole Hamels trade with Texas.
"Asher said yesterday it's kind of crazy to see all these Rangers up here," Eickhoff said. "It's a cool thing. We all kind of reflect and just look at each other and see how fortunate and lucky we are to have this opportunity to contribute at the big league level."
As the Phillies' season nears its end, it is fair to wonder how each will factor into the Phillies' rotation come Opening Day 2017.
Thompson has pitched well in each of his last three starts after struggling terribly in his first four. Asher looked fine in his season debut Thursday, but both of those former Rangers prospects have more to prove.
Eickhoff and Vince Velasquez seem to be the only locks at this exact moment, but only because Aaron Nola has not thrown a baseball since receiving a PRP injection in his right elbow last month. Nola said Friday, though, that the elbow is improving and he is anxious to begin his throwing program.
Zach Eflin will be returning from a pair of knee surgeries, while Adam Morgan has pitched better lately, but he has to keep it up.
The Phillies also figure to acquire at least a veteran starter or two, assuming Jeremy Hellickson rejects the Phillies' qualifying offer following the season.
But Eickhoff has been one of the team's few bright spots this season. He is 10-13 with a 3.73 ERA, but his record is under .500 because he has received some of the worst run support in baseball. Eickhoff's 3.76 runs-per-start average is 78th out of 82 qualified starters in the big leagues.
"I kind of expected him to be this type of pitcher," Phillies manager Pete Mackanin said. "It didn't exceed my expectations. I expected him to be a pretty darn good consistent pitcher -- a workhorse type of guy. That's what we were hoping he was going to be and figured he would be, not only because of his stuff, but because of his demeanor. He's all business. He studies. He's always in the video room. He really pays attention and works hard at it.
"He just looks like he's out there to beat you. He's mean."
Todd Zolecki has covered the Phillies since 2003, and for MLB.com since 2009. Read his Phillies blog The Zo Zone, follow him on Twitter and listen to his podcast. This story was not subject to the approval of Major League Baseball or its clubs.