Phillies come close but fall to Nationals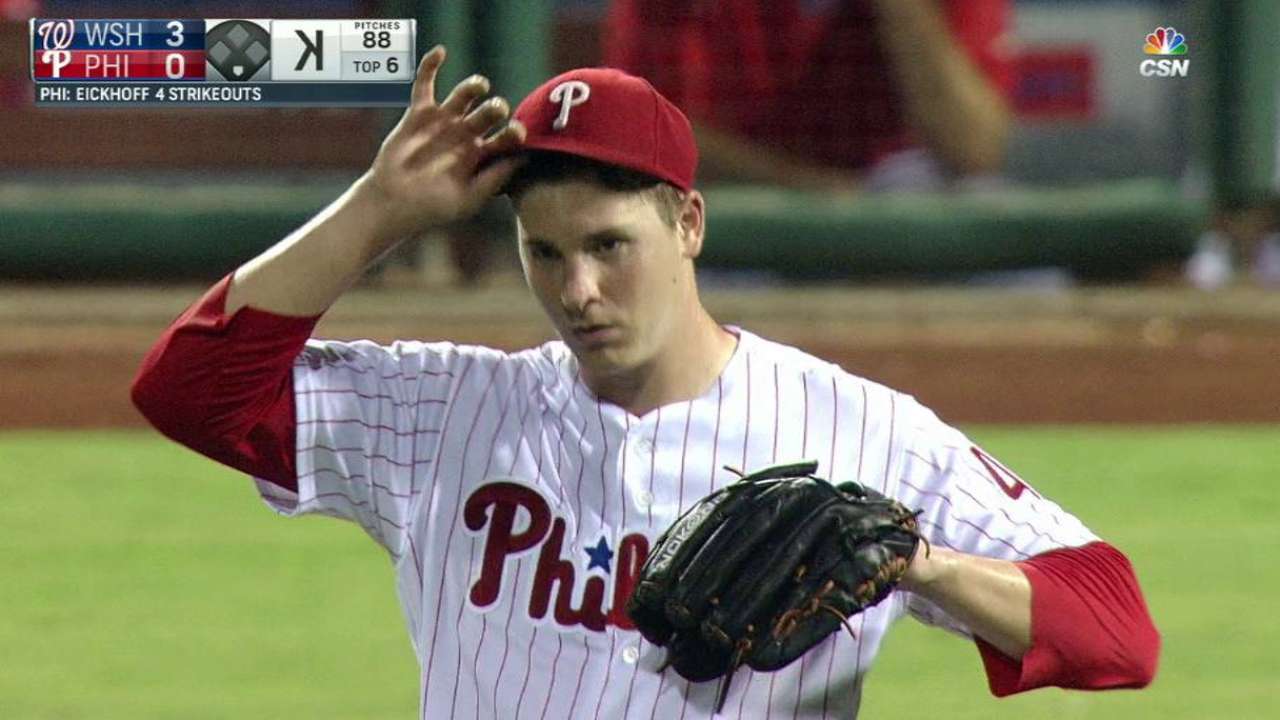 PHILADELPHIA -- Once again Max Scherzer flirted with history, carrying a no-hitter into the sixth inning as he delivered another dominant start against the Phillies on Tuesday night. He overmatched the Phillies for eight innings, striking out 11 to lead the Nationals to a 3-2 victory.
"I think when he goes out there, we're pretty pumped," Nationals outfielder Bryce Harper said. "Being able to see him do what he does, every five days he has an opportunity to go out there and throw a perfect game or a no-no. That just goes to show how hard he works and how he goes about it. Lot of fun to watch, lot of fun to play behind, and just an absolute machine."
It was Washington's eighth consecutive victory over Philadelphia; the Nationals have won 13 of their last 15 games at Citizens Bank Park.
Scherzer did not surrender a hit until the sixth inning, when Freddy Galvis lined a leadoff double off the wall in right field. Philadelphia got on the board in the seventh on a two-run homer from Ryan Howard, who had struggled mightily against Scherzer in his career.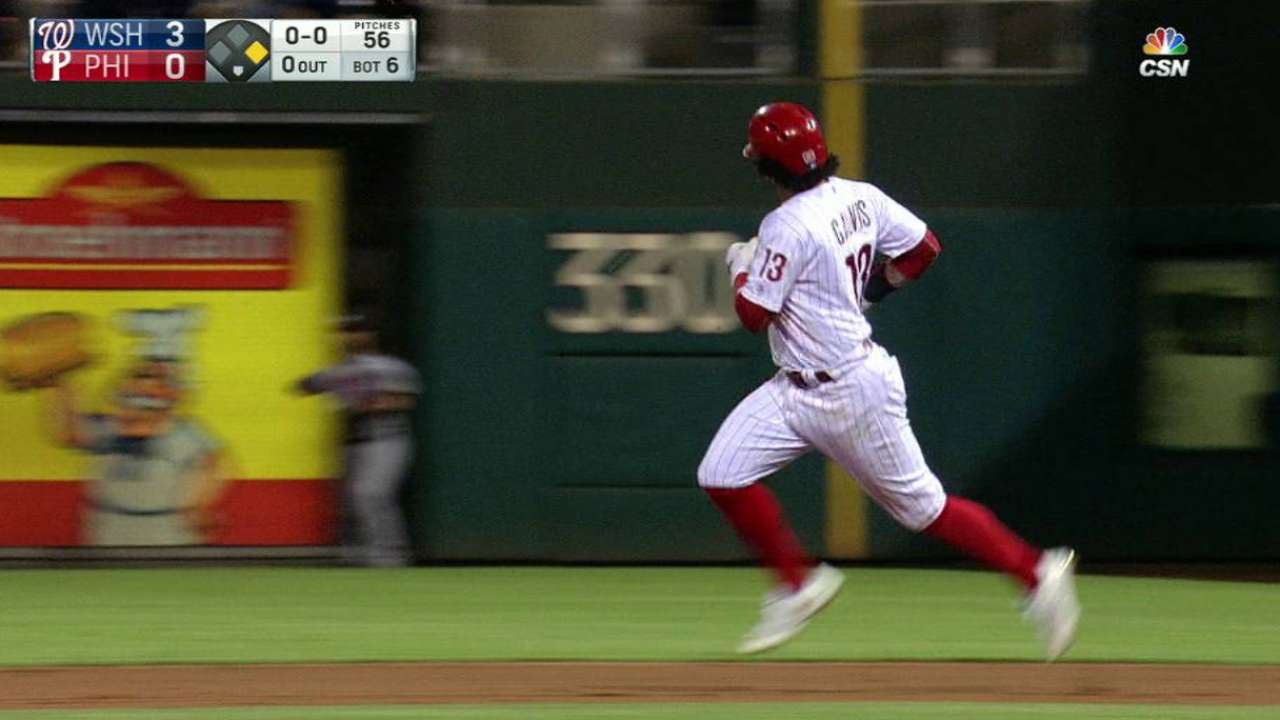 "We need to improve our plate discipline. We're just not getting hits," Phillies manager Pete Mackanin said. "It plays into anybody's strengths who can change speeds."
"I knew I needed to change it up and really start hitting my offspeed early in those first at-bats," Scherzer said, "because it just seemed like they were going to be very aggressive on that first-pitch fastball."
Phillies right-hander Jerad Eickhoff entered the game with a 9.91 ERA from the sixth inning and later this season, so his day was done following the sixth after a quality start in which he allowed three runs and struck out four.
"I know [Scherzer's] a tough pitcher, so I know I've got to be on point with my stuff as well," Eickhoff said. "Try to keep our guys getting into the dugout and [getting] the bats. He pitched a great game. You know that going in, so it's a challenge."
MOMENTS THAT MATTERED
Another near no-no for Max: For the ninth time in his 61 starts since he joined the Nationals before the start of the 2015 season, Scherzer carried a no-hitter into the sixth inning. He has done so more times than anyone else in the Majors during that span, almost 15 percent of his starts. Scherzer did not finish the feat, but still managed to give the Nationals eight strong innings. He also reached double-digit strikeouts for the 12th time this season, the most in the Majors and setting a Nationals record.
"I'm sure everybody on the team was thinking [no-hitter], because they've seen it before," Nationals manager Dusty Baker said. More >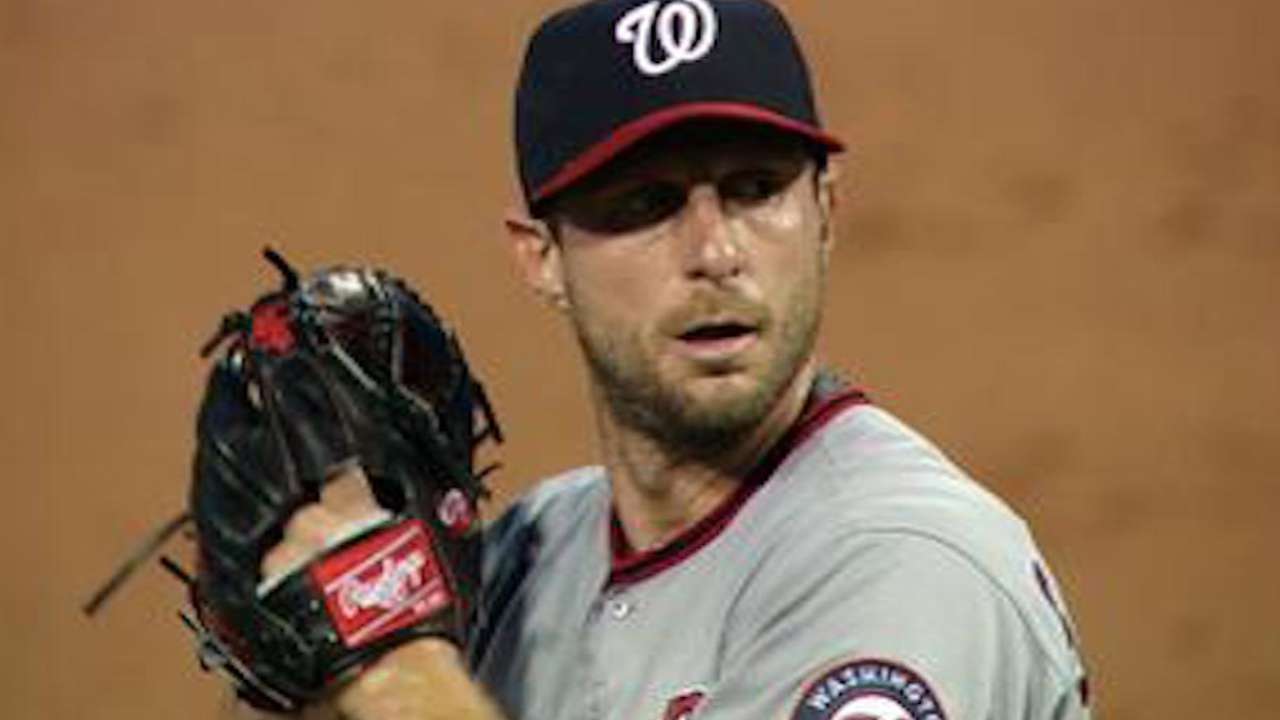 Rupp takes a hit: In the fourth inning, Trea Turner ripped a single into right and Danny Espinosa came flying around third, despite it being a hard-hit ball right to Aaron Altherr. Altherr came up firing, and his throw beat Espinosa to the plate by almost 10 feet. But instead of trying to dodge the tag or give himself up, the 6-foot, 206-pound Espinosa came barreling full speed into the stocky, 6-foot-2, 260-pound Rupp. Rupp won, holding onto the ball and getting Espinosa out.
The play raised some eyebrows in the Phillies dugout, with catcher A.J. Ellis bringing up rule 7.13, which essentially states that a runner cannot deviate from his path to the plate to initiate contact with the catcher. The catcher, until he receives the ball, must give the runner a clear path. The consensus among the Phillies seemed to be that Rupp provided the path and that Espinosa chose to ram Rupp anyway.
"You're going to have people that can say Espinosa could have gone to the inside, but I mean, it's baseball, man," Howard said. "You can't change every single thing about it. Ruppy's a big guy. He took the hit. I mean, actually, I think he liked it."
"Yeah, it brought me back to my football days," Rupp said. "I thought it was ironic that Tim Tebow's trying out for baseball and I'm taking hits at the plate on the same day."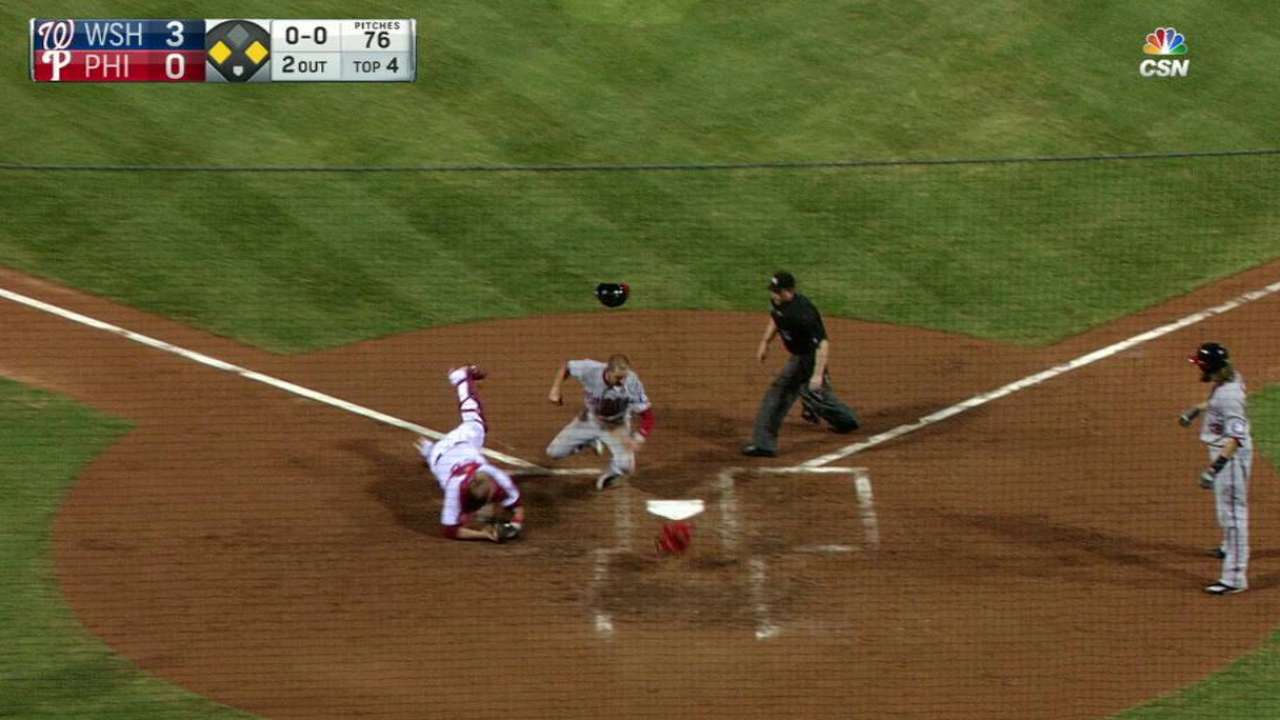 Melancon seals the victory: Washington closer Mark Melancon began the ninth inning of a one-run game by issuing a walk to Cesar Hernandez, but he quickly erased the threat with a strikeout of Odubel Herrera and by forcing Maikel Franco to ground into a double play. Melancon pumped his fist as he recorded his 37th save of the season and seventh since joining the Nationals.
"It's a lot of fun to watch," Harper said. "After that game-ending double play right there, he was so fired up, pumping his fist, doing everything possible. He's somebody that he goes out there, leads off with a walk or something like that, [but] you have all the faith in the world that he's going to get out of it."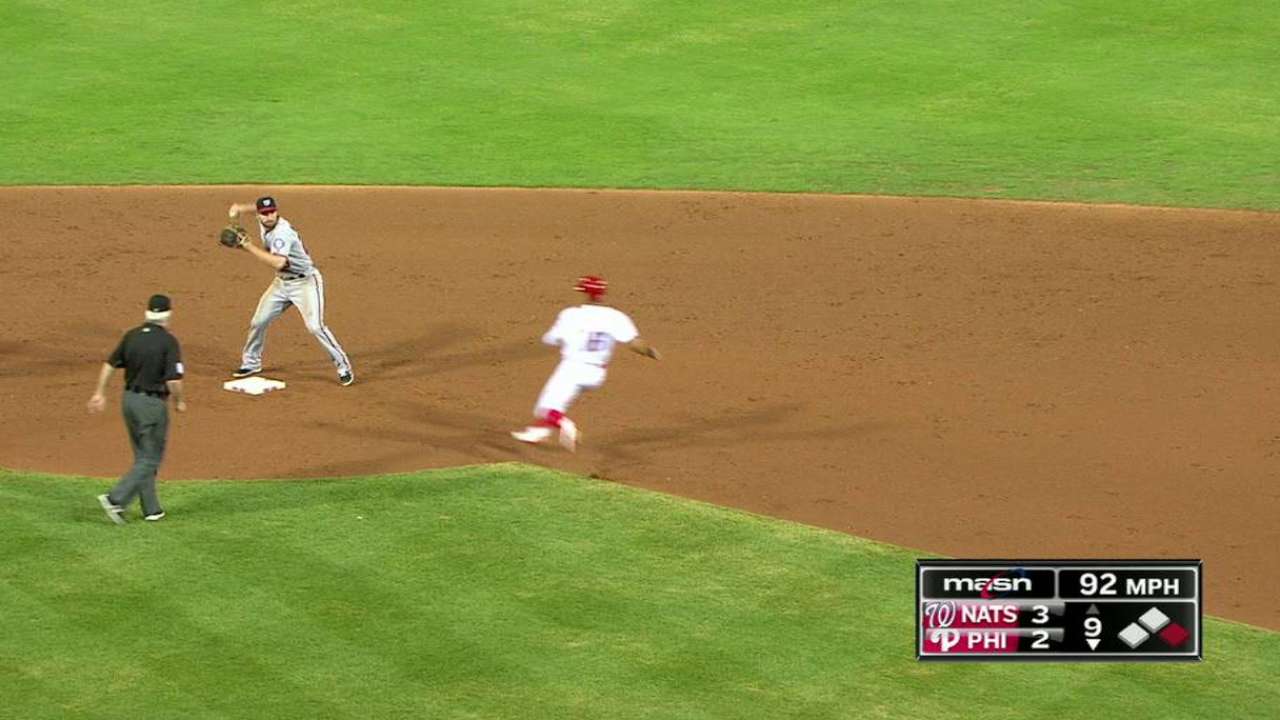 Howard gets his: Howard planted a ball in the left-field seats in the seventh to give the Phillies their runs and third hit off Scherzer and make it a 3-2 game. It was his 20th homer in just 276 at-bats this season. Howard is averaging a home run every 13.8 at-bats this year, which is his best rate since 2009, when he averaged a homer every 13.7 at-bats.
"It's cool," Howard said. "It just goes to show, just keep trying to [plug] away and just keep swinging and doing what you do. Even though it's a lot less at-bats, hopefully, it shows something."
Mackanin had played Howard over Tommy Joseph because "a lot of people don't have good numbers against [Scherzer] anyway. Lefties at least hit him better." More >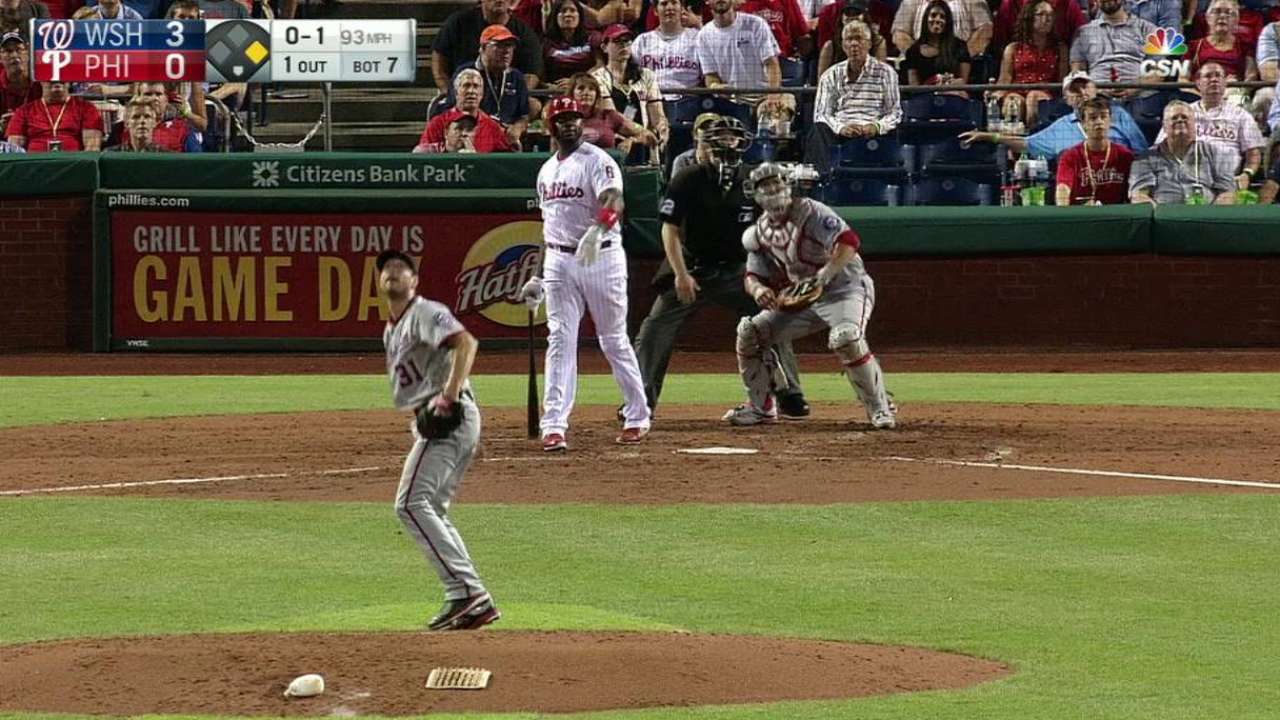 SOUND SMART WITH YOUR FRIENDS
Turner reached base for the 20th consecutive game as he continues to become a spark at the top of Washington's lineup. With his stolen base in the seventh, he tied a Nationals rookie record with his 18th of the season (Harper, 2012).
"I have to give him a day [off] also so he doesn't wear down," Baker said. "He doesn't weigh much more than that pen there, so I've got to keep him strong, because he hasn't played much in September, and he definitely hadn't played any in October."
REPLAY REVIEW
It initially appeared as though Turner was thrown out on his steal in the seventh inning. The Nationals challenged the play, however, and the call was overturned.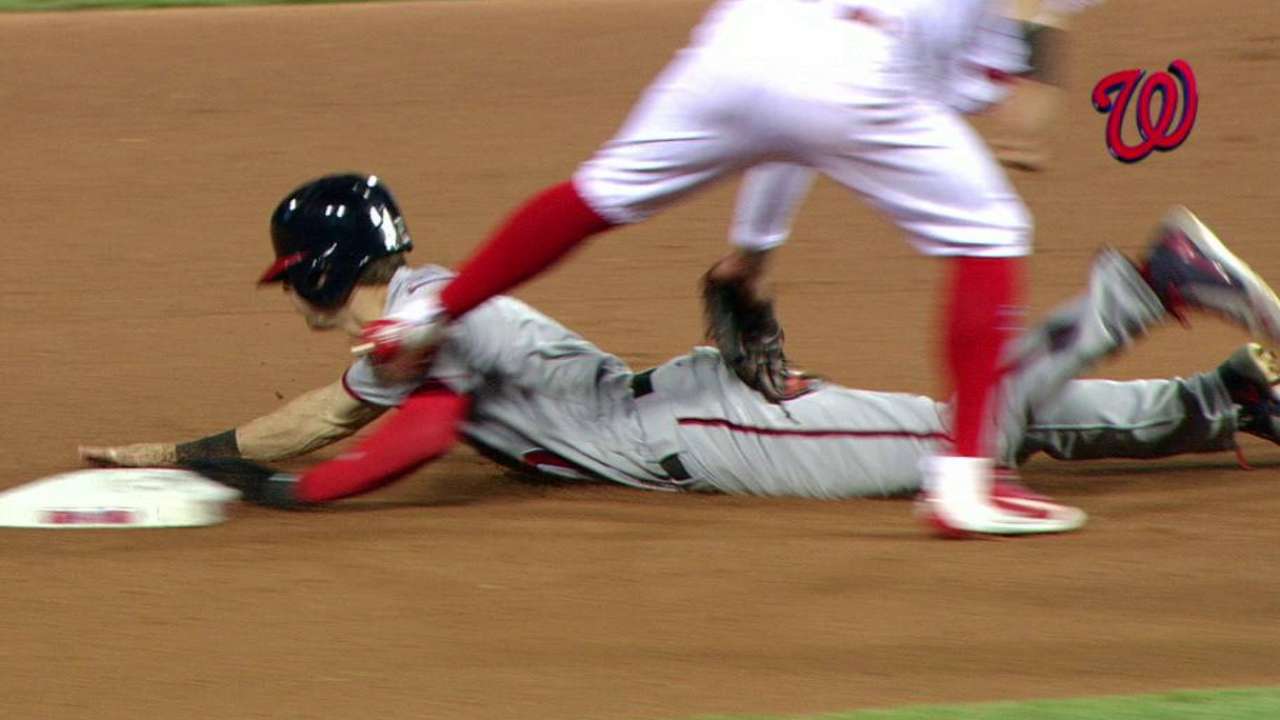 WHAT'S NEXT
Nationals: The Nats finish a stretch of 20 games in 20 days with Wednesday night's series finale against the Phillies at 7:05 ET. Left-hander Gio Gonzalez will take the mound and look to continue his quiet but strong stretch. In nine starts since July 10, he has a 3.20 ERA, and opposing batters are hitting just .219 against him .
Phillies: Adam Morgan starts Wednesday's series finale at 7:05 p.m. ET as the Phillies look to avoid being swept for the first time since losing four to the D-backs in mid-June. The Phils have lost their last eight to the Nationals, and 13 of their last 15 against them at Citizens Bank Park. Morgan gave up one run over six innings to the Cardinals two starts ago, but allowed six Mets to score over five innings his most recent start.
Watch every out-of-market regular-season game live on MLB.TV.
Jamal Collier covers the Nationals for MLB.com. Follow him on Twitter at @jamalcollier.

Evan Webeck is a reporter for MLB.com based in Philadelphia.

This story was not subject to the approval of Major League Baseball or its clubs.