Small change pays big dividends for Thompson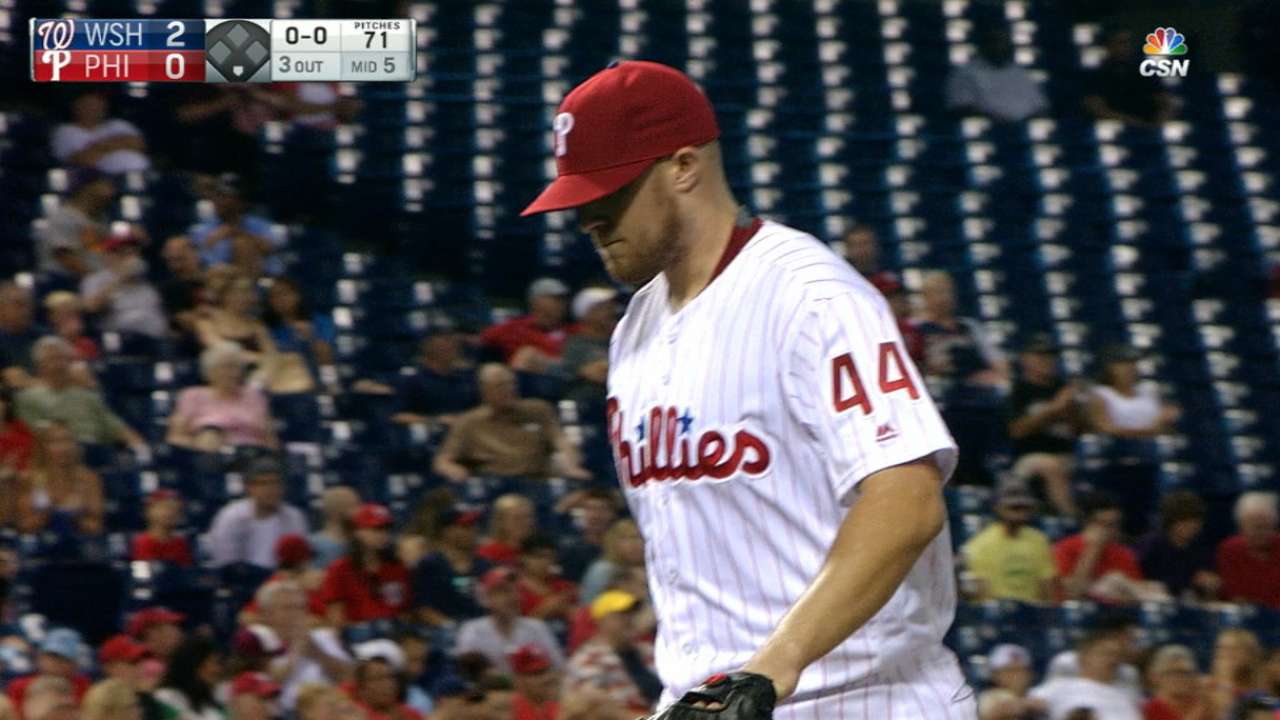 PHILADELPHIA -- Pretend you're a Major League pitcher. Take a big step back with your left foot and lift your arms over your head, rock back a little and fire. Now eliminate those movements, just raise your lead leg and throw again.
See the difference?
That's the change that Phillies pitching coach Bob McClure made to Jake Thompson's delivery between Thompson's most recent start and Monday's, the best of his Major League career. The rookie right-hander tossed seven innings and allowed only two runs to the Nationals in a 4-0 Phillies loss at Citizens Bank Park.
Rather than the standard single side session between starts, Thompson worked back-to-back bullpens on Saturday and Sunday in New York. Prior to Saturday he'd never thrown a pitch the way he did fairly dominantly, all things considered, only two days later.
McClure approached Thompson before Saturday's session, saying, "Hey, I want you to try this."
He then proposed stripping Thompson's delivery bare -- not even a windup.
"First I was trying to go from the side and still go over my head," Thompson said. "The timing really wasn't there. Then he had me try it without it, and I had a really good bullpen after that, and we kind of just stuck with it."
In Sunday's second bullpen session, he threw only a dozen or so pitches, but he said the additional work helped him immensely.
Thompson had thrown thousands of pitches using the delivery that caused him so many issues in his first four Major League starts. It was a conundrum, as he posted a 2.50 ERA in Triple-A doing the same thing.
"The only thing I can probably pinpoint is, it has a lot to do with timing," he said. "Coming up here and struggling kind of disrupted my timing a little bit."
Thompson posted a 9.78 ERA through those first four starts, the second highest by a Phillies starter in his first four Major League outings.
"It was his lead leg," Phillies manager Pete Mackanin said. "He was lifting it a certain way, which kind of caused him to lean forward and not stay over his backside. He simplified everything. Too many moving parts. His leg lift was a little unorthodox, and it caused him to lean forward instead of staying over his backside. So that, with the simplified mechanics, I think, helped him a lot."
Changing mechanics overnight seems like an impossible task, but for Thompson it was easy. It's almost the same motion, just with the entire first half of his delivery eliminated. Although the change in results was drastic, the tweak was simple.
"It actually wasn't too difficult," Thompson said. "It's really simple, just small moving parts instead of a bunch of stuff moving at the same time."
Evan Webeck is a reporter for MLB.com based in Philadelphia. This story was not subject to the approval of Major League Baseball or its clubs.