Phillies kept off the board by Nationals pitching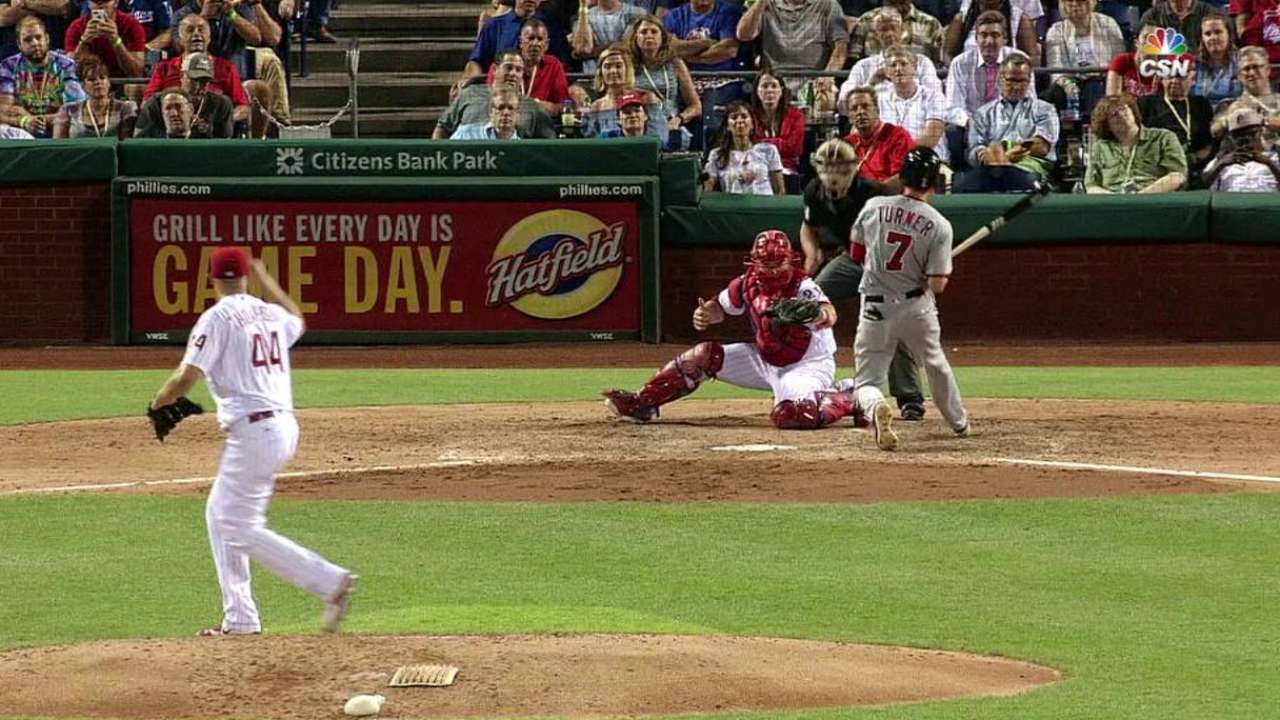 PHILADELPHIA -- The Nationals began a stretch of 22 consecutive games against National League East opponents on Monday night, a chance, perhaps, for them to get on a roll considering they began the day with the best record against their own division in the Majors.
They began that stretch with a gem from right-hander Tanner Roark, combined with a two-run first inning, for a 4-0 victory over the Phillies at Citizens Bank Park. Roark held the Phillies to four hits in seven innings while Jayson Werth continued to torment his former team with a solo homer in the first inning.
"I think after the first two innings, I started executing and really driving the ball in there," Roark said. "Instead of using my upper body, I used my legs as well. Everything felt in sync."
Washington added a pair of runs in the ninth inning and has now won nine of its 13 meetings with Philadelphia this season, including seven in a row.
The Phillies did receive an encouraging start from right-hander Jake Thompson, the team's top pitching prospect and fifth ranked overall, who lasted a career-high seven innings. After giving up two runs in the first, Thompson scattered five singles and did not allow a run across the remainder of the outing, with three strikeouts and one walk.
"What a job he did after the first inning," Phillies manager Pete Mackanin said. "In the first inning, it was more of the same. He hung a breaking ball to Werth and gradually, as the game went along, he got better and better. ... A real positive outing."
MOMENTS THAT MATTERED
Happy to be back: Werth spent four seasons with the Phillies, winning a World Series, and considers Citizens Bank Park one of his favorite places to play. He homered in his first at-bat on Monday and now has 11 homers and 29 RBIs in his last 29 games in Philadelphia dating back to the start of the 2013 season. It was his seventh home run this month, tied for the most he has hit in any calendar month as a member of the Nationals.
"Home runs come in streaks, and home runs come with a thought process," manager Dusty Baker said. "When you start hitting a couple home runs, it's sort of like you think about it. ... So you know me, I always feel that water seeks its own level. J-W is healthy this year, where he wasn't last year, and he's always hit the ball out of the ballpark." More >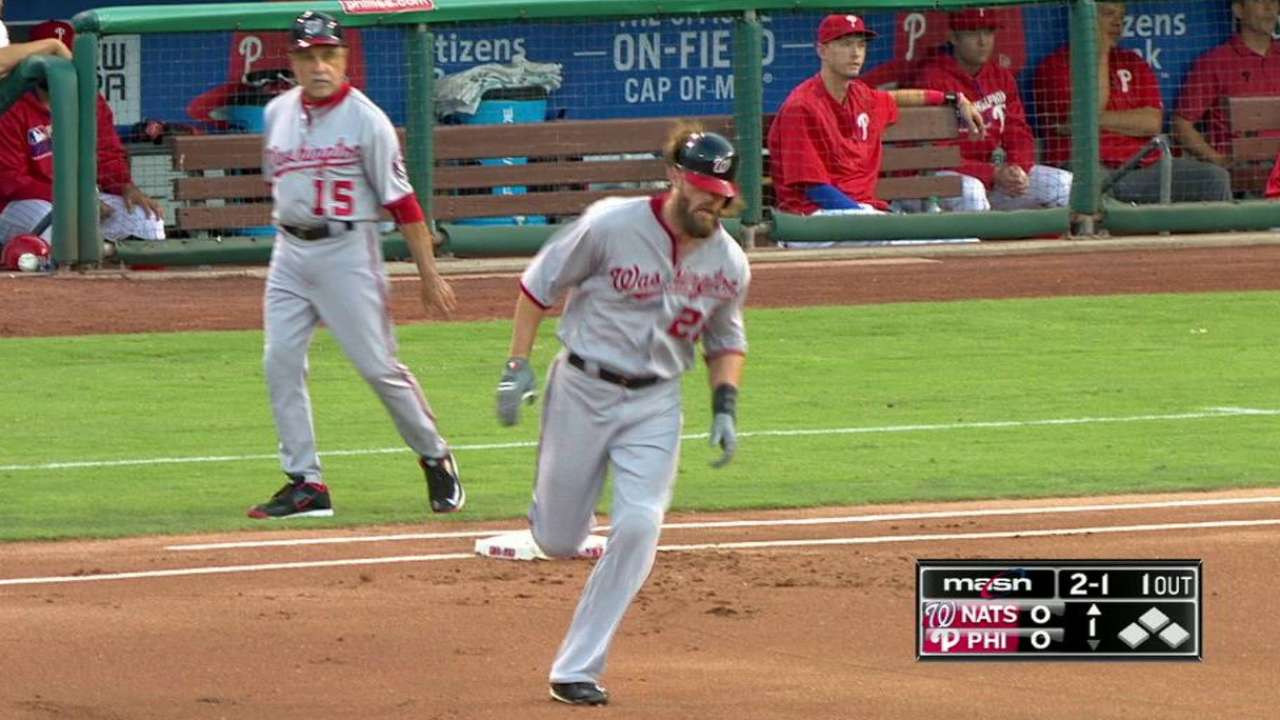 Thompson's best start: The Nationals didn't score on Thompson after the first, and they hardly even mounted a threat in his final six innings. The rookie got off to another rocky start in the first, allowing Werth's home run and Anthony Rendon's RBI single for a 2-0 lead. But Washington didn't put two runners on base in an inning again until the seventh, and Thompson pitched out of it, finishing his night with possibly the best of his career-high 111 pitches, a curveball that froze Trea Turner to end the inning.
"I thought about getting him out after six to keep it positive, but I thought he was just pitching too well," Mackanin said. "In that seventh inning, he really battled hard to get out of that. All three of his strikeouts were in that one inning. That was huge. Great to see. I'm real pleased with that."
Pitching coach Bob McClure made a change to Thompson's delivery between starts, simplifying it, and it paid major dividends.
"Just on the physical side of things, I'm in a better position to make pitches," Thompson said. "It actually wasn't too difficult. It's really simple, just small moving parts instead of a bunch of stuff moving at the same time. I got off a mound twice this week in the bullpen. I feel like that helped a lot, just getting those reps."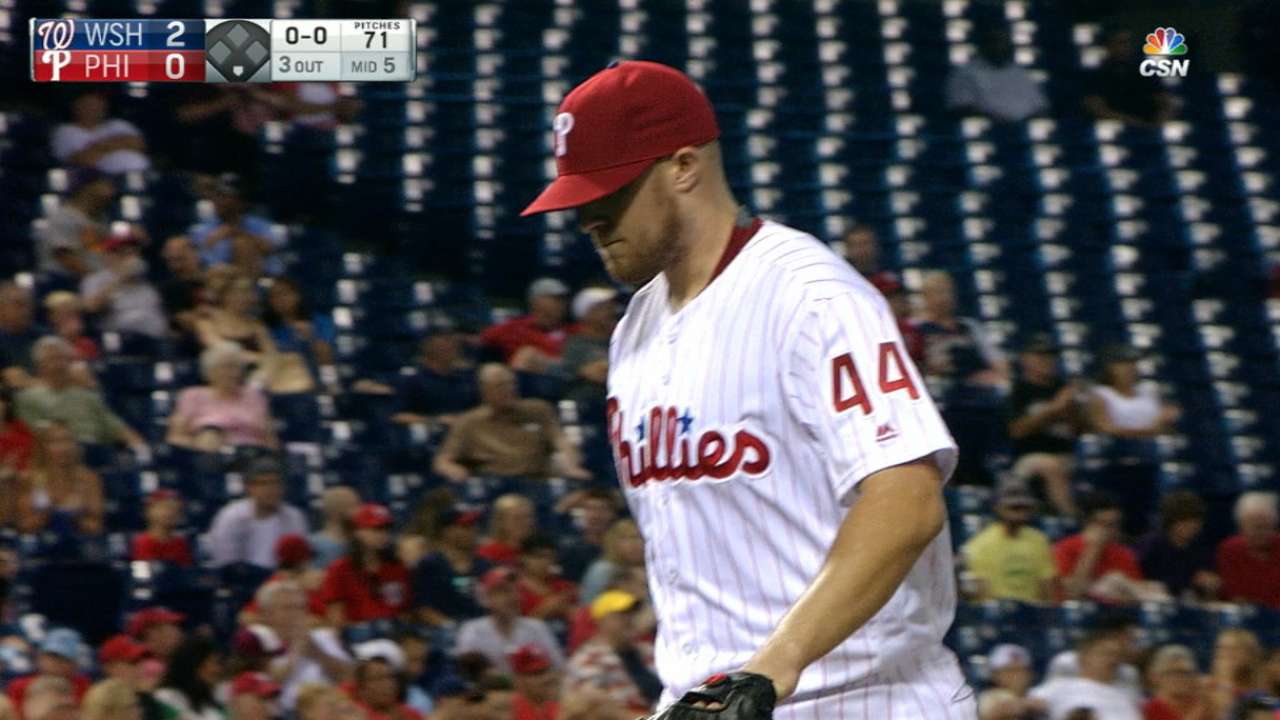 Master of consistency: An outing such as Monday's has become commonplace for Roark. This was the eighth time in 27 starts this season he has thrown at least seven innings and not allowed a run, the most in the Majors. Roark, who lowered his ERA to 2.87, has been especially good in his four starts against the Phillies this season, giving up just two earned runs in 28 innings. Roark has been the Nationals' most consistent pitcher this season and among the best in the NL, even if he does not get the recognition that others do.
"It's coming," first baseman Clint Robinson said. "That's the way I think about it. He's still so young in his career, he's figured out what works for him, and I think you're going to see nothing but more attention coming his way. It's just a matter of time."
Bullpen breather: The Phillies' bullpen has been among the most active in the Majors this season, especially of late. Philly relievers have thrown the eighth-most innings in the month of August. Manager Pete Mackanin sounded excited at the prospect of adding some relief arms when rosters expand on Sept. 1, saying the Phillies will immediately recall "a couple arms." But Thompson, in his fifth Major League start -- and having not gotten past five innings previously -- provided the relief the 'pen needed, going seven strong. He joined Jeremy Hellickson (Aug. 20) as the only two starters to pitch seven innings since July 26.
QUOTABLE
"McClure noticed something with his leg. I'm not going to get up and demonstrate. But it's his lead leg. He was lifting it a certain way, which kind of caused him to lean forward and not stay over his backside. Oddly enough, he used a new leg lift, which is not easy to do just overnight. I think that had a lot to do with it. It looked real good; his command was really good. He started to throw a lot of good pitches; he looked like the pitcher that was advertised." -- Mackanin, on the change in Thompson's delivery
UPON FURTHER REVIEW
The Nationals issued a challenge in the ninth inning after Rendon was only awarded second base on a fan-interference play on an errant pickoff throw by right-hander Frank Herrmann. The call on the field was overturned, and Rendon was awarded third base; he would later score on a single by Robinson.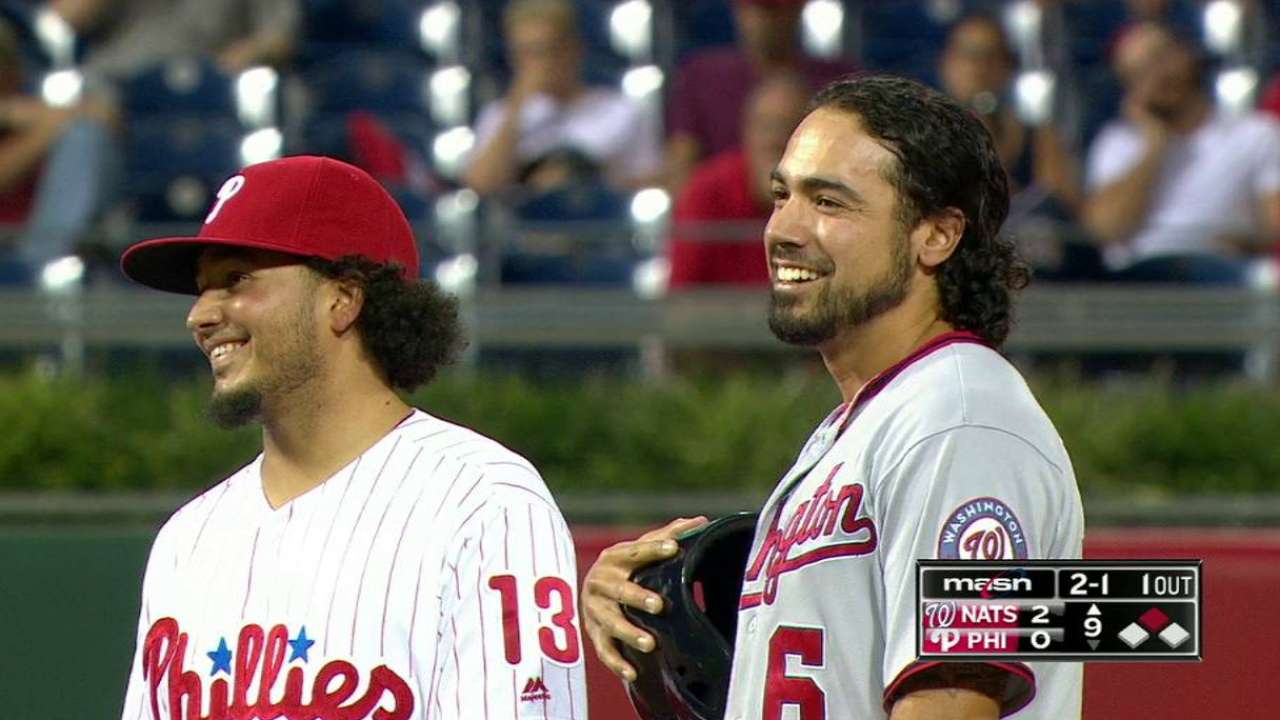 The Phillies joined the Nats in ninth-inning challenges when Chris Heisey hit a potential inning-ending double-play ball to first baseman Tommy Joseph. Joseph fired to second; Mackanin issued a challenge, saying that Danny Espinosa slid too aggressively into the bag. He wanted Heisey ruled out at first after the throw back to Joseph was too late, but replay confirmed that Espinosa's slide was within the rules.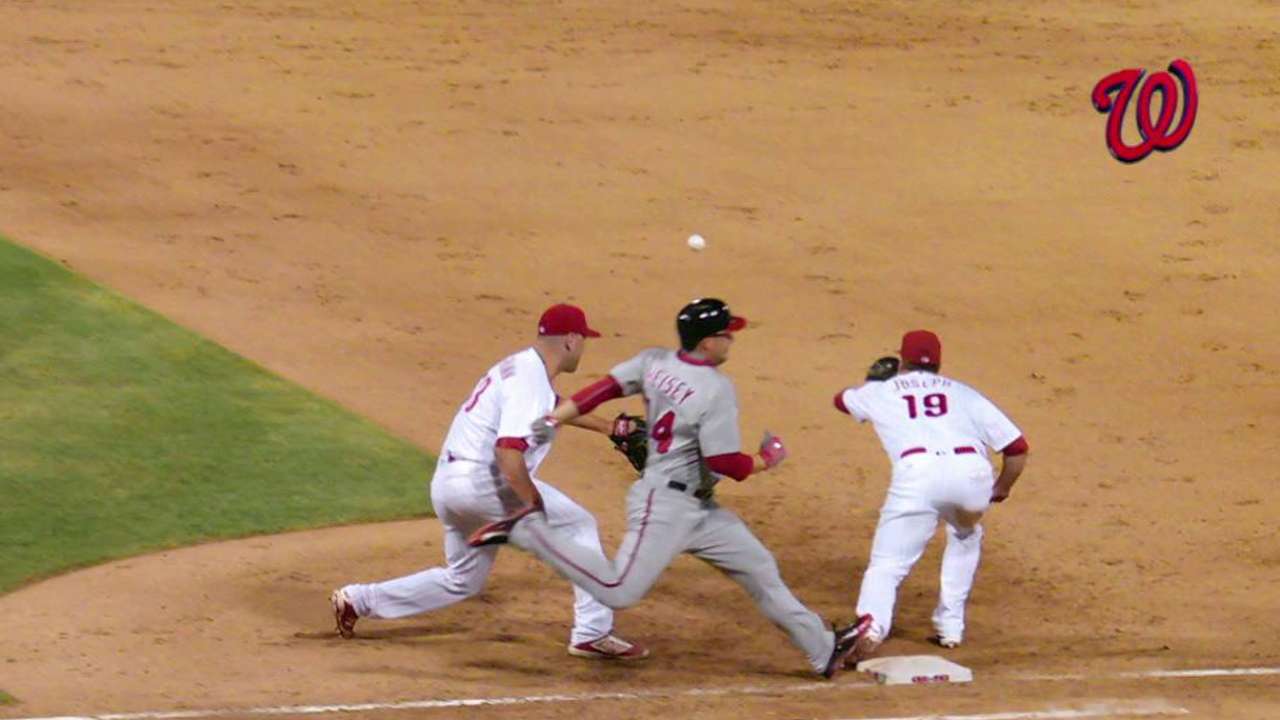 WHAT'S NEXT
Nationals: Max Scherzer (14-7, 2.92 ERA) will make his fourth start against the Phillies this season when the Nats play the second game of this three-game series at Citizens Bank Park on Tuesday night at 7:05 ET. Scherzer gave up just two hits in eight scoreless innings, with 10 strikeouts, in his last outing.
Phillies: Jerad Eickhoff (9-12, 3.87 ERA) starts the middle game, and it will be interesting to see how Mackanin monitors his pitch count, as he pulled him from his last start after 71 pitches through six innings of two-run ball.
Watch every out-of-market regular-season game live on MLB.TV.
Jamal Collier covers the Nationals for MLB.com. Follow him on Twitter at @jamalcollier.

Evan Webeck is a reporter for MLB.com based in Philadelphia.

This story was not subject to the approval of Major League Baseball or its clubs.