Raw power of Alfaro turning heads at camp
Catching prospect was acquired from Rangers in Hamels deal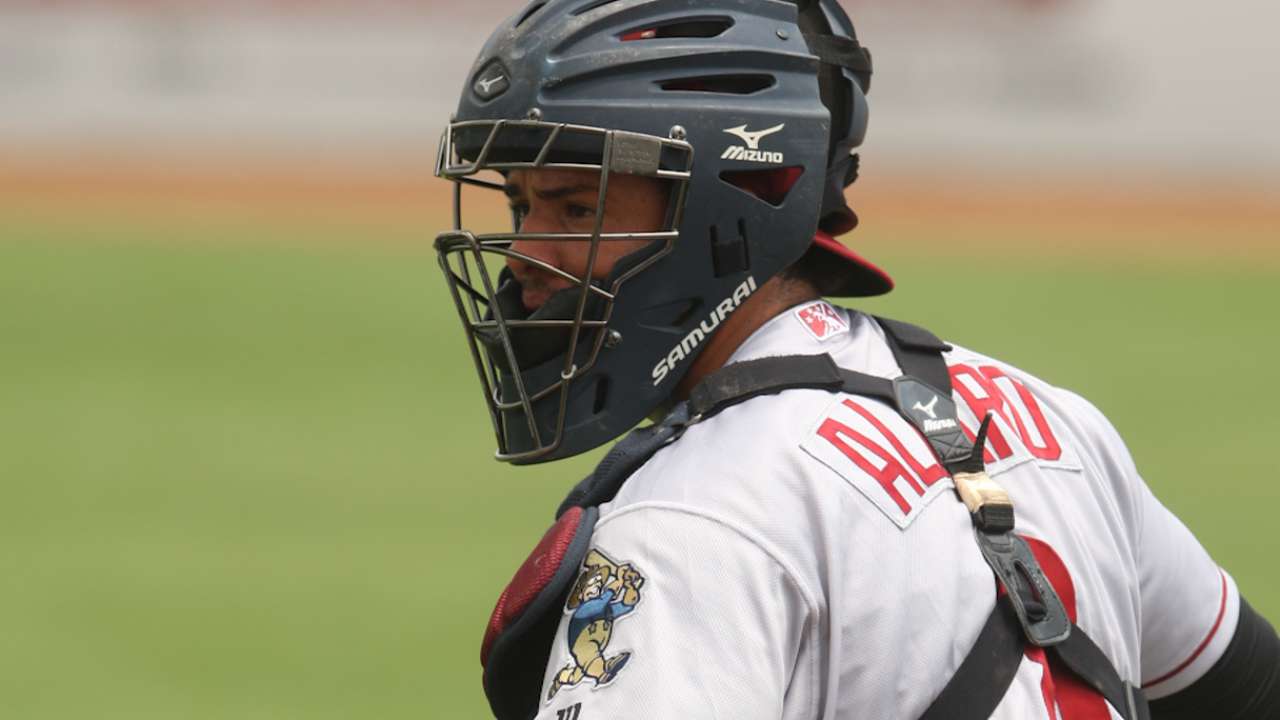 CLEARWATER, Fla. -- Unofficially, the distance from home plate at Ashburn Field at the Carpenter Complex to second base on the half field at Bright House Field is about 545 feet.
A service road separates the two.
But Phillies prospect Jorge Alfaro had no problem recently launching balls from Ashburn Field to second base at the half field, which caught the attention of Phillies bench coach Larry Bowa. He had been working on the half field at the time.
"It's just a different sound," Bowa said about the ball leaving Alfaro's bat. "It doesn't matter that it's BP. Where these balls go, it's different. The kid has strength. He's got some tools. Big time."
• Spring Training: Schedule | Tickets | More info
It is just batting practice and it is just the first few days of camp, but Phillies coaches have been impressed with Alfaro's raw power. Of course, the trick for Alfaro will be harnessing that power at the big league level. But if he can, the Phillies will be ecstatic they got the 22-year-old catcher in the Cole Hamels trade with the Rangers.
Good catching is hard to find. Good catching with power is a dream.
The average big league catcher had a .682 OPS last season. Only three catchers hit more than 20 home runs.
"BP-wise, I haven't seen a guy on a consistent basis hit a ball that far to right-center field, opposite field, ever," said Matt Stairs, who is in camp as a guest instructor before returning to the Phillies' broadcast booth next week. "I've played with [Jose] Canseco, [Mark] McGwire. Sammy Sosa had great power in BP, center field and pull power. But Alfaro has the thunder off his bat. When you see a center fielder not move in BP, just turn around and watch, you know you've got tremendous power."
"He reminds me of Dick Allen," Hall of Famer Mike Schmidt said. "He's got the 28-inch waist and the shoulders three-feet wide. But I'm one of those guys that gets infatuated with young players early. I've pitched to him in the cage, worked with him a little bit. You can just see it. He has a very quiet, confident stance and presence in the batter's box. Everything about him exudes confidence."
Alfaro has hit .261 with 52 home runs, 250 RBIs and a .758 OPS in six Minor League seasons. He missed much of last year following ankle surgery. Finally healthy, he played 13 games in winter ball in Venezuela, hitting .262 with one home run, no walks and 16 strikeouts in 42 at-bats.
"I felt a little lost," Alfaro said about winter ball. "I started feeling better the more I played."
The key for Alfaro will be refining his approach at the plate. He has walked 95 times and struck out 492 times in his Minor League career. It would be advantageous to close that gap.
"We've been talking about my stance and trying to be more athletic," Alfaro said. "I just want to be more consistent at the plate. But I also need to get better at calling games."
"He better learn to hit the ball inside," Stairs said. "When you watch a guy taking batting practice and he has tremendous power center field to right-center field -- because that's what his swing is -- now it's an adjustment of how he can react to pitches inside. Can he turn on pitches? It will be interesting to see what adjustments he makes."
The Phillies are hopeful the hitting and catching comes -- Alfaro's throwing arm is as impressive as his power. The club has another highly regarded catching prospect in the system in Andrew Knapp. If both make it, one of them could change positions. Alfaro has some experience at first base and has worked out in the outfield.
"He's young," former Phillies manager Charlie Manuel said. "He still needs some experience to finish him off, but he has a chance to be a good hitter, a power hitter in the big leagues."
"He's a strong kid," catcher Carlos Ruiz said. "He can swing the bat. He's a guy you have to keep your eyes on."
Todd Zolecki is a reporter for MLB.com. Read his Phillies blog The Zo Zone, follow him on Twitter and listen to his podcast. This story was not subject to the approval of Major League Baseball or its clubs.