Blanco's go-ahead shot sparks 8-run eruption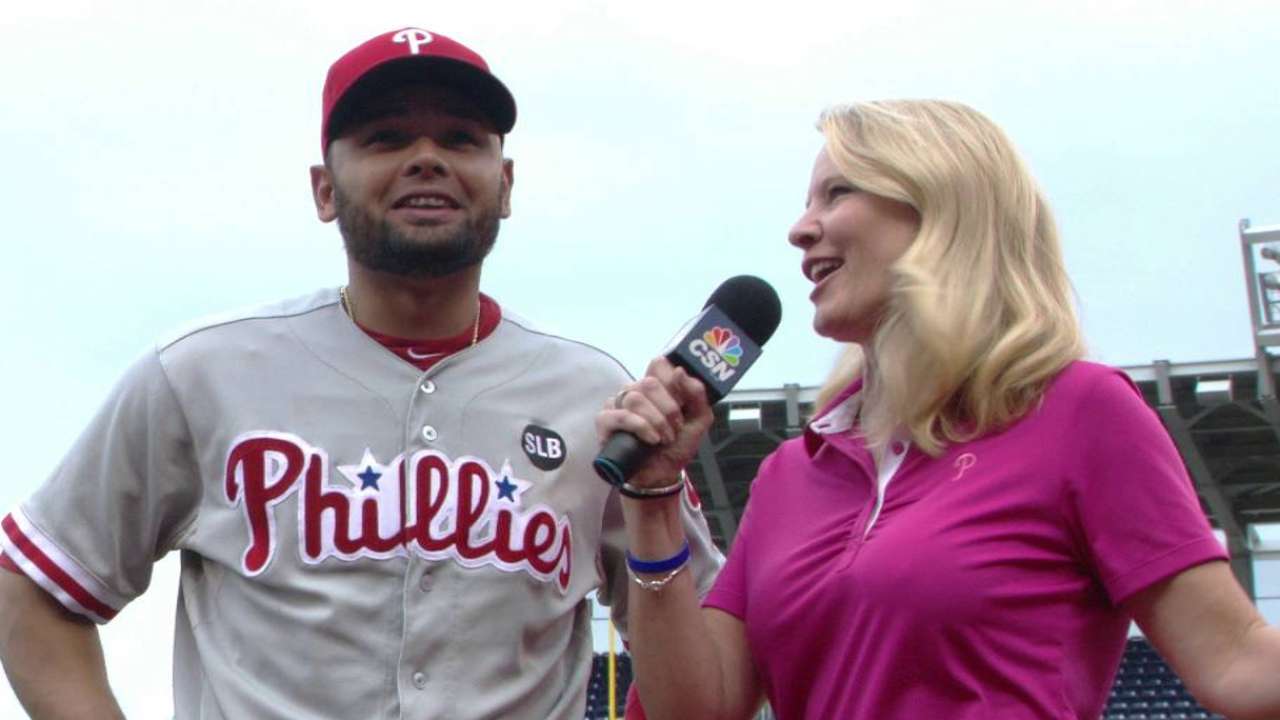 WASHINGTON -- The Phillies left Nationals Park on Sunday afternoon positively giddy. Gee, wonder why?
Second baseman Andres Blanco hit a go-ahead two-run home run against Nationals closer Jonathan Papelbon in the ninth inning of an eventual 12-5 victory. The blast sparked an eight-run rally for a team that has struggled to score runs for weeks.
"The ninth was pretty special, man," said right fielder Jeff Francoeur, who hit a game-tying two-run homer in the eighth. "That was a lot of fun. You dream about those innings when you just blow it wide open."
But it felt a little sweeter coming against Papelbon, who got into a physical altercation with teammate Bryce Harper in the Nationals' dugout in the bottom of the eighth. The skirmish involving their former teammate and its aftermath had the Phillies' clubhouse abuzz afterward.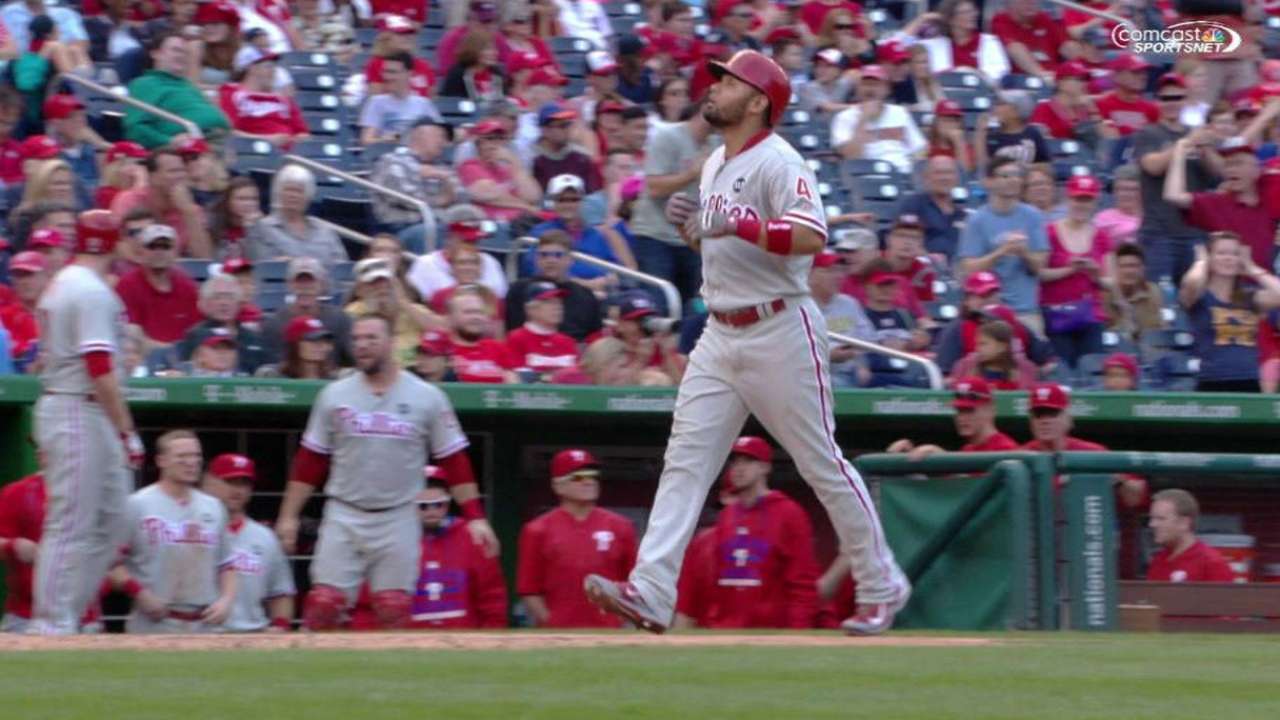 Papelbon criticized the Phillies for more than two years before they traded him to Washington in July. His criticisms continued earlier this month in Philadelphia when he said, "I was one of the few that wanted to actually win [in Philadelphia] and I was one of the few that competed and posted up every day."
The comments did not sit well with the Phillies, who signed him to a four-year, $50 million contract in November 2011.
"Yeah, absolutely," Francoeur said, when asked if Papelbon's comments added to the enjoyment of the victory. "That's always nice. But not to mention he's one of the better closers in the game."
Papelbon said Sunday he did not mean to disparage his teammates.
"Those comments really weren't about the players," Papelbon said. "It was more along the lines about the front office creating a winning environment, and that wasn't done. That's why I was frustrated and said from top to bottom. Those players in that clubhouse did everything they could to create a winning environment. It just wasn't allowed to happen.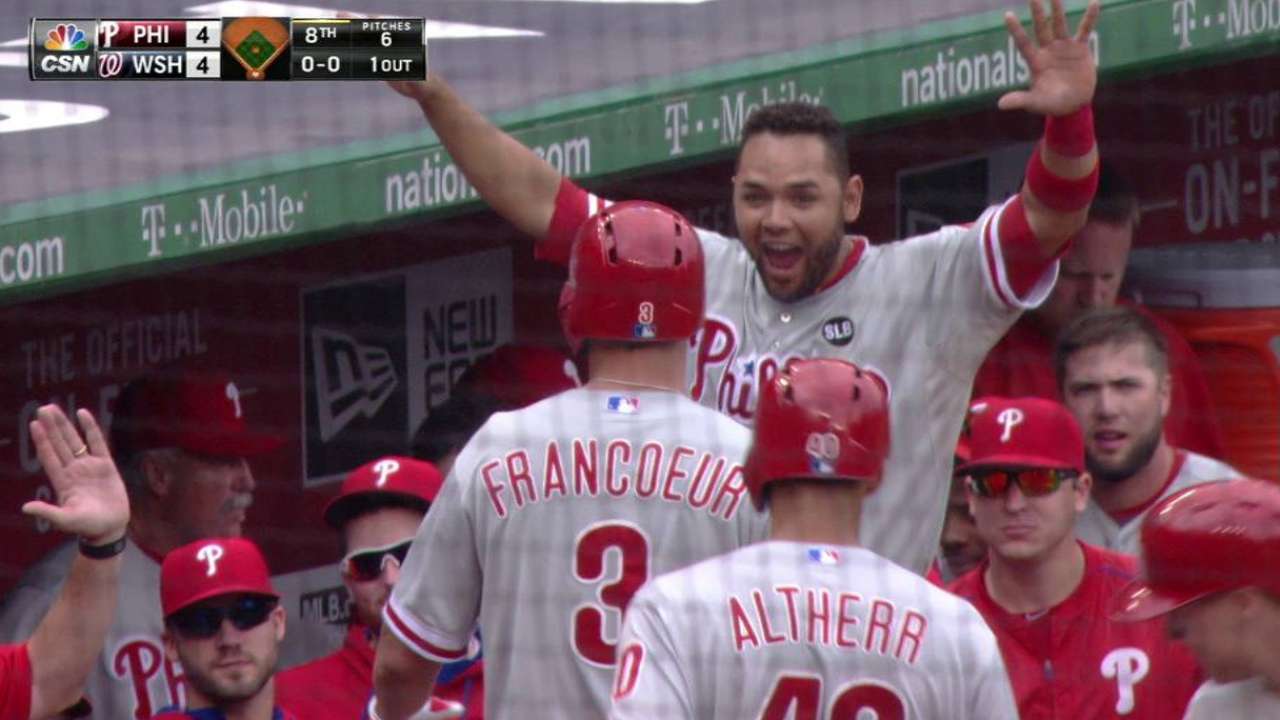 "But I think any time you can play against an old teammate ... I know Frenchy is trying to get me every time he's out there. You want to have those bragging rights. I get that part of it."
The Phillies won two of three from the Nationals. They return home for the final six games of the season with a three-game series against the Mets beginning Tuesday night at Citizens Bank Park.
It has been a rough go lately as the Phillies have lost 23 of their last 32 games, but they hope to finish strong. Maybe a big victory against Papelbon and the Nationals can spark them.
"I challenged them all: you're playing for a job next year," Phillies manager Pete Mackanin said. "You have to show that you're competitive, that you're a positive guy, that you're high energy. I challenged them to show that even in the worst circumstances that we're under, losing night after night. These guys have responded -- a good example was today. They came alive late in the game."
Todd Zolecki is a reporter for MLB.com. Read his Phillies blog The Zo Zone, follow him on Twitter and listen to his podcast. This story was not subject to the approval of Major League Baseball or its clubs.