Altherr's historic night backs Eickhoff's 10 K's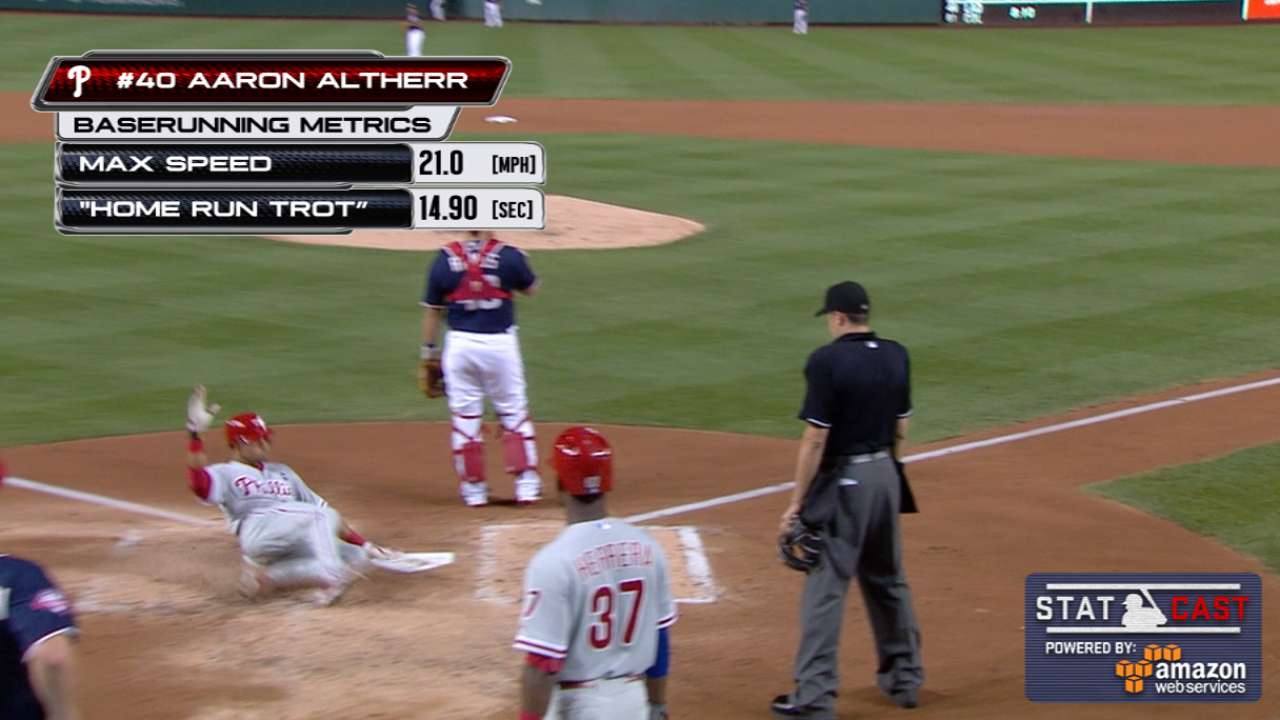 WASHINGTON -- Phillies left fielder Aaron Altherr soured what was likely Jordan Zimmermann's final home start with the Nationals, knocking a pair of home runs off the right-hander, including baseball's first inside-the-park grand slam of the 21st century in an 8-2 win at Nationals Park on Friday night.
Darin Ruf and Cody Asche also went deep as the Phillies clubbed a season-high-tying four home runs. Washington (78-75) fell 8 1/2 games back of the Mets in the National League East and dropped their elimination number to one. New York (87-67) beat Cincinnati, 12-5, on Friday night.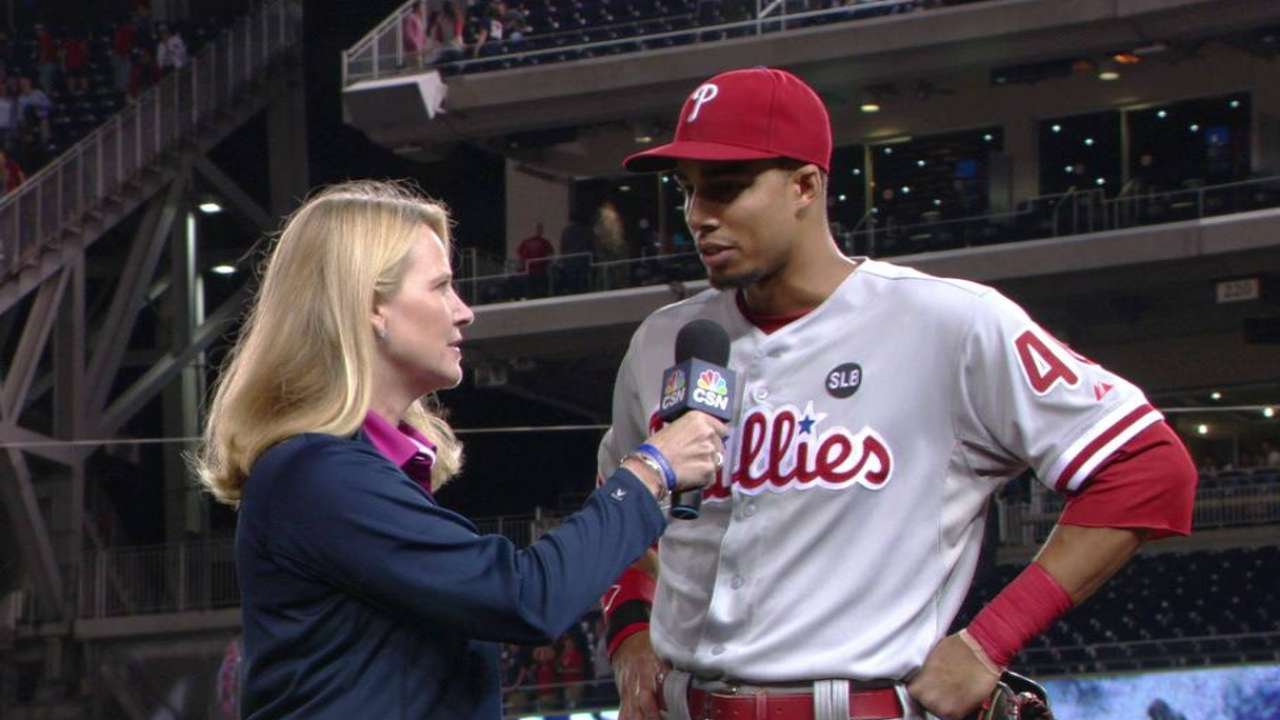 When manager Matt Williams was asked how he felt about the looming elimination, his answer expressed the urgency of the situation.
"Like we need to win tomorrow," he said.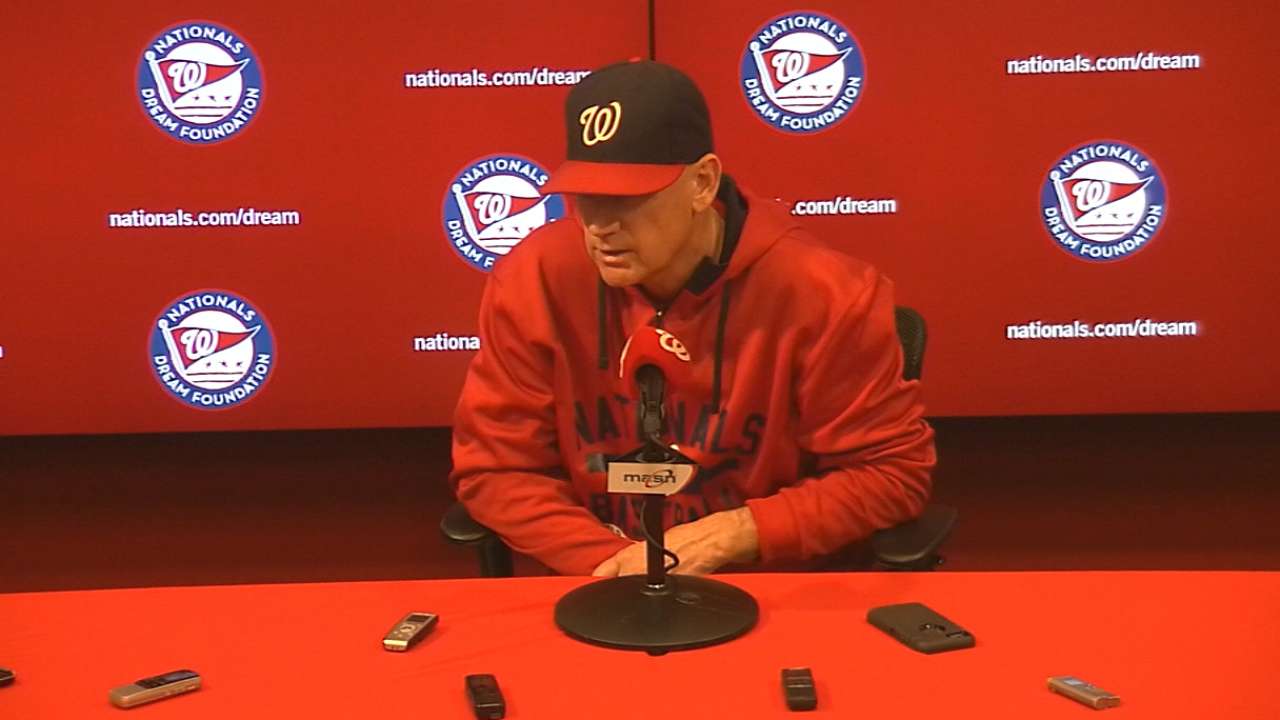 Meanwhile, Phillies rookie Jerad Eickhoff was impressive in his seventh Major League start, limiting the Nationals to two runs and five hits in his seven innings of work. He struck out 10.
• Cut4: Altherr hits inside-the-park grand slam
"I'm going to enjoy it," Phillies manager Pete Mackanin said about his team's sixth win in its last 22 games. "They've been too few and far between. It was fun to see those guys go off."
MOMENTS THAT MATTERED
Altherr's big night: Altherr busted out of a slump in a major way, hitting an inside-the-park grand slam in the third, a solo homer in the fifth and a double in the seventh. Altherr entered the night hitting .171 (7-for-41) with a .658 OPS in his last 12 games after hitting .262 (16-for-61) with an .837 OPS in his first 18 games.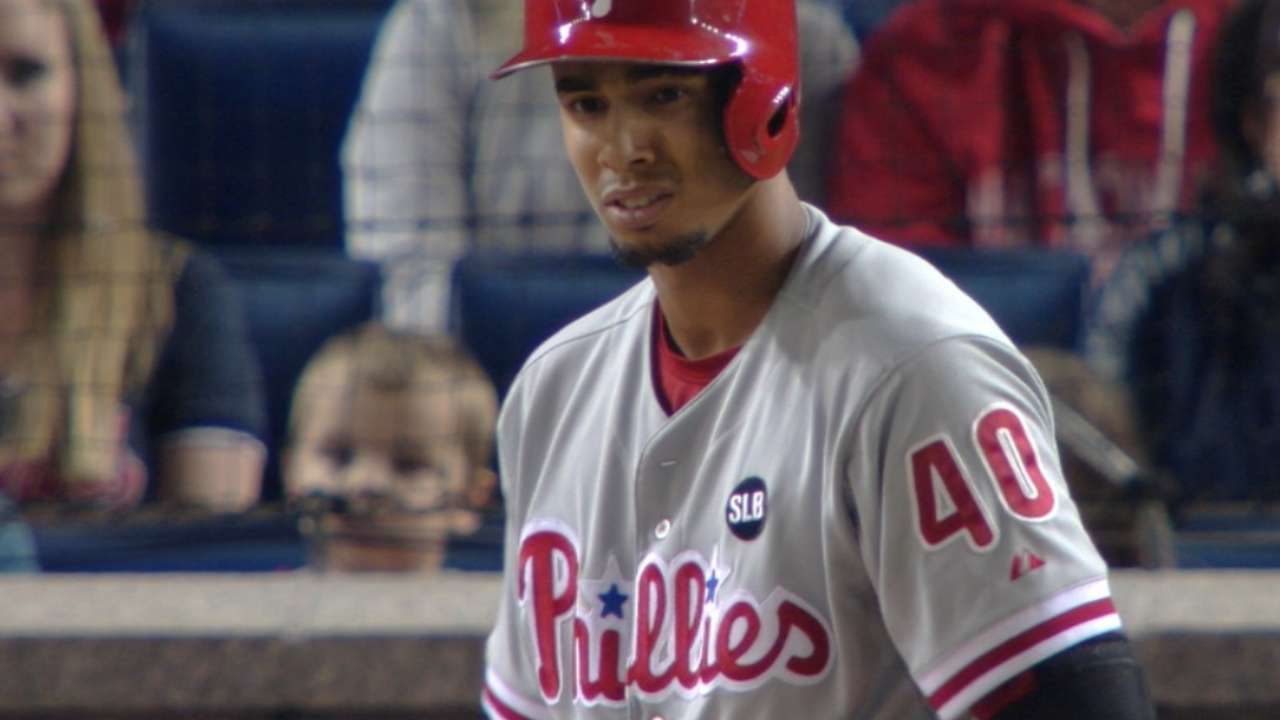 "My heart stopped a little bit," Altherr said of the inside-the-park grand slam -- which got past a diving Michael Taylor in center field and rolled just short of the warning track, allowing Altherr to score with no throw to the plate. "Then I saw it go by and I was like, 'Oh, man, I might have a chance here.' I just tried to run as fast as I could. I saw Rock [third-base coach John Mizerock] still sending me home when I was about halfway to third, so I was like, 'I might have a chance here.' I tried to get there as fast as I could." More >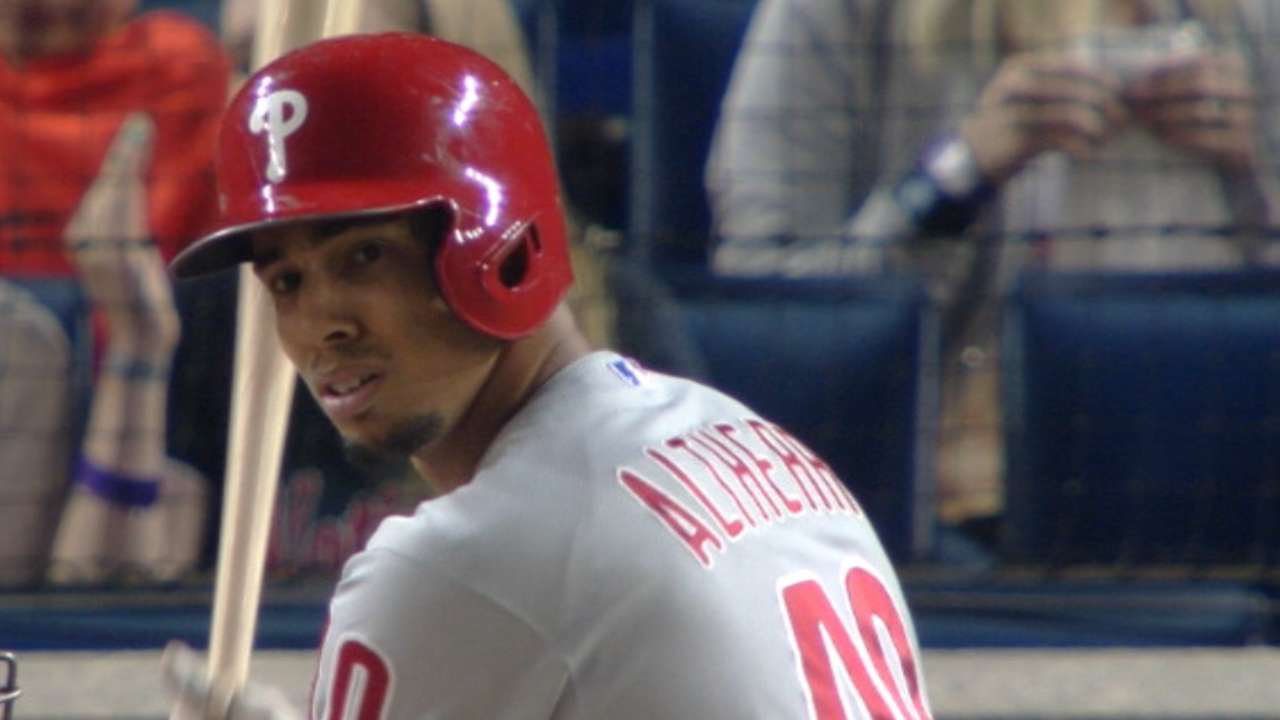 For the last time? Zimmermann, a free agent after this season, was drafted by the Nationals organization in 2007, and he spent the last seven seasons becoming one of the franchise's most notable starters since moving to D.C. In his 94th start at Nationals Park, the 29-year-old allowed six hits and six runs over five innings. He was pinch-hit for in the bottom of the fifth.
"I would've pulled me there, too," Zimmermann said. "I was giving up quite a few hits. I wasn't really thinking about going out the next inning and walking off the mound or anything. It would've been nice, but at the end of the day, you have to pitch well if you want to get those things at the end of the game." More >
Eickhoff is dealing: Eickhoff tried to match Altherr with a strong performance on the mound. He allowed five hits, two runs, one walk and struck out 10 in seven innings to improve to 2-3 with a 3.07 ERA in seven starts. His 10 strikeouts were the most by a Phillies rookie since Aug. 5, 2009, when J.A. Happ struck out 10 Rockies at Citizens Bank Park. National League MVP frontrunner Bryce Harper had three of those strikeouts.
"He's a great hitter," Eickhoff said about Harper. "I was fortunate enough to get some pitches in the right location."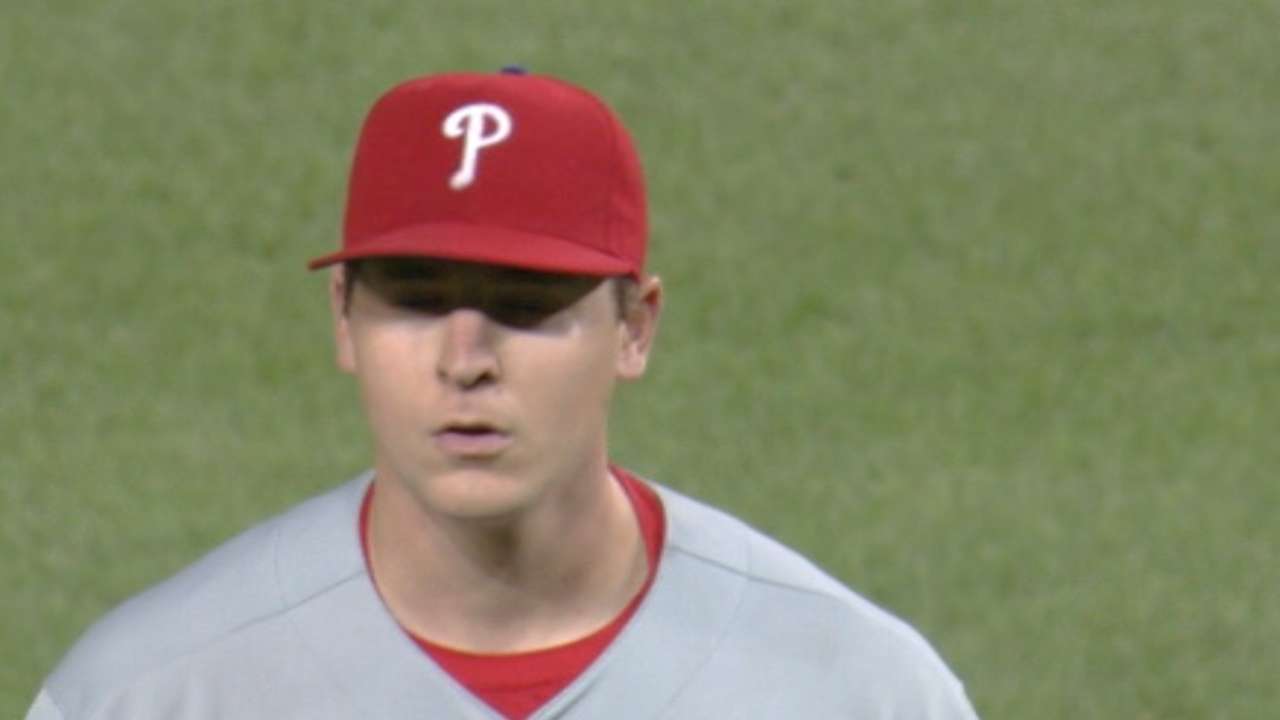 Not Werth enough: All of Washington's scoring on Friday night came off the bat of Jayson Werth. It wasn't enough to slow down the Phillies, but it was the continuation of a resurgent several weeks by the 36-year-old outfielder. After his first-inning, two-out RBI single and his sixth-inning solo home run, Werth has recorded 10 home runs and 30 RBIs since the start of August.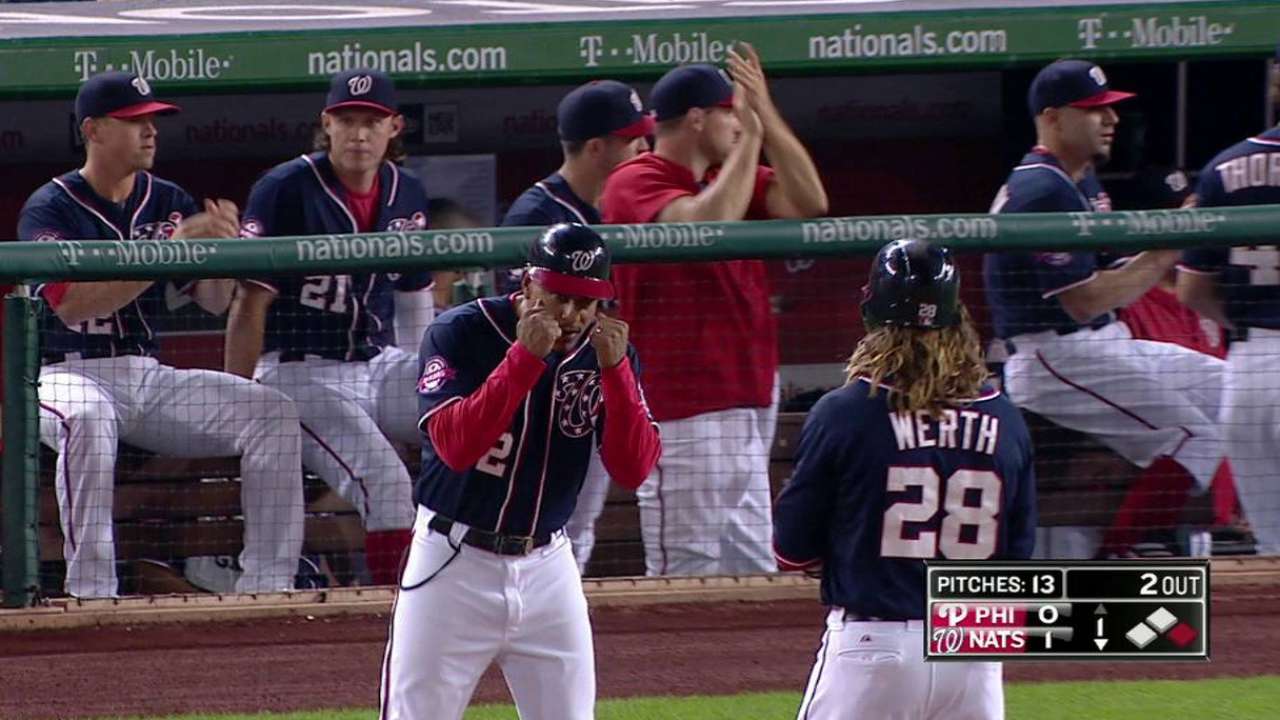 QUOTABLE
"Not that I remember. I'm sure I have over 47 years, but I can't remember. I hit into a triple play once." -- Mackanin, showing some comic timing when asked if he had ever seen an inside-the park grand slam before
"I know in that situation you better catch the ball, and I wouldn't have gone for it if I didn't think I could." -- Taylor, on missing the line drive that went for a grand slam
SOUND SMART WITH YOUR FRIENDS
Altherr's inside-the-park grand slam was the Phillies' first since Aug. 8, 1956, when Ted Kazanski hit one against the New York Giants at Polo Grounds. It was the first inside-the-park grand slam in MLB since Oct. 3, 1999, when Tampa Bay's Randy Winn hit one at home against the Yankees. Altherr also became the first player to have an inside-the-park grand slam in a multi-homer game since 1987, according to Elias Sports Bureau.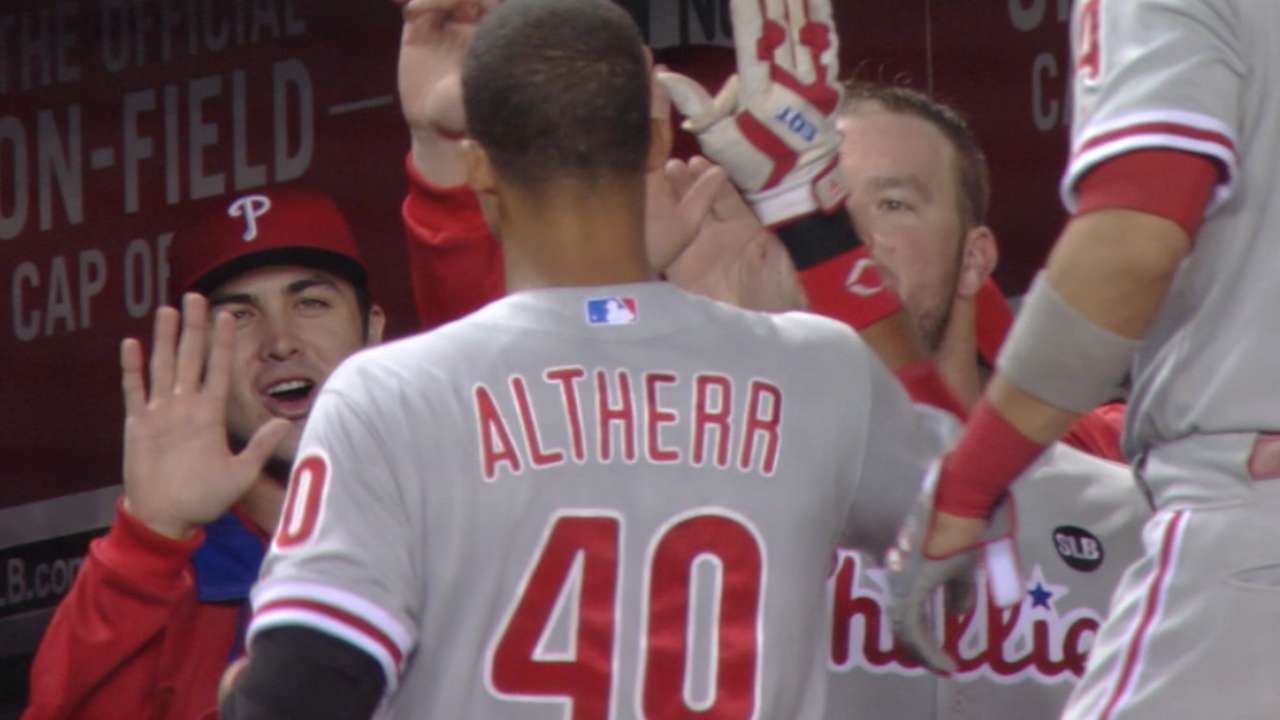 FRANCO'S RECOVERY
Phillies third baseman Maikel Franco has been on the DL since Aug. 12 because of a broken left wrist, but he could be be back next week. He played three innings in an intrasquad game Friday in Clearwater, Fla, going 0-for-2 with a walk. He will play four innings Saturday and will play Monday in a Florida instructional league game. The Phillies will evaluate Franco's status at that point. Franco's wrist reportedly felt "perfect."
WHAT'S NEXT
Phillies: Phillies rookie right-hander Aaron Nola (6-2, 3.84) faces the Nationals in the second game of the three-game series Saturday afternoon at 4:05 p.m ET. The Phillies have been monitoring Nola's workload closely, but he said he feels great so they are going to give him at least one more start before the end of the season.
Nationals: Stephen Strasburg (10-7, 3.81) will look to build on his phenomenal second half for the middle game against the Phillies on Saturday. He's 5-2 with a 2.24 ERA in eight starts since the All-Star break.
Watch every out-of-market regular season game live on MLB.TV.
Jacob Emert is an associate reporter for MLB.com. Todd Zolecki is a reporter for MLB.com. Read his Phillies blog The Zo Zone, follow him on Twitter and listen to his podcast. This story was not subject to the approval of Major League Baseball or its clubs.