Sizemore makes most of his opportunity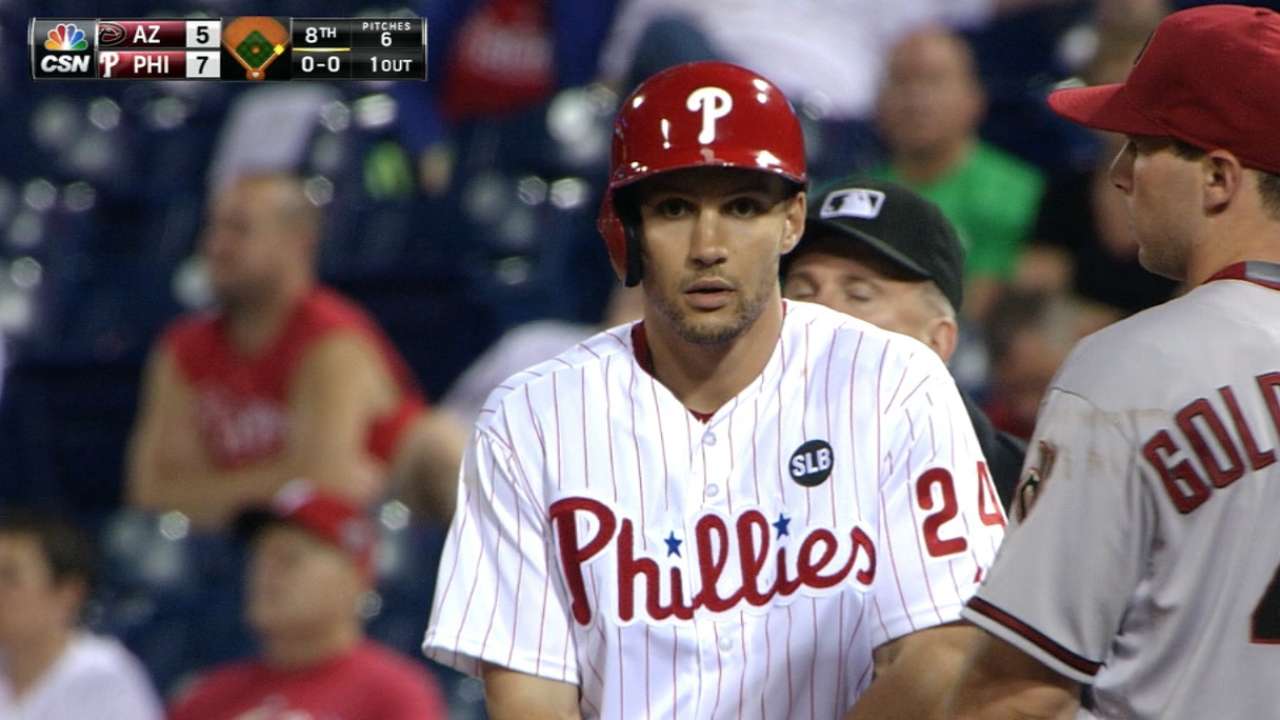 PHILADELPHIA -- Sometimes a hitter just needs some opportunities.
Over his last six games, Grady Sizemore is proving this to be true.
The outfielder came into Saturday's game hitting just .238 on the season but was 5-for-15 in his previous five games. Already swinging a hot bat, Sizemore turned that 5-for-15 into a 9-for-20 streak Saturday with a 4-for-5 performance in the Phillies' 7-5 win, in which the lefty singled three times, doubled once and scored a run.
Sizemore, who hasn't hit particularly well since his return to baseball in 2013, said that this steady stream of at-bats is what has triggered his offensive prowess.
"It felt good to have some good swings and get the win," Sizemore said. "I felt like I didn't have a lot of at-bats or a lot of consistent at-bats, so I try to just do what you can to stay sharp and relax up there and keep grinding it out."
Phillies manager Ryne Sandberg agreed, saying the progression from pinch-hitter to regular player really eased Sizemore into a comfort zone, leading to this recent hot streak.
"Grady just seems to be clicking right now," Sandberg said. "He gave us some real good pinch-hits, he got some hits and I think that got him rolling. Now with some starts, he seems to be in a groove. He's just seeing the ball real good, squaring it up."
Being that Sizemore is one of the many Phillies' outfielders in danger of losing his job when Cody Asche and Domonic Brown are recalled from Triple-A, one would naturally assume that Sizemore's jump in production is coming from the place of a guy wanting to keep his job.
However, Sizemore said that as a Major League Baseball player, he needs no extra incentive to try his hardest.
"You can't really worry about what you can't control," he said. "There's no need for motivation for any player. You want to go out there and get better every day. So you just focus on what you can control and go from there."
That being said, Sizemore also acknowledged that the team has been struggling offensively this season and though the offense has looked good over the team's four-game winning streak, changes probably will be made to the outfield and to the lineup in coming weeks.
But, as one of the veterans of the clubhouse, Sizemore said he knows how to look past both the struggles that have happened and the adversities that may be coming.
"You look for the positive and you work off of that," Sizemore said. "We had some tough breaks and obviously we weren't playing very well, but you know it's going to turn around. You just keep doing what your routine is, whatever that works and you make adjustments every day and you work from there."
Nick Suss is an associate reporter for MLB.com. This story was not subject to the approval of Major League Baseball or its clubs.