Benches clear, two ejected in Phils-Bucs game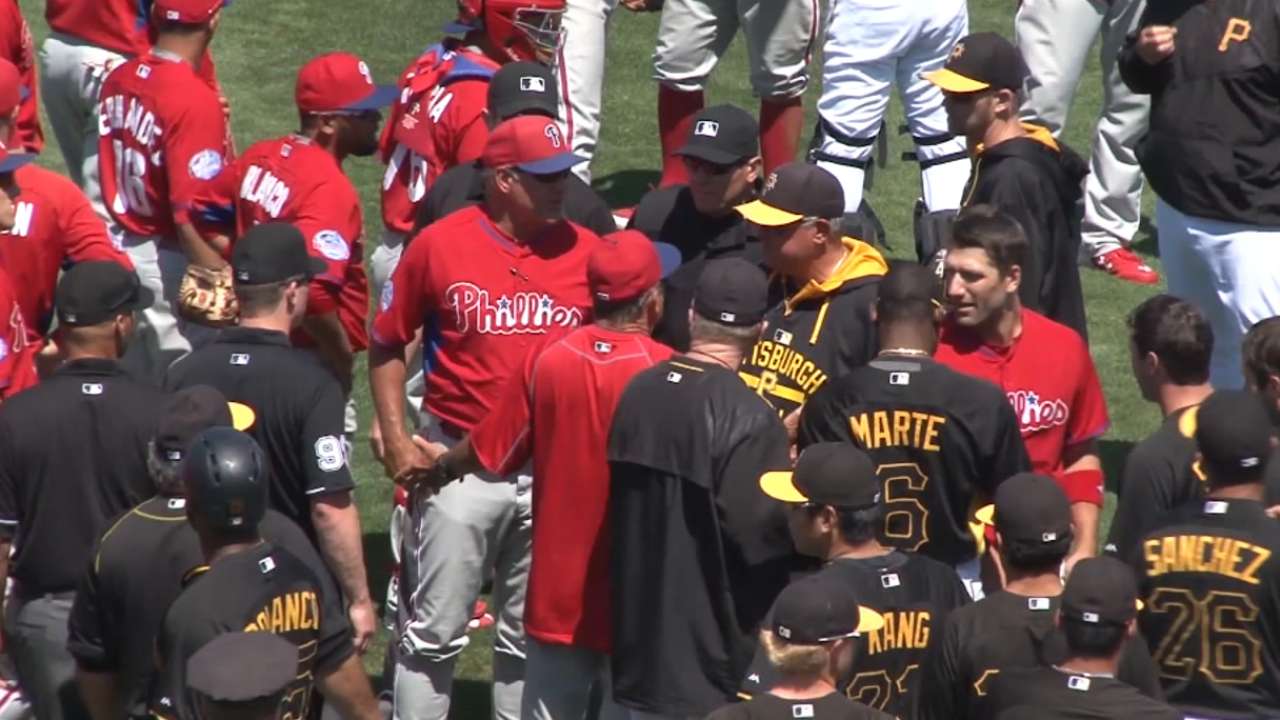 BRADENTON, Fla. -- Pirates left fielder Sean Rodriguez challenged Kevin Slowey to a fight Monday at McKechine Field.
It never got that far.
Benches and bullpens cleared before the bottom of the fifth inning of an 18-4 loss to the Pirates, but nobody threw any punches. Rodriguez thought Slowey quick-pitched him in his fourth-inning plate appearance, which Slowey won with a strikeout. Rodriguez thought he had called time on the play, but home plate umpire Chad Fairchild never awarded it.
The pitch surprised and clearly irritated Rodriguez, who declined comment.
Rodriguez yelled at Slowey as he walked off the field. Slowey stared at Rodriguez the entire time, although Slowey claimed he stared only because he did not know who Rodriguez was yelling at. Rodriguez continued to yell at Slowey when he returned to the mound to start the fifth. At that point benches cleared.
"It surprises me to be that upset, and challenging somebody to a physical altercation hardly seems like the best way to resolve your frustrations," Slowey said. "I was kind of taken by surprise at his animosity after his at-bat. I know the kind of guy that he purports to be. That surprised me that that would be his choice of words and reaction. I guess I understand the frustration of a singular failure. It's a game of failures. But to react that way to me was very surprising."
Said Pirates manager Clint Hurdle: "The umpires don't have to give you time. I'm not here to be judge or jury. We'll talk about it internally, about how we can do better job of not letting it happen again, or what we'll do if it does happen again."
Phillies first base coach Juan Samuel and Pirates third base coach Rick Sofield were ejected.
"He called him some unnecessary words," Samuel said about Rodriguez. "Nothing happened, but again, when [Rodriguez] was coming off the field in the [middle of the fifth], he kind of told [Slowey] the same kind of thing: 'If you want to take it out back, meet me in the parking lot.' The third base coach was telling me to get into my dugout. So I told him to help me come in. Help me get in my dugout. I'll show you."
Sofield declined comment.
Phillies bench coach Larry Bowa also got plenty heated during the altercation. But just when it appeared cooler heads prevailed, a fan just a few rows behind home plate started yelling at Bowa, who then motioned for the fan to come onto the field.
Bowa had no interest in talking about it after the game.
Slowey's afternoon unraveled after that. He allowed four runs in the fifth inning to give him a 7.71 ERA in seven appearances. In two innings, he allowed six hits, six runs and two homers with two strikeouts. Slowey had been competing with Sean O'Sullivan to be the No. 5 starter, though the Phillies are looking outside the organization for help. Twins pitcher Mike Pelfrey might be available in a trade. The Reds just released Paul Maholm, who had a good spring.
Todd Zolecki is a reporter for MLB.com. Read his Phillies blog The Zo Zone. Follow him on Twitter. This story was not subject to the approval of Major League Baseball or its clubs.