Sandberg not worried about Diekman, Giles
Lefty gives up seven runs Friday; righty surrenders four on Thursday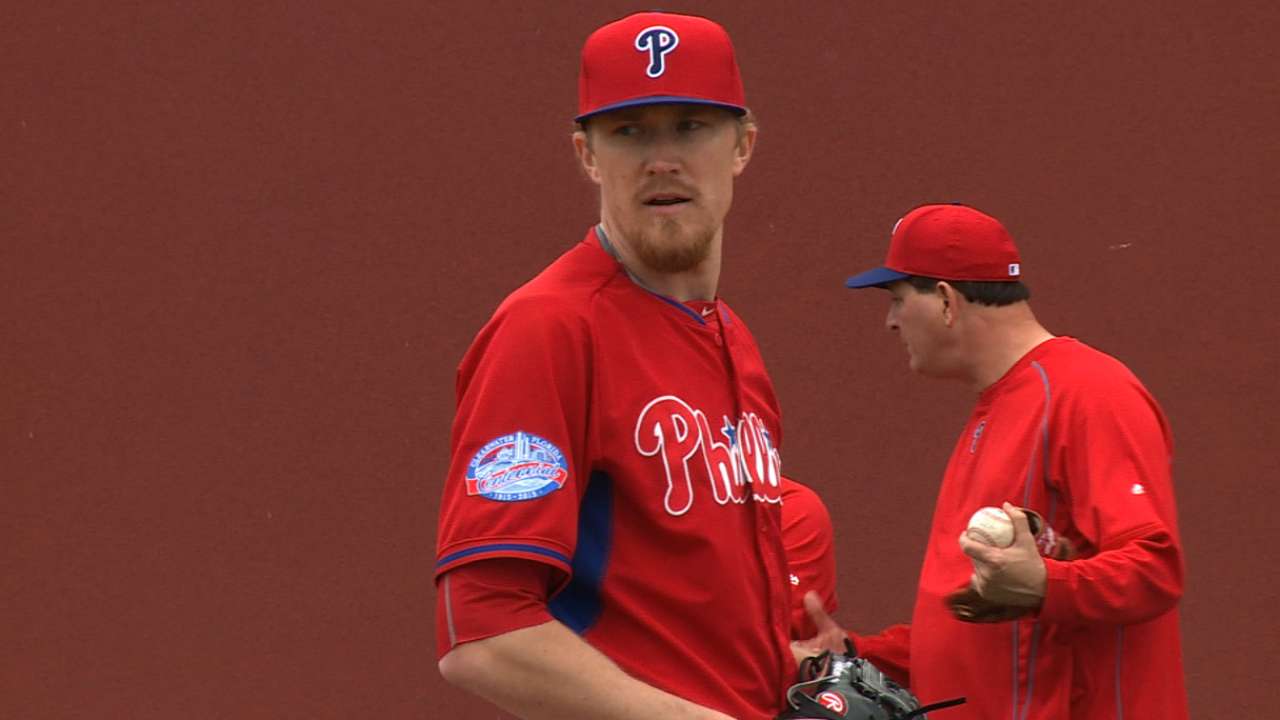 CLEARWATER, Fla. -- If the Phillies expect to be strong anywhere this season, they expect to be strong in the bullpen.
But with Opening Day a little more than a week away, Ken Giles and Jake Diekman are still searching for their best stuff. Giles (6.14 ERA in seven appearances) allowed four runs in two-thirds of an inning Thursday against Toronto. Diekman (12.27 ERA) allowed six hits, seven runs and one walk in one-third of an inning on Friday in a 10-0 loss to the Yankees at Bright House Field.
"That's embarrassing," Diekman said. "That was the worst outing in the history of the world."
But nobody in Phillies camp is worried about Giles and Diekman. Everybody believes they should be fine.
"Very similar to Giles," Phillies manager Ryne Sandberg said about Diekman's effort Friday. "Both power pitchers, both needing their reps and gaining arm strength. I think Giles and Diekman are two guys that feed off of adrenaline in big-game situations. Maybe you can say that's lacking in a Spring Training game. I think both guys are fine, they are working on things. Diekman is working on first-pitch strikes, which he struggled with [Friday]. He's been good up to this point. Also, both pitchers not having their good stuff. But I think that'll come with intensity."
• Sandberg said after the game that if Cody Asche feels OK Saturday, he could see some action in a Minor League game at Carpenter Complex. He has missed the last two days because of some tightness in his back.
Todd Zolecki is a reporter for MLB.com. Read his Phillies blog The Zo Zone. Follow him on Twitter. This story was not subject to the approval of Major League Baseball or its clubs.