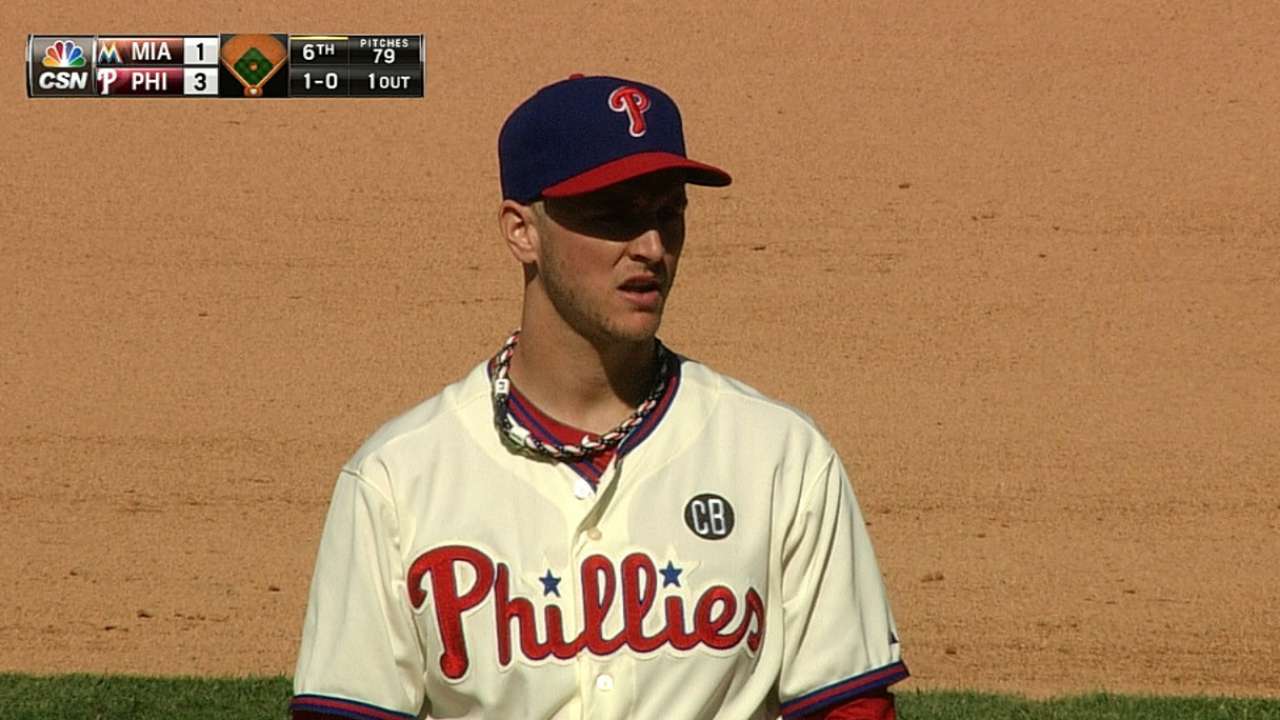 PHILADELPHIA -- David Buchanan continues to make his bid for a spot in the 2015 rotation, but on Sunday afternoon at Citizens Bank Park, the promising rookie's sparkling performance was overshadowed by a disappointing outing from a veteran.
Jonathan Papelbon blew a three-run lead in the ninth as he vied for his 38th save of the season. He loaded the bases with no outs before a groundout and back-to-back singles made it a tie ballgame. With Marcell Ozuna batting and Christian Yelich at third, Papelbon's bitter afternoon got worse, as a wild pitch allowed the decisive run to score in Miami's 5-4 victory.
The Phillies put the first two men on in the bottom of the ninth, but Ben Revere, Maikel Franco and Chase Utley struck out in consecutive at-bats to finish off the Phillies.
Still, Buchanan's effort was a positive one for Philadelphia. On June 24, the 25-year-old went five innings and allowed two runs en route to a victory over Miami. But three months is a lifetime for a developing rookie, and Buchanan looked even sharper in his second go-around against the Marlins.
Buchanan went 6 1/3 innings and allowed one run on five hits and a walk while striking out two.
His only blemish came in the top of the fourth, when Enrique Hernandez hit a solo shot that made it 1-1.
The Phillies scored their first run on an RBI single by Franco, who was making his eighth big league start.
In the bottom of the fourth, the Phillies scored two more, driving home a run on a double-play groundout by Domonic Brown and tacking on another on a single by Carlos Ruiz.
Buchanan's recent performances, as well as his continued growth, have made him a compelling option for the Phillies' '15 rotation. Since being recalled on Aug. 6, Buchanan has a 2.91 ERA (15 earned runs in 46 1/3 innings) in eight starts.
Erik Bacharach is an associate reporter for MLB.com. This story was not subject to the approval of Major League Baseball or its clubs.